Venice 2010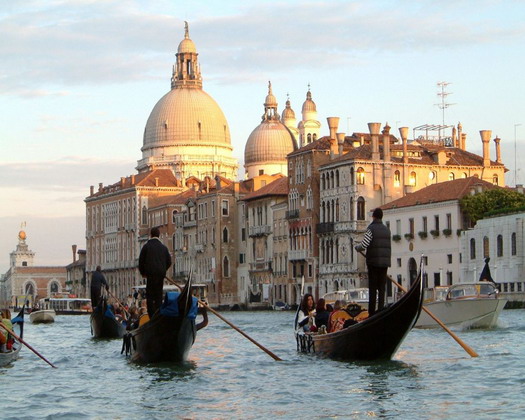 June 23, 2010: LAX to London
We hitched a ride with Cameron from home to LAX for a 4:00 p.m. British Airways flight to London, connecting there for a flight to Venice. We got to the airport about noon, so had a lot of time to have lunch. Since we were in the Bradley Terminal, and there is a Daily Grill just outside of security, we went up there for lunch. While we were eating, Patty said, "That guy sure looks like Boston Rob." Sure enough, there he was with his wife Amber, their little girl and some friends, eating lunch a couple of tables down. For those who are uninitiated, Boston Rob is our favorite all time "Survivor" player and his wife, Amber, who won in the early years. They also were on one season of "The Amazing Race," our other favorite show. We asked if Patty could have her picture taken with them and they graciously agreed: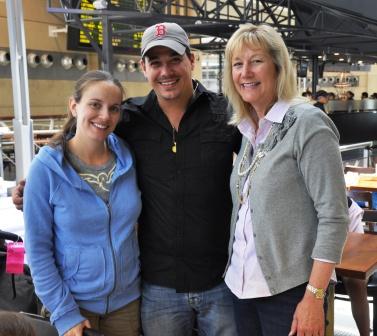 Patty says that the trip is made regardless of what else happens.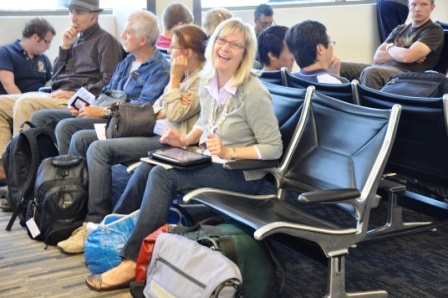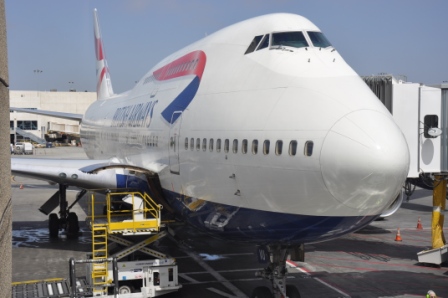 June 24, 2010: London to Venice
Our flight to London was uneventful and we even got an hour or two of sleep. We arrived at Heathrow at 10:00 a.m. and were on the express bus to Gatwick in 45 minutes. By noon we were at the Gatwick North Terminal to catch our flight to Venice. Unfortunately, our flight left 4 hours later, so we had hours to kill before we could get on the airplane. We had lunch in a truly English restaurant called "Garfunkel's." I had a traditional English breakfast with an egg sunny side up (Ugh!!), baked beans, tasteless sausage, "Canadian" bacon and French fries, with toast. Patty had a hamburger, which surprisingly was the best choice.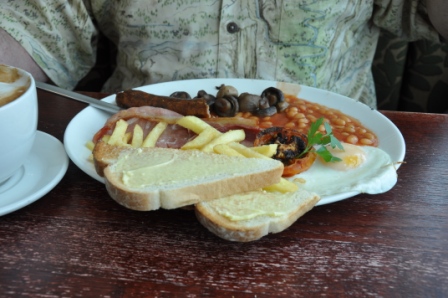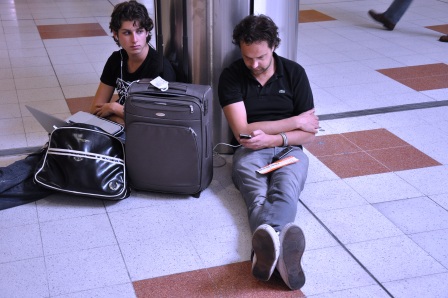 Killing time, we saw a couple of guys sit down by an electrical plug and pull out new iPhone 4's. They were from Holland and had flown to London on the day the new product went on sale and bought the two each they were allowed. They are unlocked and cost them 600 Euro's each (or about $740). They were on their way back to Holland having scored the newest toy. I got to play with one and they are slick. Mine is set to be delivered at home on July 16. An article in the Evening Standard delivered just before we got on the airplane had a story about the queue to buy the iPhones, saying that some people had waited up to 30 hours in line to be the first people in Europe to have the new phone.
We finally got on our flight to Venice and it was uneventful. When we arrived, we checked out both the water and land bus options at the transport ticket counter. Since the airport is on the mainland edge of the lagoon, both are available. However, the water bus was running only once an hour, and we had just missed it. We bought a 3 Euro ticket and got a quick bus to the Island of Venice. A causeway runs out to the edge of the Island. From the bus stop, we bought a one way ticket on the "Vaparetto" or water bus that runs up the main canal, and rode it to our stop nearest the hotel.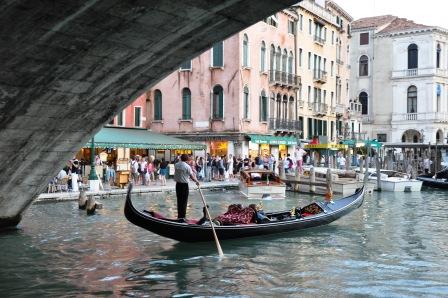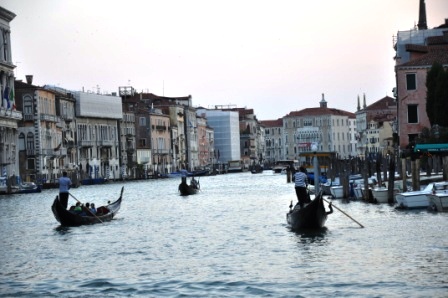 Finding the hotel was hard, even with a map printed from the hotel web site. It is the "Ca Angeli" and Lenore, Patty's brother Bob's wife had located it and we booked there as well. After asking a number of people for directions, we found the front gate and got in. Bob and Lenore were out for the evening, so we got into the room and wrote them a note, and left to get some dinner. It was 10:00 p.m., and we thought we would sleep better with some food and wine.
We found a nice little sidewalk restaurant just up on the main walkway from the hotel and sat out where we could see Bob and Lenore if they came back while we were eating. Just on cue, after the wine and water came, they came strolling up the walk and, after the hugs, we all sat and talked while we ate, sharing adventures and travel stories. At 11:30 p.m., we headed back to the hotel and to bed.
June 25, 2010: Venice
We woke up unfortunately early, getting 4 or 5 hours sleep. It takes a few days to get into the new sleeping times. Breakfast was at 8:00 a.m., but that was no problem because we were awake hours earlier. While our room overlooks an interior canal, the breakfast room (and Bob and Lenore's room) overlooks the Grand Canal. In the early morning, it is full of work boats delivering and moving everything a city needs, from milk to a full size harp to concrete and bricks.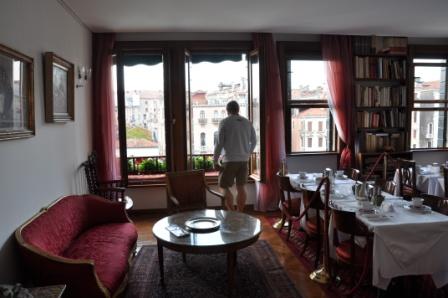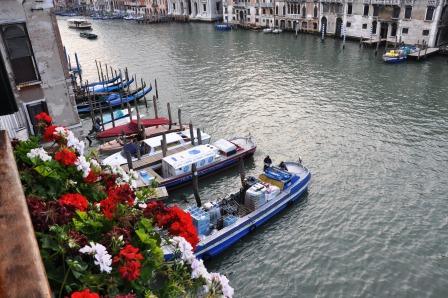 The breakfast was good, plentiful and comfortable. The hotel was full of Americans, with a couple from Monterrey, one from Ohio and a few others.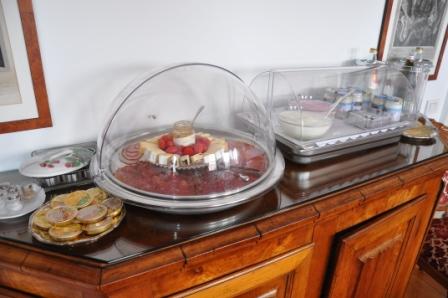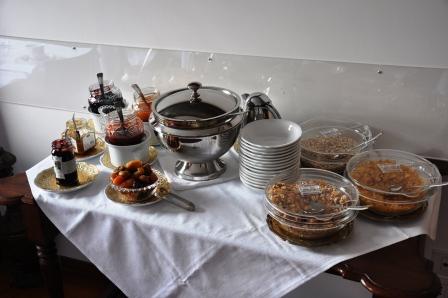 We had an appointment at 11:00 a.m. with Jeremy, a British guy that sources the manufacturing of the sunglasses for Volcom's subsidiary, Electric Visual. Jeremy lives about an hour north of Venice and had offered to give Patty a tour of Venice when we were in town. He arrived with a water taxi and his friend "Chente," a native Venetian.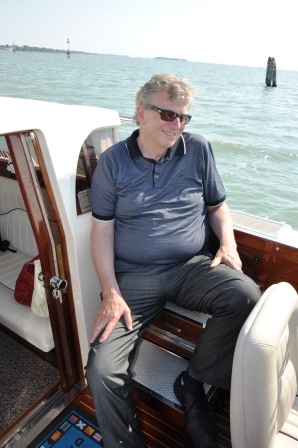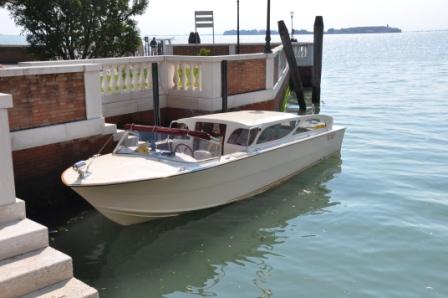 They gave us a tour of Venice from the water, followed by a spectacular, multi-course lunch on the Island of Murano (famous for its glass making).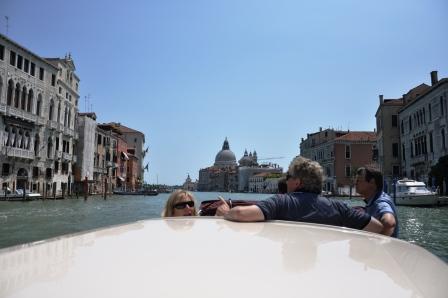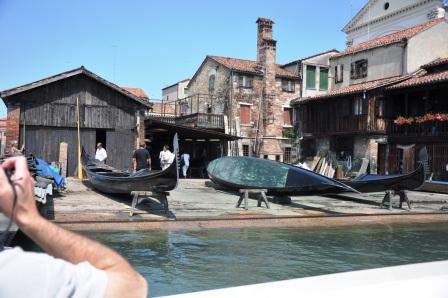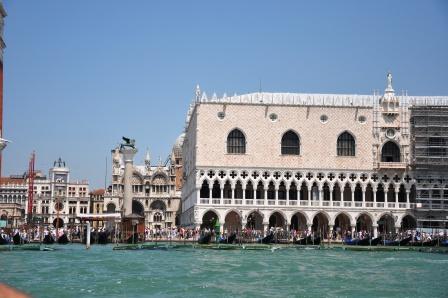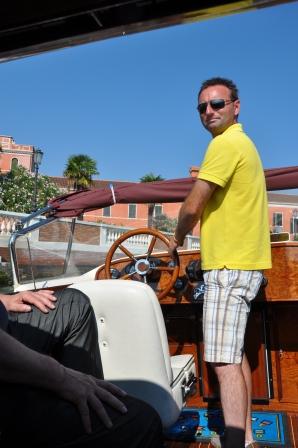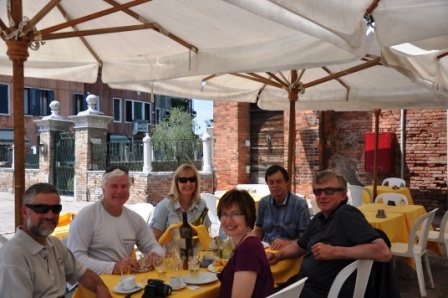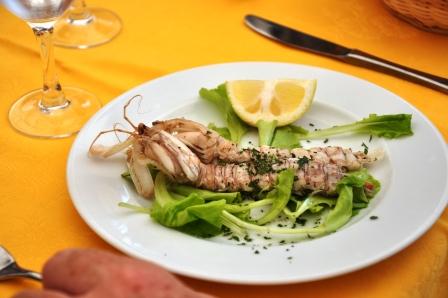 Our next stop was on a little island in the lagoon that was given to an order of Armenian monks in the 1700's, who have just started giving afternoon tours. Even the native Venetians mostly have never been on this island.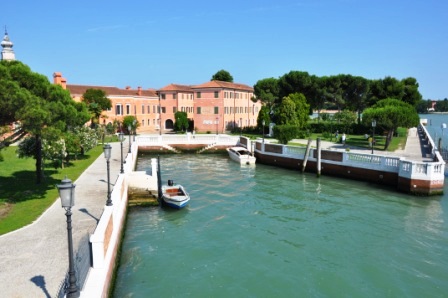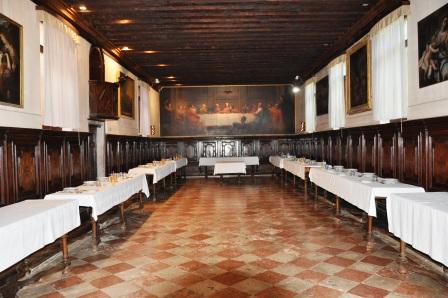 The monastery was home to an early printing press and was responsible for many years for reproducing religious texts in the Armenian language. Today, about 14 monks live there and mostly act as reference librarians for the collection of manuscripts and books that are housed in the monastery. After the tour, we poked around the chapel and library and found the monk's dining room, already set for their dinner.
After leaving the monastery, we went to the island of Burano, known for its traditional lace. It is a very colorful island and we wandered around there, finally settling down for a drink at a little sidewalk bar.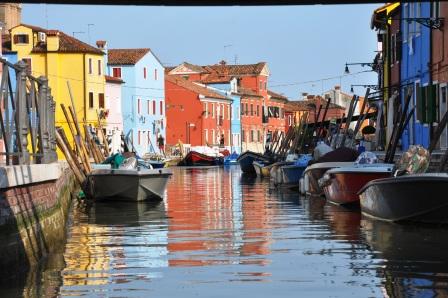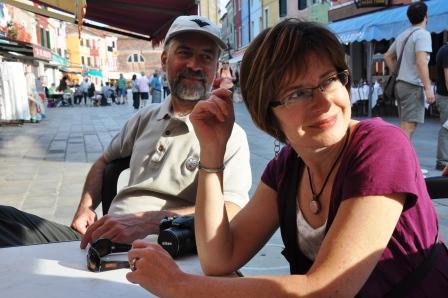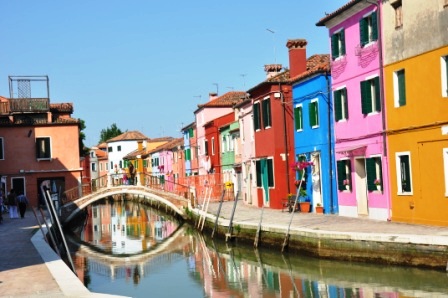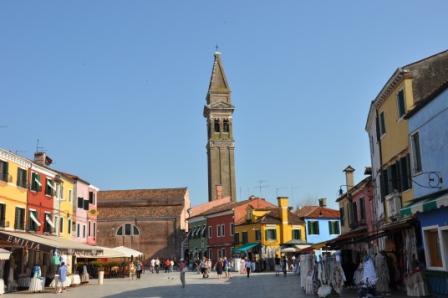 After relaxing a while, Diego took us back to Venice in our private boat and we had dinner at a little "Osteria" or simple cafe, serving cask wine and seafood.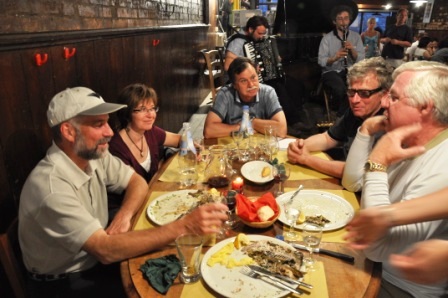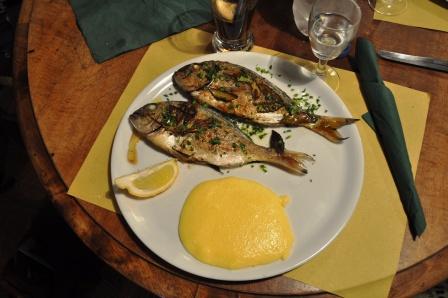 After a lot of wine and a little food, we had to walk back to the hotel, the boat having been dismissed before dinner. Jeremy and Chente insisted on walking us all the way back to our hotel, since walking in Venice any distance is almost guaranteed to get you lost. It was a nice walk back, with a full moon shining over the city, but we were certainly ready for bed. Jeremy would not let us pay for anything except for some Gelato in the afternoon, for which we beat him to the bill. It was a great afternoon and evening, letting us see the city and lagoon from a more local perspective.
June 26, 2010: Boarding the Ship
Today (Saturday), we join the braying masses and will board the cruise ship. We got up and had breakfast at the hotel and packed up and got our bags out of the room by the appointed hour of 10:30 a.m. Patty and I walked over the Rialto Bridge and made our way to San Marco Square. Being Saturday, the city was just crawling with people; crowds everywhere; felt like a Costco on Saturday afternoon (except the prices were higher).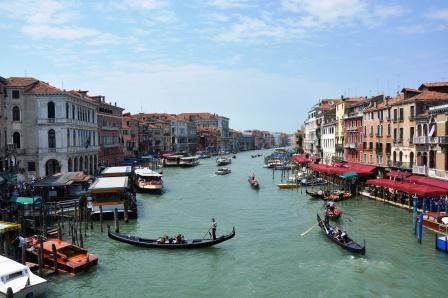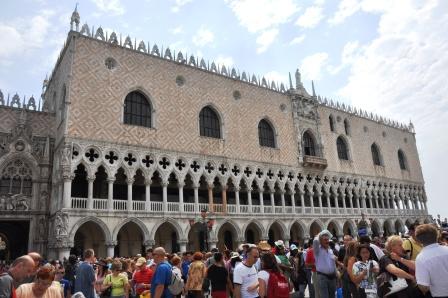 San Marco Square was just a zoo with lines hundreds of people long trying to get to the tower, into the Doges Palace and St. Peter's church. I feel sorry for people who have only seen the place in that condition. It was hard to appreciate the place in the crush of people. We quickly bailed on that and found our way to some back streets where the crowds were more manageable. We made our way back to the hotel about 12:30 p.m. and met Bob and Lenore. Since there were four of us, we knew that the Vaparetto, or water bus, was going to cost us 26 Euros. We therefore checked out prices for a water taxi, which would take us right to the ship. We were quoted 75 Euros, and decided to do it since it would pick us up right at the hotel. It ended up being 80 Euros, but it was nice with all of our luggage to get delivered door-to-door. The ship had baggage trolleys right at the water taxi dock, so we did not have to carry our luggage more than a few feet.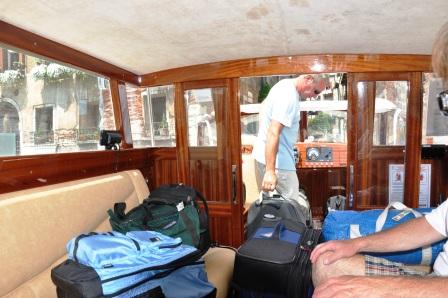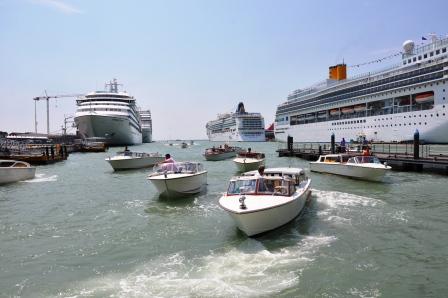 Boarding the ship was relatively painless and our cabins were ready. We had a late lunch on the ship and met Lisa and Mary in the boarding process. After our late lunch we went down to Kim and Romaine's cabin (a suite with a large balcony and a nice wet bar). They had just arrived from the airport and were tired but elated to have made it and that everyone was there. We hung out there watching the ship leave Venice and make its way down the narrow channels out of the lagoon. At 6:00 p.m. we went back to our cabins; changed for dinner and made our way to our group table for a nice, if mediocre dinner.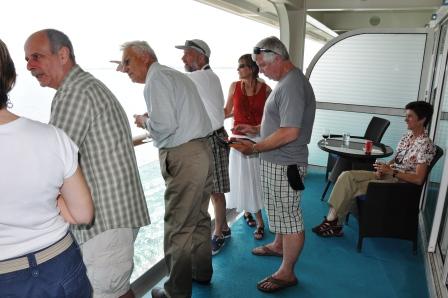 After dinner we poked around the ship a little and went to bed.
June 27, 2010: Dubrovnik
We got up leisurely; since Patty and my cabin is an interior cabin, we have a dearth of sunlight so slept until 8:30 a.m. The ship docked in a beautiful little harbor about 3 km north up the coast from Dubrovnik. The "Dalmatian" coast of Croatia is rocky with hundreds of islands running offshore down the coast. Since the end of the war with Serbia 15 years ago, it has been "discovered" and a lot of cruisers have started coming here and even the big sailboat charter operation "Moorings" has opened a base. It looks like it has wonderful potential with the same feel as the Greek Islands with more sheltered water and a little closer to the richer parts of Europe. The coast is sprouting waterfront homes and condominium buildings at a rapid rate.
We left the ship about 10:30 a.m. and got on a shuttle bus at the dock (provided by the cruise line) that took us over the hill to the little harbor Dubrovnik sits on. Dubrovnik is a fantastic walled city, kept fairly intact. It is like Siena--but on the water. It was shelled by the Serbs in the 1990's, which required the replacement of 75% of the red tile roofs in the old city. However, it looks like the city survived this attack as it has many over the centuries. The big draw is the walk around the top of wall, about a mile in circumference, which requires a 15 Euro ticket. Even though Croatia is not part of the European Union, and has its own currency (the "Kuna"), they readily take Euros and even give change back in Euros.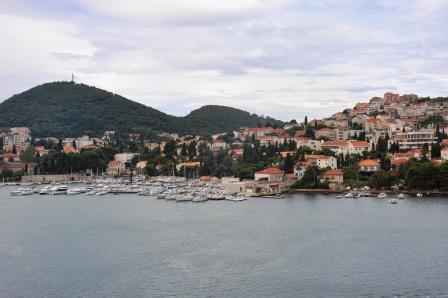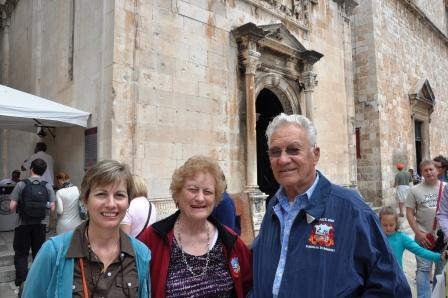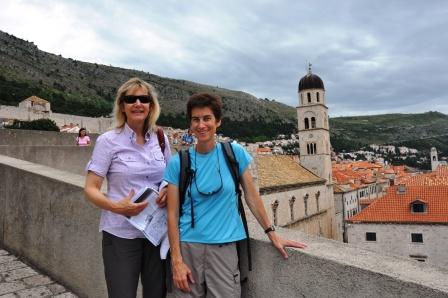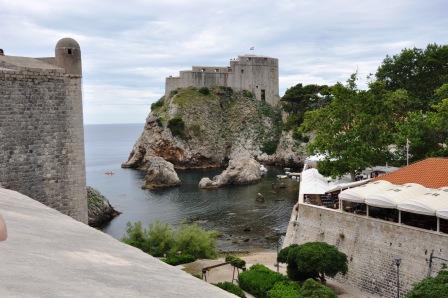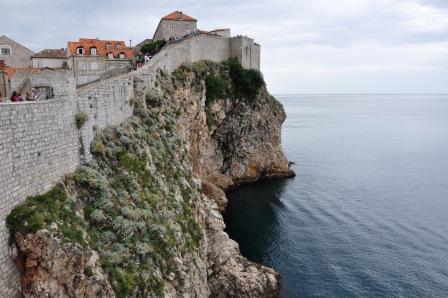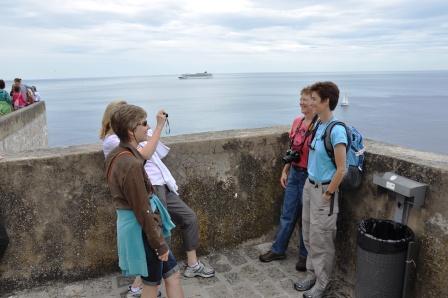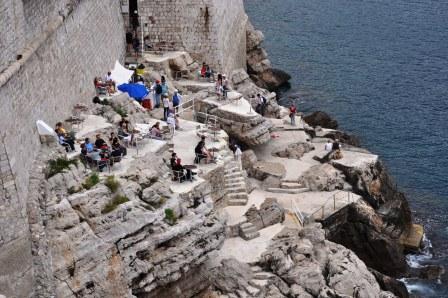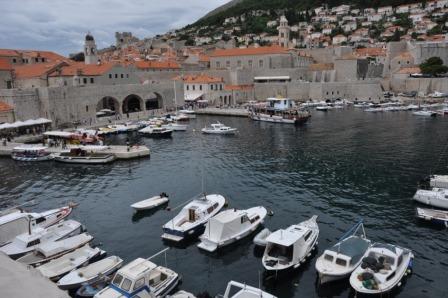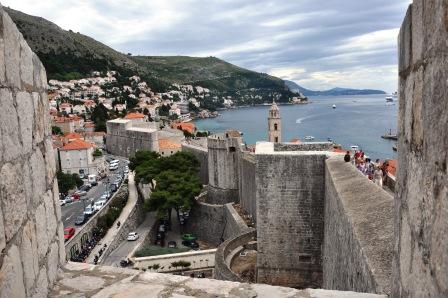 After doing our wall circumnavigation, it was time for lunch at a sidewalk cafe.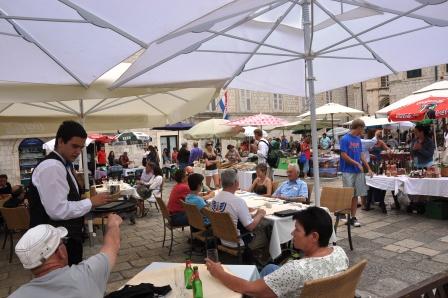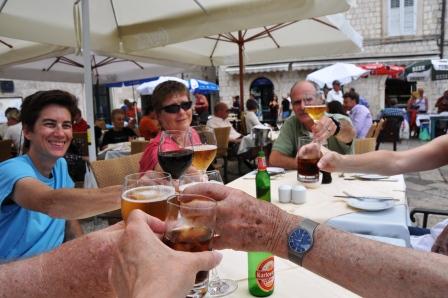 After lunch we started getting a light rain, so we poked around town a little and got the bus back to the ship. After a little relaxing we were ready for our group dinner. Lisa ordered "nothing" for desert; so that is what she got. . .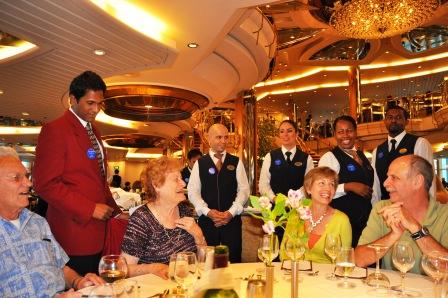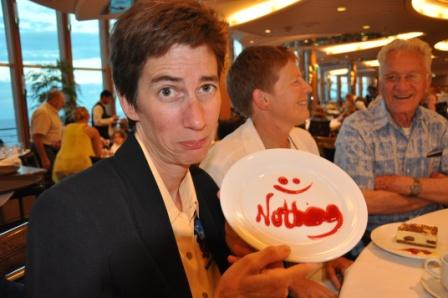 June 28, 2010: Croatia to Turkey; sea day
At sea all day today (Monday). We had a leisurely breakfast in the main dining room and then gathered at the computer station on the ship to buy WiFi minutes and attempt to log in and take care of e-mail, etc. The connection proved to be not only painfully expensive ($.58 a minute), but painfully slow. I was able to log in on both the iPad and the laptop and get the web site uploaded.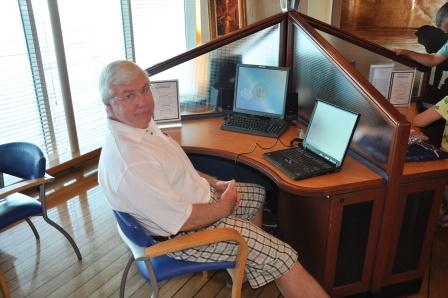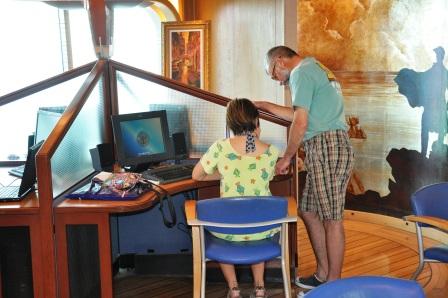 We hung around the ship, mostly avoided the wall-to-wall bodies at the pool area, read and napped. The World Premier of film maker Lisa Romney's newest documentary aired at 4:00 pm, featuring the lives of Kim and Romaine Romney as told by themselves and each of their two siblings -- Kim's two sisters and Romaine's two brothers. Very nicely screened, edited and produced!!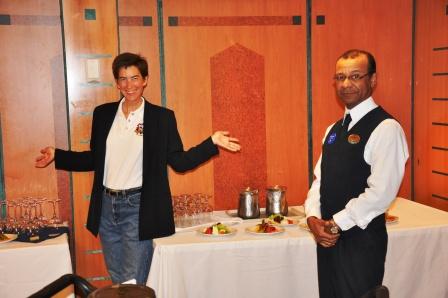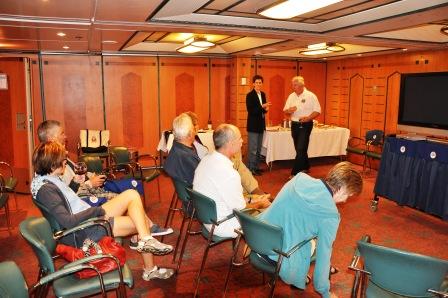 We were all dressed up in Romney Family Event logo wear, so we had to document the occasion.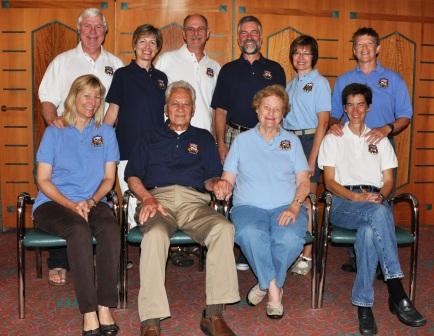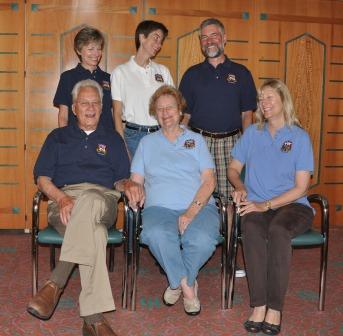 Dinner was a "formal" night, so Patty put her hair up.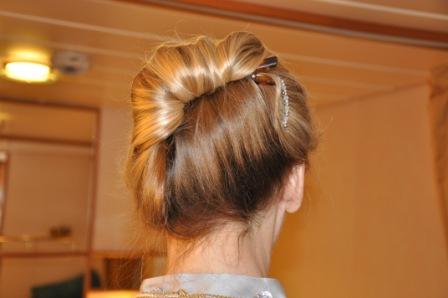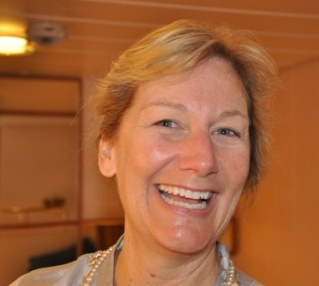 After dinner, Patty and I enjoyed the sunset over the Greek Islands from Bob & Lenore's balcony.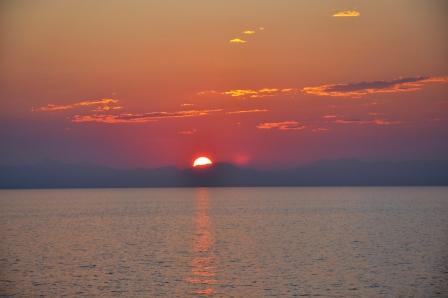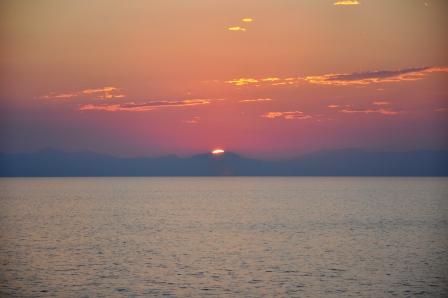 June 29, 2010: Ephesus, Turkey
Today we dock in Kusadasi, Turkey and tour the ancient city of Ephesus, a pre-Greek, Greek, Roman, and Christian city. The city was a major trading port in the early Mediterranean history, but fell into disuse after its harbor silted up over the years. Kusadasi is now a busy resort area, not only enjoying the tourist traffic from Ephesus, but also European tourists that want a Greek Island experience without Greek Island prices. The terrain and climate are much like Southern California, with lots of beaches nestled between rock outcroppings along the coast.
The ship docked at a modern cruise ship terminal along side 3 other behemoths, which proceeded to disgorge their passengers like vomiting whales. Since Patty and I were not taking a ship tour to the ruins, we wanted to get off the boat as soon as possible to try to find the local bus service suggested by the Lonely Planet guidebook. We were the second couple off the boat at 8:00 a.m. but the first was corralled by a belly dancer and her photographer; we thus skated past that one and became the first down the dock. However, since other ships had already started their vomiting, we were about the 2,000th people to take on the town. Luckily, a lot of them became trapped in the maze-like shopping areas that had to be traversed to get to the port gate and onto a city street. We made it to the Tourist Information office and got a map to the bus location. Unfortunately, (1) the map was hard to follow, and (2) the sharks from shopping in the "bazaar" smelled the fresh meat and we had to fight our way through the offers of great deals. It was kind of like having to get through a mile of timeshare sales offices.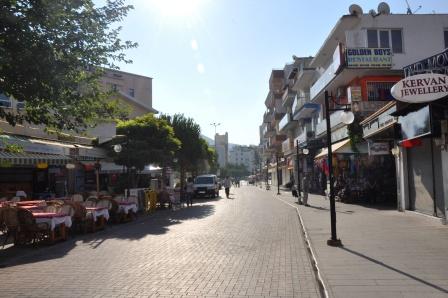 At one point we saw a couple of policewomen walking toward us down the street and stopped them to ask directions. They gave us puzzled looks and turned us over to a tout that magically appeared with broken English and a promise to "show us the way." We reluctantly followed his insistent directions (so long as it appeared that we were staying on main streets) and he actually took us to where we needed to go. As we got there he informed us that he needed a "tip" for helping us out. Since he had actually helped, and had not taken us to his cousin's rug bazaar, we gave him a couple of Euros.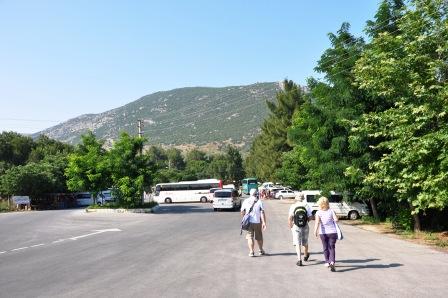 A few other cheapskate tourists were there and a 15 person mini-bus pulled up a few minutes later and we piled on. A family from Denmark was taking their kids out to a water park, "Aqua Fantasy," on the same route and another couple was going to Ephesus. The trip on the crowded bus was about 25 minutes and cost 5 Euros for both of us. Prices were posted both in Euros and in Turkish Lira, so that part was easy; you just paid the driver by handing the money up at some point during the ride.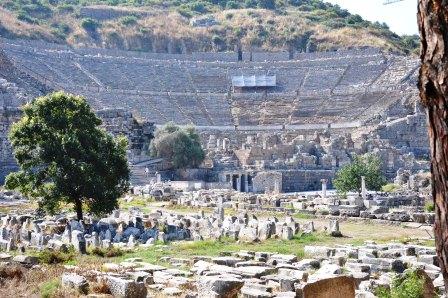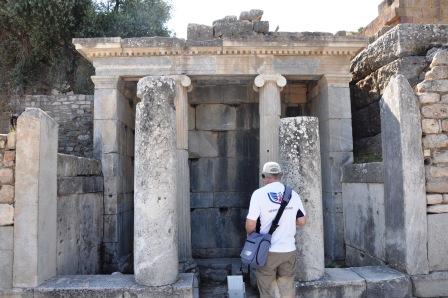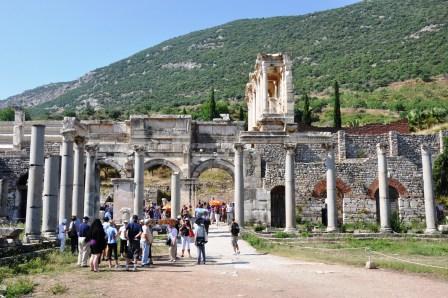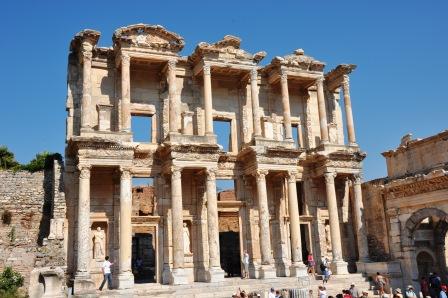 The bus dropped us off at the lower parking lot, which required a 20-minute walk to the ticket gate. The tour groups enter on the uphill side of the city and walk down. We had to start at the bottom and walk up, swimming against the current of tour groups which filled the main street down through town. We rented an audio guide and worked our way up past the 24,000 seat amphitheater, the reconstructed facade of the library, and various monuments and excavations. The city was abandoned about 700 years ago and only until the last 30 years or so have they gotten serious about excavating and reconstructing the broken columns and collapsed buildings. It is kind of a rubble field that they are trying to piece back together again, but many pieces were cannibalized by others over the millenniums for other building projects, so it is not an easy task.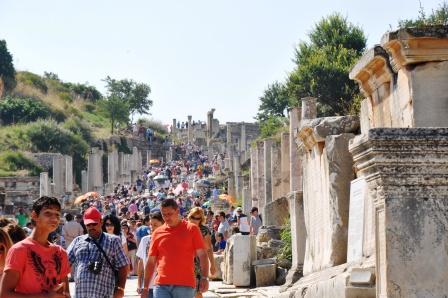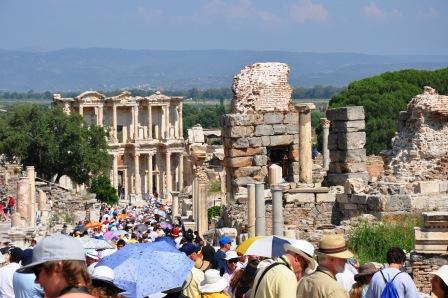 About half way up the mile long main street, we saw Lisa and Mary coming down. It was getting hot, probably 80 or so degrees and promising to get hotter. They had left Kathy and Dave up at the top gate trying to get a guide, while they were coming down without official guidance. We cut into a back street and worked our way to the top gate along the back streets. Just as we emerged into the tourist torrent, we saw Bob and Lenore starting on their "official" ship sanctioned tour. We hung with them for a while, listening to the various tour guides tell the "history" that each had made up for the day. Since it was just getting hotter, we left Bob and Lenore and headed back down the sea of people, sliding between the sweating bodies and the bad English fantasies.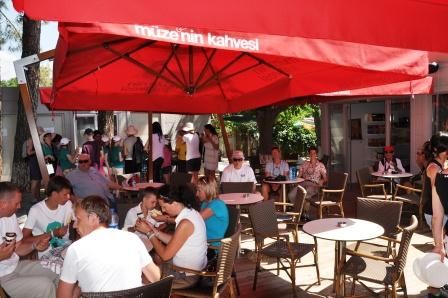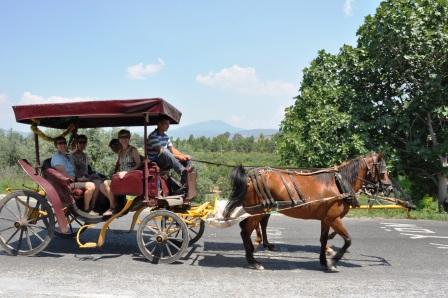 When we got to the base of the hill, and out the lane toward the lower gate, we spotted Lisa and Mary again, sitting in the snack area waiting for Kathy and Dave. We purchased some cold drinks and pulled out oranges, apples and croissants smuggled from the ship and waited with them. Kathy & Dave finally came in and dropped off their audio guides and we all sat for a spell while they recovered from the tour.
When we were all ready, we walked out the gate and toward bus stop for the public mini-bus. Lisa, Mary, Kathy and Dave had failed to find the mini-bus stop in town and had taken a taxi out to the ruins (our 2 Euro tout perhaps being worth his 2 Euro.) The parking lot was jammed with buses, which were backed up onto the road we had walked up, waiting to pick up their red, sweaty cargo.
We started walking down the road, but Kathy spotted a horse-drawn carriage that they had used 10 years ago, and those four ran to get it while Patty and I continued to walk. We made it to the intersection at the base of the road in time to take a picture of them riding by to the bus stop. Within a hundred yards of the bus stop, I stepped on a missing piece of pavement on the edge of the road, twisted my foot and skinned my other knee as it dropped to the pavement to catch my weight. No serious damage done other than a little blood running down my leg. I am sure that area outside of the city walls had seen blood spilled on it in the past.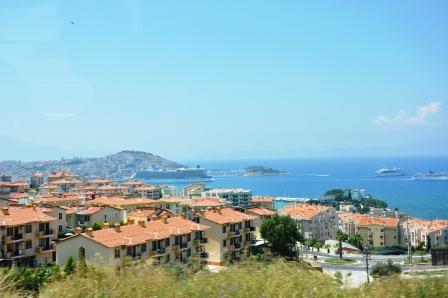 We got our mini-bus and made it back to town. Talk of lunch was going on, and the non-Romney spouses were appointed to select the lunch place. I saw a hole-in-the-wall local place up the street from the bus stop; away from the tourist area, and we went back there. The family that ran it were gracious, helpful and managed to feed us by taking each of us individually up to the cooking area and pointing out the selections to choose from since we had no common language and the only menu was posted on the wall and meant nothing to us. It was good basic food; rice, eggplant, chicken, beans, stuffed roasted peppers, etc. We paid cash in Euros and headed out. Lisa asked about a Turkish Bath and after a few false starts, the proprietor understood what we were looking for. He ran a couple of doors down and asked the hairdresser, and soon a 10-year-old boy was summoned to lead us to the bath.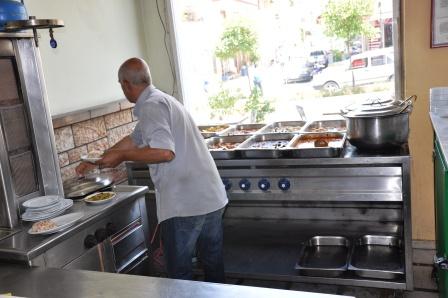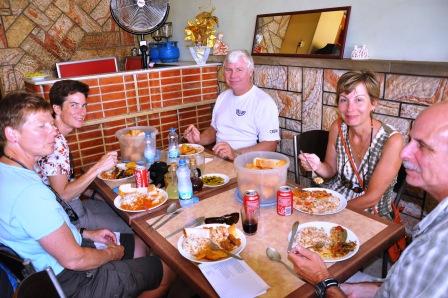 Patty had forgotten her sunglasses, so we parted from the bathers, re-traced our steps and then did a little shopping in the local shopping area. We then had to traverse the tourist areas once again. Patty spotted a shop selling fake Volcom gear and got the manager's business card and found out as much as she could about the source before presenting him with hers and letting him know that her "people" would be coming by soon and suggesting that the Volcom merchandise be removed from the shelves before they got there. He could still sell his fake Quiksilver, Billabong, Ed Hardy, etc., but the Volcom stuff had to go. Tough nut to crack where a lot of shops advertise "Genuine Fake Watches."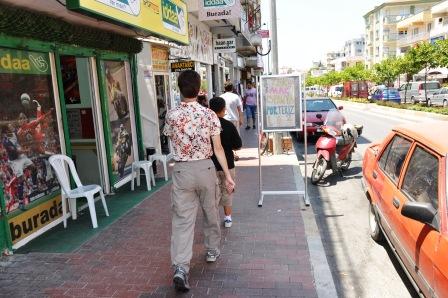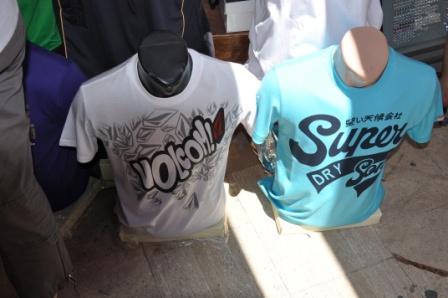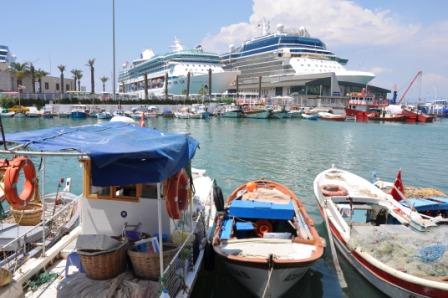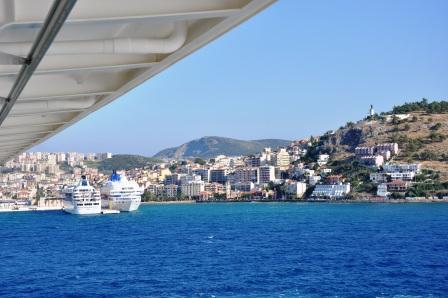 After a few more purchases, we went back to the ship and cooled off before dinner. Tomorrow, Santorini, reputedly one of the prettiest of the Greek Islands.
June 30, 2010: Santorini, the Greek Island
The Lonely Planet guidebook says, "Santorini will take your breath away. Even the most jaded traveler succumbs to the spectacle of this surreal landscape, relic of what was probably the biggest eruption in recorded history. You do share the experience with hordes of other visitors, but the island somehow manages to cope with it all." I was skeptical at first, and first impressions were not comforting as we got off of the ship tender, as tourists choked the dock. We took the cable car up to the caldera rim where the village of Fira meets visitors with mule shit from the mules that attempt to pretend to be donkeys and give the tourists a taste of the transportation method they used before cable cars to get up the cliffs.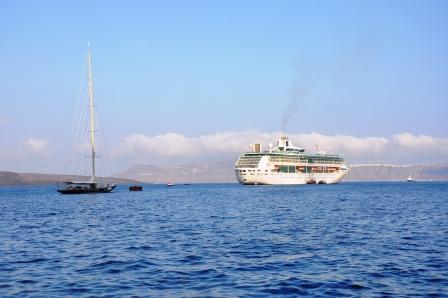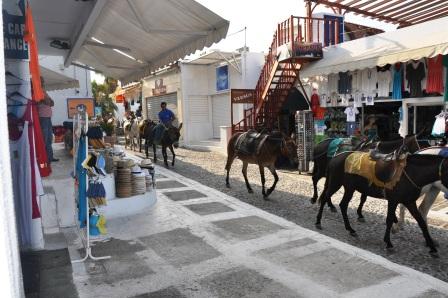 We wandered around the T-shirt shops for a little time and then headed out of the town center to get away from the crowds and tourist traps. We came out of a walking street and saw a car rental place across the main road. They had a cute, black Smart Car sitting in front so I went in and asked "how much?" At 55 Euros, we decided to take it for the day and it was a great decision. We drove south back through Fira and wound around the top of the Island and dropped down to several beaches and walked around those. Patty found some Tufa stones, which are volcanic stones that are full of air and light as feathers, which were selling in Fira for 1 Euro each. It was getting to be lunch time so we spotted a little cafe in a more modest area (no water views from the hotels) that was advertising "2 lunch plates and a salad for 12€." That sounded good to us, so we found a parking spot and had a great little lunch on the patio; tomato salad with olives, Mousakka, baked chicken with potatoes.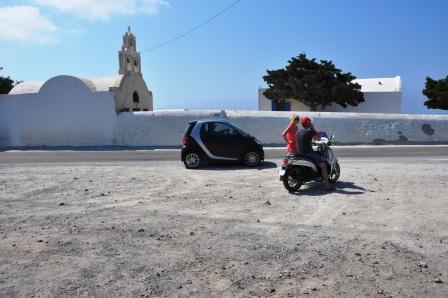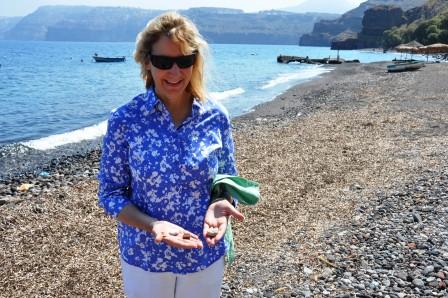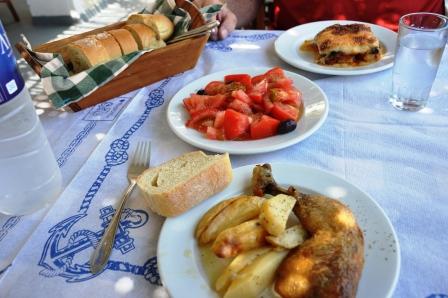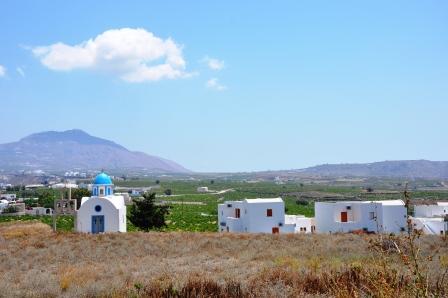 After lunch we drove back north through Fira and up to the town of Oia (pronounced "ee-ah"), on the northwest end of the caldera rim. We drove through a lot of wine growing areas, which produce a local wine. We later bought a couple of bottles at a grocery store, but I cannot tell you how they were because the ship searches for and confiscates all bottles of alcoholic beverages coming aboard to maintain its overpriced monopoly on the subject matter. Hopefully, we will get it back when we get off.
The town of Oia is truly stunning. Unlike most places where you do not want to do most of your picture taking in the middle of the day, Santorini benefits from the strong midday sun, making the waters bluer, the white walls whiter, the blue domes and flowers more intense. It was baking hot, but you could not stop walking the little paths because around each corner, another stunning view popped into place.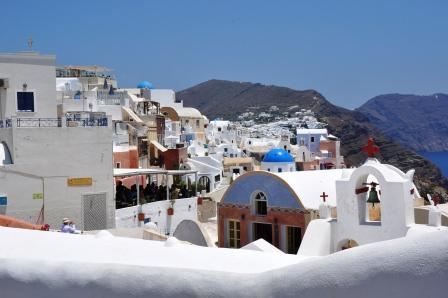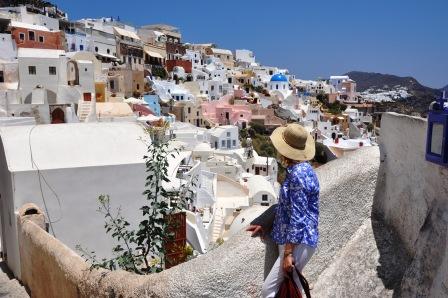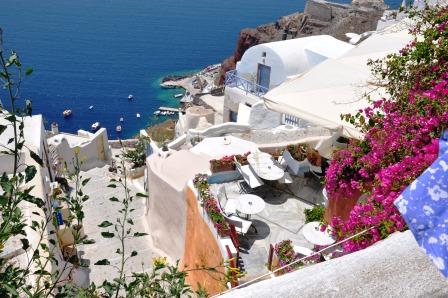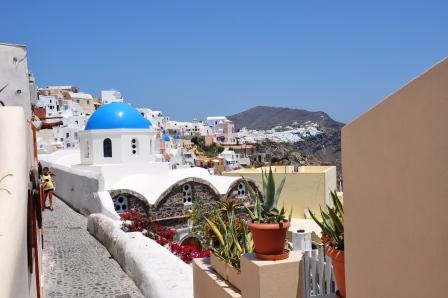 After taking a lot of pictures, and buying a few things, we returned the rental car after buying some properly taxed European gasoline (10€ please; oops, that was a fast liter and a half). We walked back to the cable car and caught the tender back to the ship. After a shower and a nap it was time for the Romney 65th Wedding Anniversary Dinner. Kim had bought a ring and pendant in Kusadasi with the appropriate 65th Anniversary gemstone (blue spinel), which was presented to Romaine before dinner. We made dinner a little more special with flowers and table decorations that Patty bought and put on the table.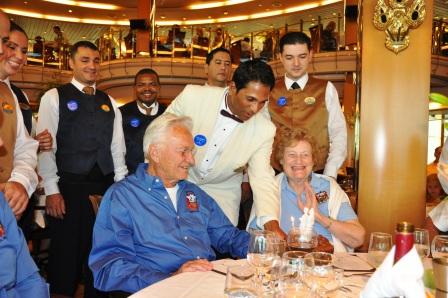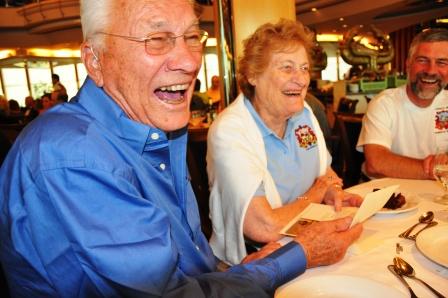 The Anniversary Present from the kids was a gift certificate to Denver's Brown Palace Hotel. Kim had tried to reserve a room there for their wedding night, but because of the war, the building was being used by the military. They had to go back to their apartment. On the gift certificate, the hotel had mistakenly typed in "$3,000" instead of "$300" on the certificate, and a good laugh was had as to what fun they could have based on that typo!
July 1, 1020: Corfu, Greece
Today was a leisurely day because the ship did not dock until 1:00 p.m. and there was no "must see" part of Corfu that beckoned us. Corfu is a large Greek island that is the Northern and Western most part of Greece. The ship rounded the Southern part of the Greek Peninsula over the night and cruised up the West Coast of Greece between the Greek Coast and a string of Islands that are 5 to 20 miles off of the coast. Corfu is the Northern most of these islands and is about 38 miles long and 25 miles wide at its widest point. The Northern part of the island overlaps the Greek/Albanian border. The island is known for its olive trees which still cover a lot of the island. Bob had done some research and suggested that we rent a small power boat and tour the coves on the coast. Patty and I signed on for the adventure.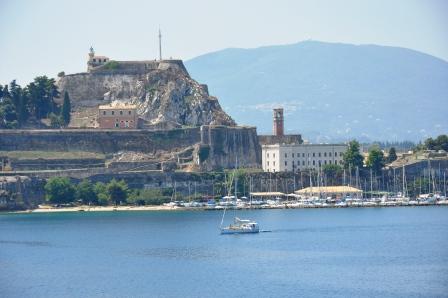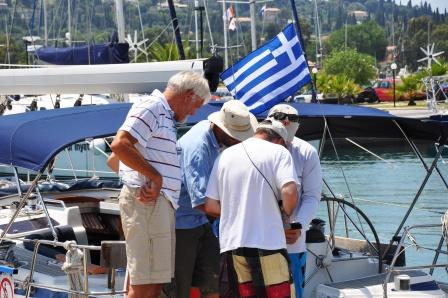 We called the boat rental place that Bob had found and they said that they were too far away and it was too late in the day, so we did a little more research and found that there was a marina with charter boats just north up the coast, so we took a taxi there. The marina office directed us to a charter operation down the beautiful marina and we walked down there. They were very nice, but only chartered bare boat sailboats for multi-day trips. We talked to them about chartering in the area and they took us down and showed us some of their boats, including an 8 meter sailboat that they have custom built in Turkey. I showed them the charting software on the iPad and they were duly impressed. The owner's son suggested a boat rental establishment off of a beach just north of the marina and they called us a (second) taxi to take us there.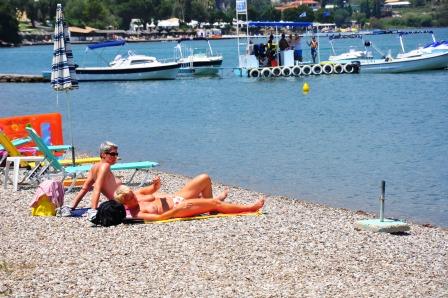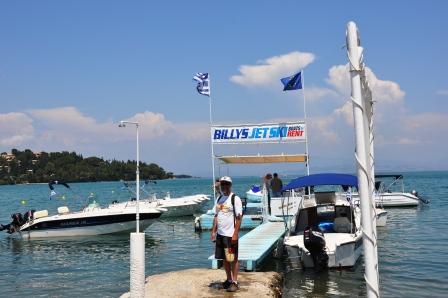 "Billy's Boats" operated on a little dock right on a beach (as it turned out, all of the small boat rental places did) and after a little negotiation, we settled on 50 Euro, plus petrol for the afternoon. The boat was about 15 feet long and had a 25 horsepower outboard and a bimini top; just what we had in mind. Billy suggested that we head straight across the bay, about 7-8 miles, to a point at the top of the bay and work our way back along the coast. That turned out to be a superb suggestion.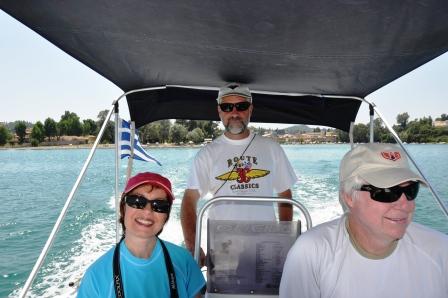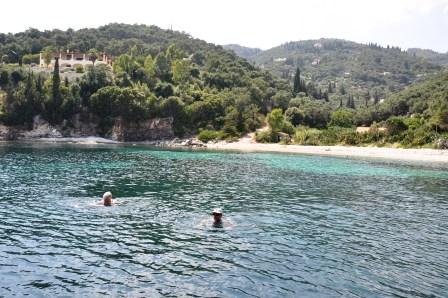 Just around the point were little coves with beaches at the head of the cove, some with little Tavarinas, some without. Each cove had a sailboat or two anchored in it, mostly charter boats. Our rental boat had an anchor, but we picked up a little mooring in one of the coves and took a swim and had lunch that we had brought with us from the boat.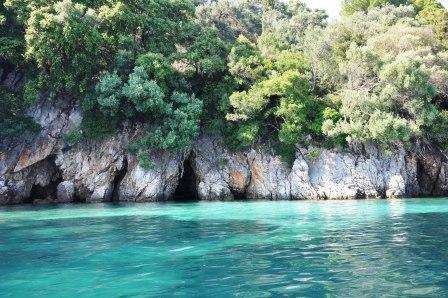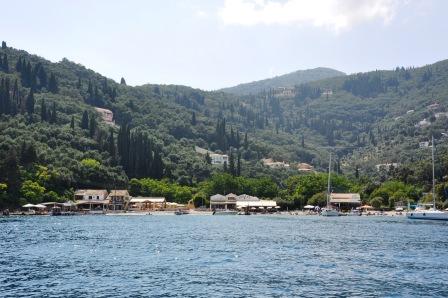 After lunch we worked our way back, just off shore, poking into little coves with sea caves, crystal clear water, and passing waterfront houses and all sizes of hotels. There were big and little beaches, some public, some only accessible from houses or hotels. It was a hot afternoon, but we were comfortable under our bimini, with a small breeze, and had a great ride back. We dropped our boat off, put 30 Euros worth of fuel into it (four gallons), and got into the taxi that Lenore had arranged to retrieve us at 6:30 p.m. We made it back to the ship in time for dinner with the family.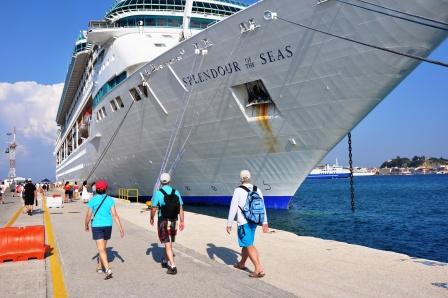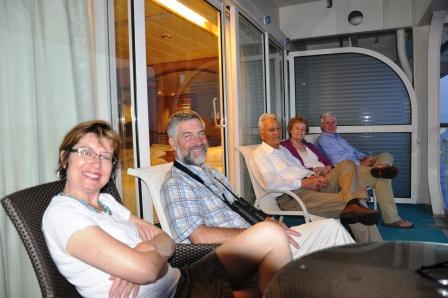 July 2, 2010: At Sea, Corfu to Venice
This was a sea day, with the highlight being Patty's "Romney Family Trivia" game where we spent a couple of hours trying to answer questions about family members and spouses, dressed in matching Volcom "Romney Family Trivia Game" sweatshirts that Patty had specially prepared. Lisa won with Mary and Mom coming close seconds. (A second portion pitted Dad against Kathy and Lenore!)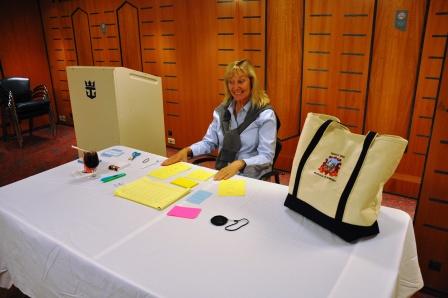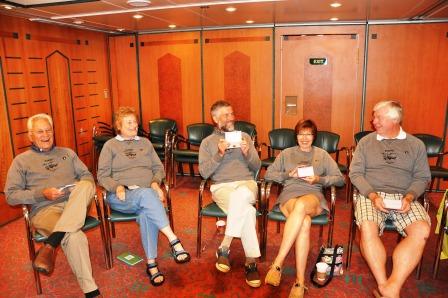 July 3, 2010: Back in Venice
The ship gets the passengers off early because they have to clean and get it ready for the next teeming mass by 1:00 p.m. the same day. We were off by 8:00 a.m. and got a water taxi to the new hotel, the Residenzia Cannaregio. It is a fairly modern hotel built in the shell of an old building, with a garden in the center courtyard that all of the rooms open onto. It has a water taxi dock down three steps from the Reception area. Kim and Romaine are staying here with us.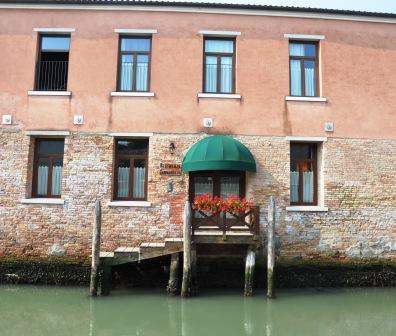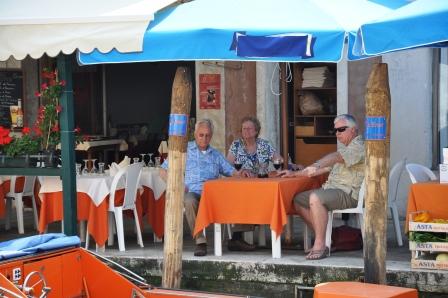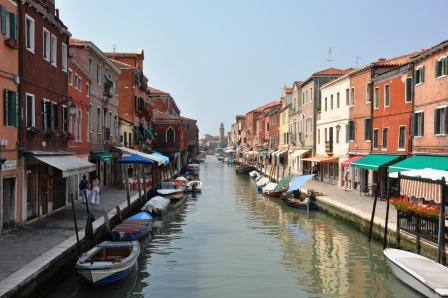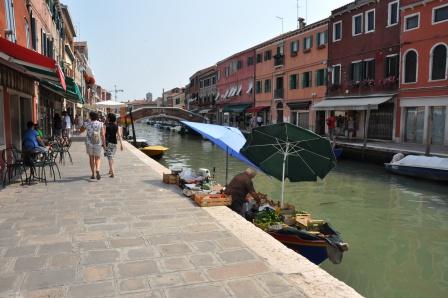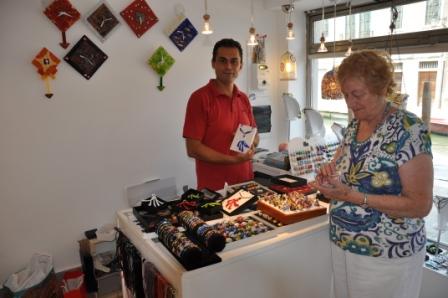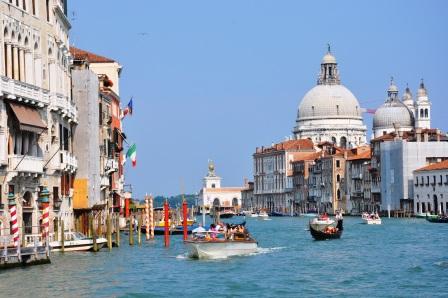 We got checked in and took the Vaparetto over to Murano island to look at the glass shops and have lunch. It is really hot, with the temperatures in the mid-eighty's, and about 50% humidity. The glass on Murano is really incredible, but so are the prices. They sell a few little carnival trinkets for under 5 Euro, but the large pieces are hundreds and thousands of Euros. After a long lunch and a little shopping, we went back to the hotel for a rest. Patty and I then took the Vaparetto down the Grand Canal and went to the Academia art museum. It has 14th through 17th century Venetian art, but should be something you do on your fourth or fifth day in Venice, certainly not if you are pressed for time. We stopped by Bob and Lenore's hotel and said goodbye to them, and then came back and went to a local pizza place for dinner with Kim & Romaine.
July 4, 2010: Padua and Green Day Concert
The University of Padua is the second oldest university in Italy, founded in 1222 to be an alternative to Church education. The Venetians, which controlled Padua (about a day travel inland in those times), supported a secular university and it became a center of European learning. Copernicus was a professor and Galileo was a professor of mathematics there. Since Kim is a student of the history of science, and the University of Padua played a large role in the history of science, he was interested in going. We took the Vaparetto to the train station and caught a train going to Rome, with a stop in Padua 40 minutes out of Venice.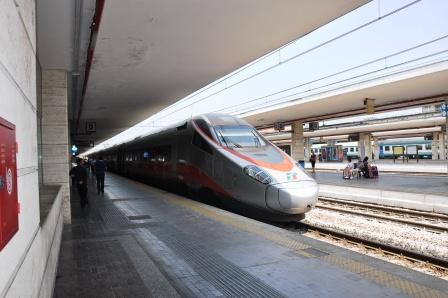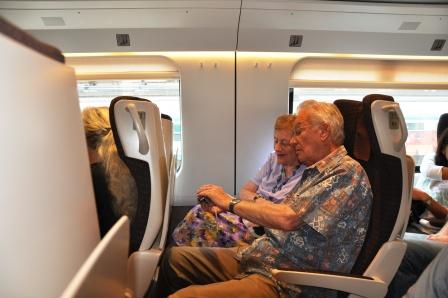 We got there about 11:00 a.m. The train station is within easy walking distance of the historic old town, which is beautiful, with the Venetian style buildings now converted to mostly University facilities (the University of Padua now has 66,000 students, in many colleges spread out over the city) and a large open air mall, with shops that you would recognize at South Coast Plaza.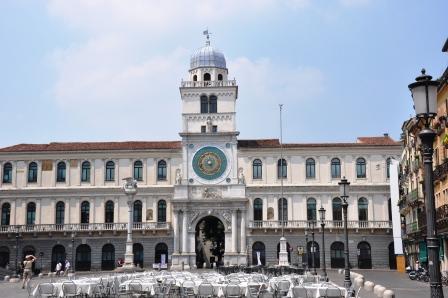 It was 95 degrees and humid, so Romaine was moving slow (we all were, but she was the slowest). Patty and her took a cab to the Basilica de Sant' Antonio and Kim and I walked around the old town, found the original university building, and checked out the sites including palaces and other churches. We found a town square with a shaded cafe and sat with cold beers to cool down. Being a Sunday and hotter than hell, it was pretty quiet in the old city. After refreshment, we met back to the train station at 3:00 p.m. and caught a train back to Venice.
Patty was looking at a little booklet of events for the month that they had given us when we bought the Vaparetto passes and saw that there was a four day music festival being put on by LiveNation (a major US concert and music promoter) across the causeway in Mestre in a park overlooking the Venice lagoon. The headliners included Areosmith, Green Day, Pearl Jam, and The Black Eyed Peas. Green Day was playing tonight, so we decided to give it a shot. We took off and headed back to the train station; bought another ticket to Padua (they would not sell tickets to Mestre on Sunday afternoon because they do not want passengers from Venice taking up a seat to go one stop). We exited the train in Mestre and found the shuttle bus to the festival grounds. It was in a large park and people could camp there for the four days. Over 30 bands were playing on two stages over the course of four days. We ran into a couple from the USA (there were actually a lot of Americans in the crowd) who were going to all four days, but staying with his brother who lived about an hour away. They had just gotten married and he flew C-130's for the Marine Corps. They walked us around and showed us the little grassy hill up from the main stage where they were watching the concerts. We purchased a T-shirt, some food and beer and sat down to enjoy the warm up act.
The lead singer of Thirty Seconds to Mars kept talking about how beautiful the lightening was in the distance -- but it kept getting closer. Finally the wind and rain started in earnest as a powerful thunderstorm swept through the area. We made out way into a food tent up the hill. The tent was probably no more than 30 by 30 feet and had about a hundred people in it. Since it was a hot day, people were just wearing tank tops or T-shirts and shorts, but everybody was now soaked. The rain would blow in and if you had gotten in dry you were wet soon. We packed in, shoulder to shoulder and front to back, not only to get more people in, but it was the only way to stay warm. Patty put her arms around a couple of skinny young Italian girls who were cold and shivering; I was up against a guy and his girlfriend from North Carolina and a girl was pressed against my back, tucking her head up under my arm. We all huddled like that for an hour while the rain and eventually sleet pounded down outside.
Finally, the storm blew through, but the grounds were a mess. Tents were blown over, water was standing 4 inches deep in the flat area in front of the stage and everything was a sodden mess. Once the rain stopped, it was still warm and we started drying out. We had some hope that Green Day would play, but the security started herding people out. Things were too wet to fire up the electronics and sound systems. We walked the half mile back to the entrance and Patty spotted a bus with "Venizia" on the signboard and we jumped on. We were among the last standing in the aisle, but it took off and dropped us in the bus plaza, across the canal from the train station on Venice about 15 minutes later. We got on a Vaparetto and were in our hotel room by about 11:00 p.m. We did not get to hear Green Day, but certainly have an adventure to remember.
Green Day put this post on the Festival Web Site:
"We wanted to let all of our Italian fans know that we are very disappointed that we were not able to perform last night at the Heineken Festival in Venice. For those that do not know, a very bad thunder storm hit the festival about 30 minutes before we were scheduled to play. The storm was insane! Thunder, lightning, hail and the hardest rain we have ever seen! The storm only lasted a little over an hour but the flooding and damage to the stage and sound system were severe. As the techs were attempting to make repairs the fire brigade and city safety officials made the call that the show was cancelled. We stayed on site at the festival until late in the evening hoping that we could find a way to still play. This was not the way we wanted to end our tour! We love our fans and love Italy! We are just as disappointed as all of our fans that the show was cancelled. - Green Day"
July 5, 2010: Around Venice
We got up to a slightly rain sodden, but slightly cooler day and left Kim and Romaine at the hotel after breakfast. We had never been to the Lido Peninsula (familiar name to Newport Beach residents, but was apparently purloined from the original in Italy). The Peninsula forms part of the outer barrier that creates the Vince Lagoon. An hour Vaparetto ride took us around the Island and out to Lido.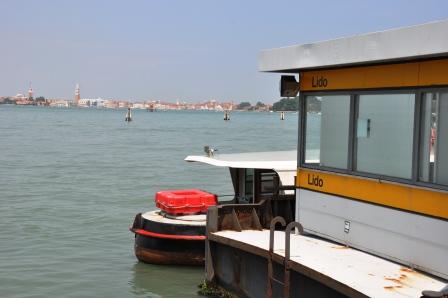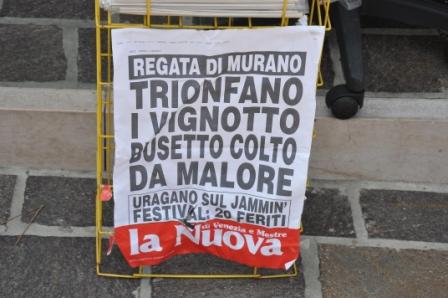 We saw this local newspaper headline which, roughly translated, says, "Hurricane Hits Jammin' Festival: 20 Wounded." Perhaps a little sensational.
The Lido Peninsula was mostly developed in the 19th and 20th centuries as a health resort for salt water cures and still has a lot of spas. Large hotels and summer houses were built and a lot of them have been turned into summer rentals and bed and breakfasts. We walked across the Peninsula, about six blocks, and walked along the beach. The European beach culture is different than ours where people come for the day and rent little storage/changing units and then rent umbrellas and lounges from operators along the beach. It appears that most of the beach is allocated to the commercial operations but you can put down a towel or blanket if you can find room between the commercial operations. Since the weather was still sweltering, the beach was a busy place.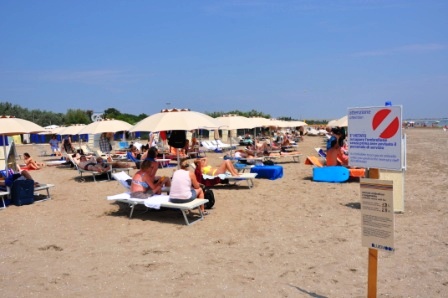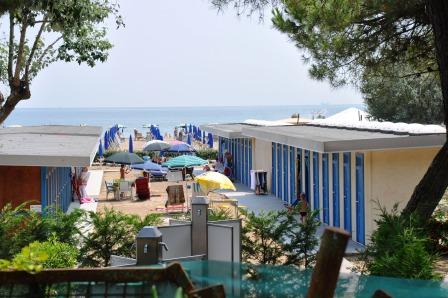 We found a great little hot dog and hamburger stand full of locals and had a good and cheap lunch.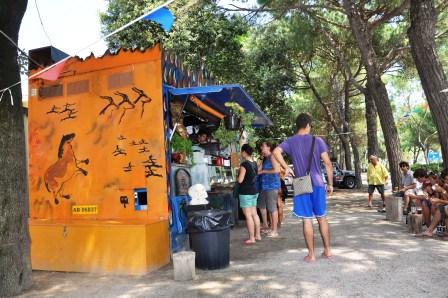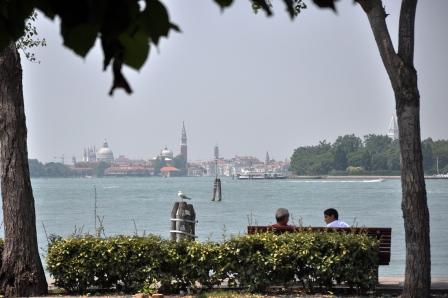 After walking around a little more, we caught the Vaparetto back to Venice and went back to the hotel. We caught up with Kim and Romaine, I watched the day's stage of the Tour de France, and we went to dinner.
July 6, 2010: Flight Home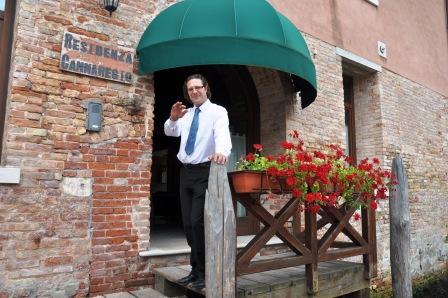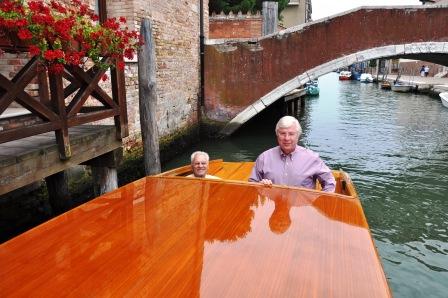 We got up and had breakfast and our water taxi driver collected us at 9:15 a.m. He took us to the airport and dropped us off. An expensive but nice way to get from the hotel to the airport. Patty and I flew to LAX through London and Kim and Romaine flew through Munich, both of us arriving at LAX about the same time. We shared a Super Shuttle van home and were certainly ready for bed.