FUBAR 2011
Fleet Under Way to Baja Rally

The Long Beach Yacht Club, host club for this year's rally, describes the event as follows:
"The Rally is scheduled for 15 days, weather permitting from Long Beach, CA and ending in La Paz, Baja California. The distance covered is approximately 1000nm depending on the Captain's course.

There are 7 stops including the finish, which are, Ensenada, Turtle Bay, Magdalena Bay (Man of War Cove), Cabo San Lucas, TBD, Bahia de los Suenos, and Costa Baja Resort and Marina, La Paz.

There are 3 overnights.
There are 4 stops that require anchoring.
There are 3 stops with slips.


Each Captain is in charge of his/her own vessel and makes all final decisions. Each vessel must be capable of 8 to 8.5 kts with sufficient fuel plus a reserve in the vessels integral tanks. No bladders or other types of containers for fuel on deck or cockpit."


I have been invited along to crew on a boat named Two Dreams, a 58 foot converted fishing trawler built in 1979 in the Delta Marine Industries yard in Seattle. She is a fiberglass hull, single diesel engine, trawler style boat, with two cabins. The owner, Peter Guernsey, is taking her to the sea of Cortez for the first time and got hooked up with our friend Jim Hicks, who in turn invited me and a yacht broker acquaintance, Det Breymann as additional crew.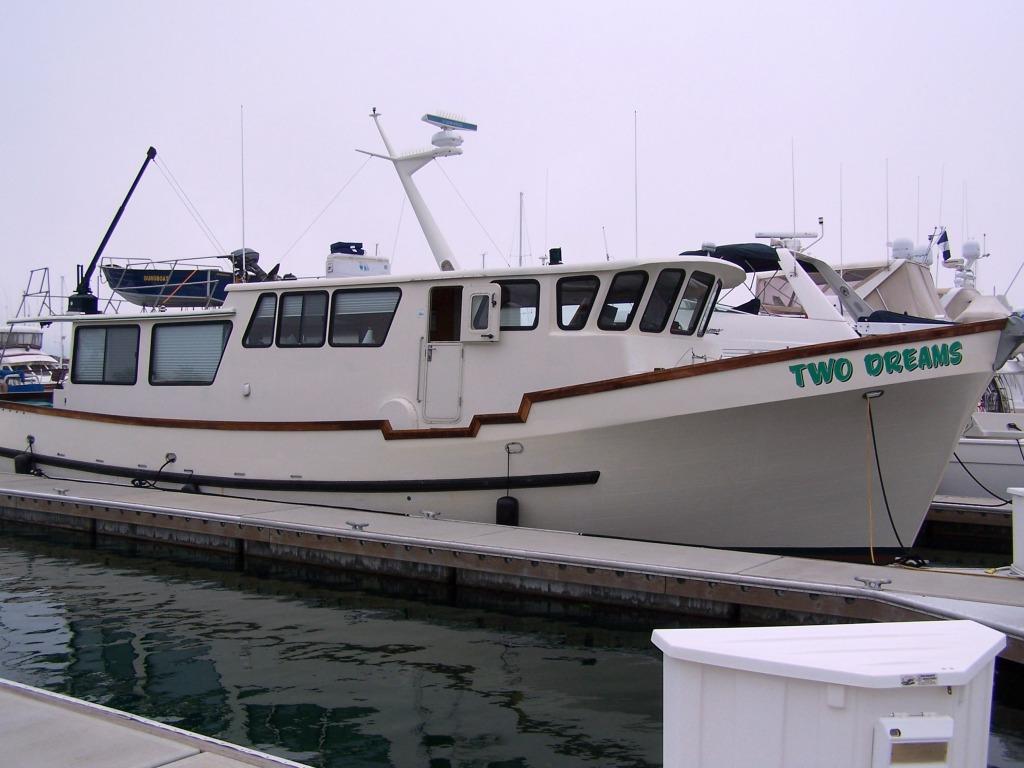 Two Dreams was originally built as a commercial fishing boat, was taken to Alaska, but was abandoned there by her owners. She was purchased by two guys who brought her back to Seattle and refitted her as a pleasure yacht. Peter bought her in Seattle and made the passage from Seattle to Ventura where she currently berths.
Peter has spent the last couple of months readying Two Dreams for her Mexico adventure which starts with the trip from Ventura down to Long Beach on November 4 or 5. She will be in Alamitos Bay, near the Long Beach Yacht Club, for the Bon Voyage party at the Yacht Club on Sunday, November 6, 2011. We expect to leave for Ensenada, Mexico on the morning of November 7, 2011, and make an overnight passage, arriving in Ensenada on November 8, 2011. I will be aboard from November 7, 2011 until November 18, 2011, when she arrives in Cabo San Lucas, at the tip of the Baja peninsula. While the official trip continues on to La Paz, Mexico, around the tip and up into the Sea of Cortez, I will be getting off at Cabo San Lucas and flying home the night of Friday, November 18, 2011. At that point, all of the passages are short enough to do in one day, so the need for additional crew is reduced.
Sunday, November 6, 2011- Long Beach:
We four crew met at Mimi's at Alamitos Bay for breakfast. We discussed last minute things and then Jim and Det went off to finish packing and Peter and I took off for Home Depot to get a drill and cut-off wheel to finish cutting off a frozen shackle so Peter could fit a larger anchor that Jim loaned him for the trip.
After finding those things, we went to the Costco next door and loaded $775 worth of provisions, for four guys for two weeks, onto the large flat. Everything from English Muffins, peanut butter, pork chops, salt and pepper, two cases of wine and one of Coronas (seems ironic to load Coronas to take to Mexico, but Costco is still cheaper.) We dodged the rain, and while it was raining when we went into the store, the rain had stopped when we finished and we stuffed the car with no rain falling.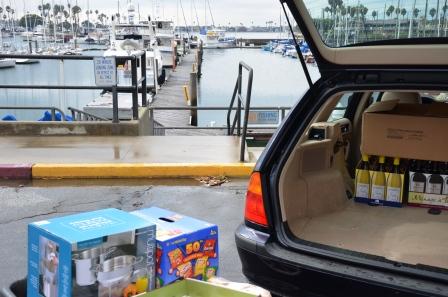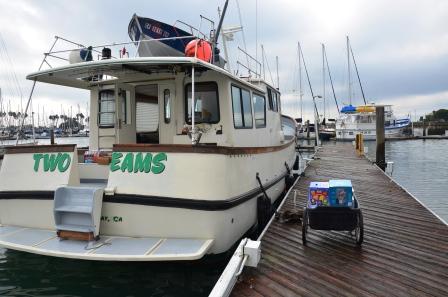 After getting everything loaded, a little after 1:00 p.m., I left and went home to get Patty and come back for the Bon Voyage party at the Long Beach Yacht Club. Peter's girlfriend Cindy came down from Ventura, Det's wife Ellen came down and Jim's wife Georgette was there too.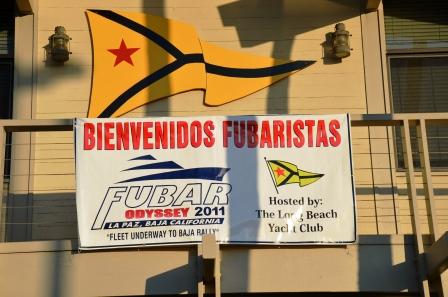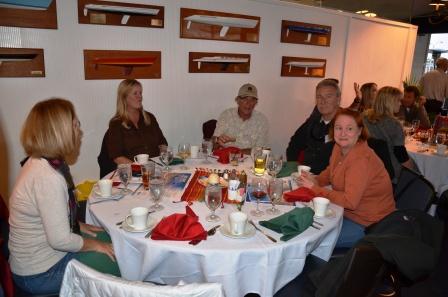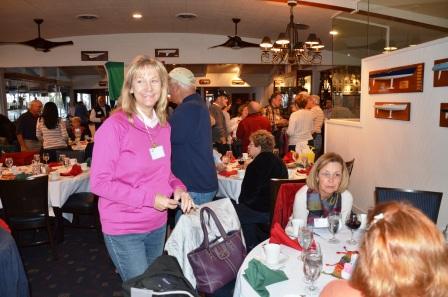 After a dinner of taco, rice and beans (were they afraid we would not get enough Mexican food?), we had the usual introduction of sponsors (including our own BWCC friend Holly Scott pitching "Charlie's Charts), a raffle gave away a lot of cool stuff including rigging knives and LED flashlights, of which Patty and I came away with, the dinner concluded and we went back to Two Dreams for loading a few final supplies that Pete had picked up on his way back to the boat and final goodbyes.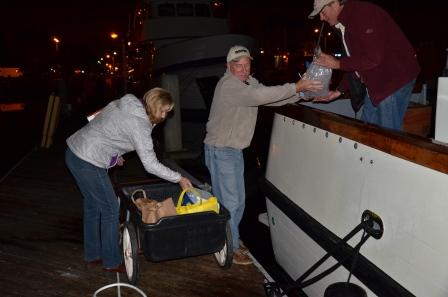 l
We pushed off at 7:12 p.m. and headed out the breakwater. After clearing the oil islands and the anchored ships, we set a direct course for a point about 6 miles off of the Coronado's, a group of three islands just south of the Mexican border and visible from San Diego. My watches were 8:00 p.m. to midnight and 4:00 a.m. to 8:00 a.m. This was my first ocean passage on a motor yacht, so I was anxious to find out what life was like in a boat with no sail to stabilize the rolling (and no mechanical stabilizers) and standing watch inside an enclosed pilot house. We kept the windows open so there was plenty of fresh air and the moon light and the lights ashore kept the horizon visible, so I kept my eyes on the horizon or closed so as to keep the sea sickness at bay. As usual, night watches are hard, but being warm was nice.
Monday, November 7, 2011: Ensenada
Sunrise was about 6:00 a.m., and our steady 7.5 knots got us just past them by the end of my watch.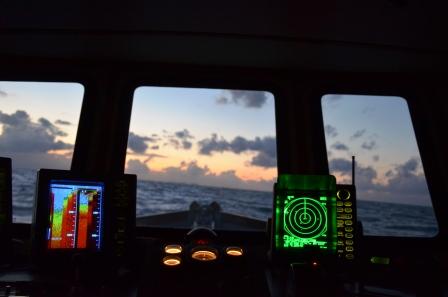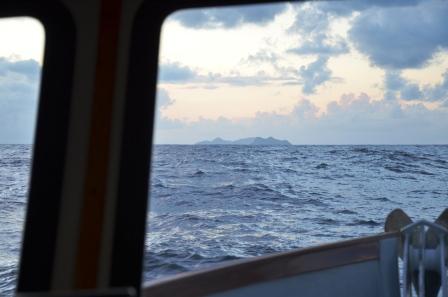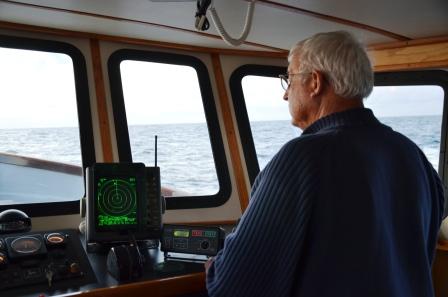 After a couple of hour nap, I was up and the seas had calmed a bit and were less confused, and with the daylight and smoother seas, it was a pleasant ride. We all even had some English Muffins with peanut butter and jam on them, and later Peter made sandwiches.
About 2:30 p.m., we arrived at the Coral Hotel Marina, and came into our slip, with all the luxuries of free wifi, shore power and showers ashore.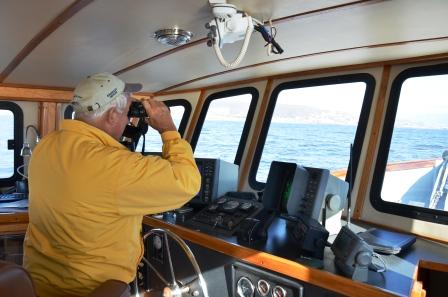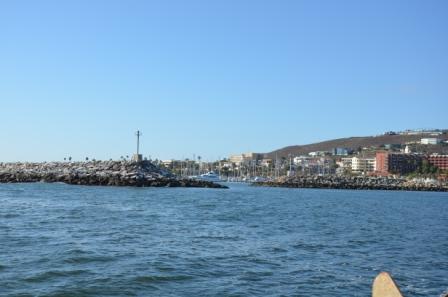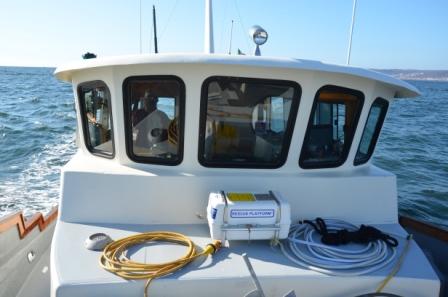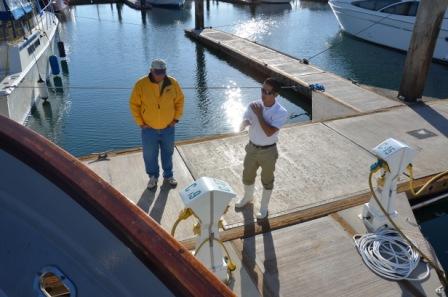 After cleaning up, and hosing he boat down, we went up to the marina office and they called a taxi for us. We went into a restaurant, away from the cruise ship docks, called Mahi Mahi, as you can guess specializing in seafood. This is a nice local place, and the crowd was up-scale Mexican nationals, so the prices were reasonable and the food was good. We did not have an ocean view, but I think we have enough ocean views that we did not need one to eat dinner. The restaurant had the best shrimp cocktail I have ever had and we had a great dinner.
Tonight we sleep on the boat in its calm state. Tomorrow we have to go to the port captain and clear into the country and get our tourist visas.
Tuesday, November 8, 2011: Ensenada
We were all awake by 7:00 a.m. and I made a breakfast of chicken/apple sausages, scrambled eggs and English Muffins. At 8:45 a.m., we headed up to the marina office where vans were waiting to shuttle us into town to the Port Captain's office, where we had to get our tourist visas, check the boat into Mexico, and pay the necessary fees. There were not enough vans, so they had to shuttle people 6 at a time, so our first wait was to get a van, and when we got to the Port Captain's office, it was apparent that it was going to be a long wait.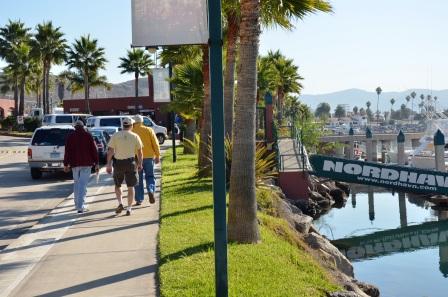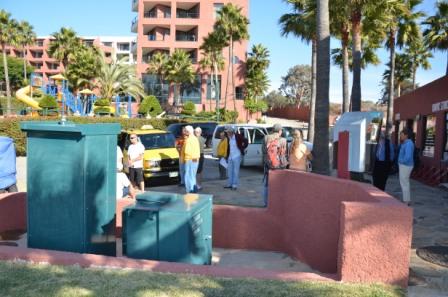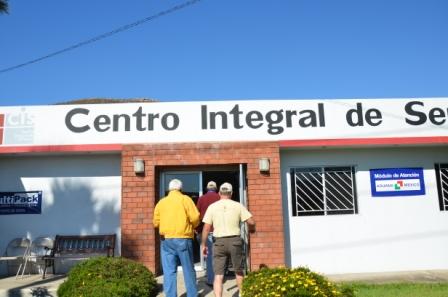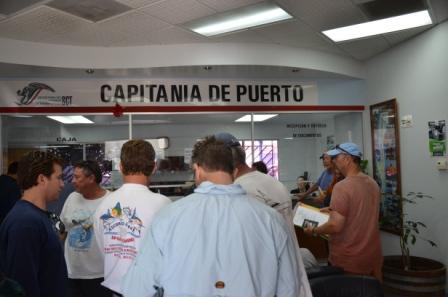 Pete and I went for a walk to try to find an ATM machine. We stopped at a 7/11 and the girl at the counter directed us down the street to the "CinePlex" where there was an ATM in the lobby. We would have never found it on our own, but the door was open and we were able to get in and the ATM worked and we were able to get cash.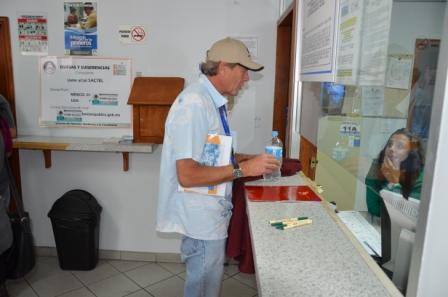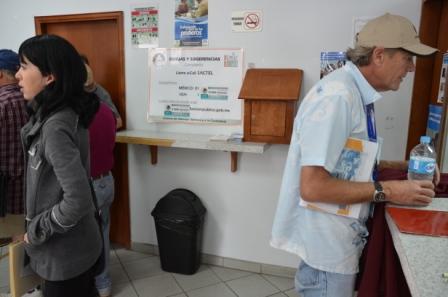 We enjoyed the sign behind Peter that had complaint forms, with the trash can right below the collection box.
We went back, and waited some more, and finally got processed by the immigration officials, paid the fees, and then got processed by the port captain to clear the boat in. The customs officer's office was in the same lobby, but apparently we did not need to be searched. Since all of our bags were back on the boat, and no one ever came to the boat to check anything, we did not have to worry about what we were carrying.
Apparently, these offices used to be in different places and all fees had to be paid at a bank down the street. Now everything is in one spot, but it did not seem to make it any faster. About 1:00 p.m. we were finally finished and the Coral Hotel van took us back to the hotel.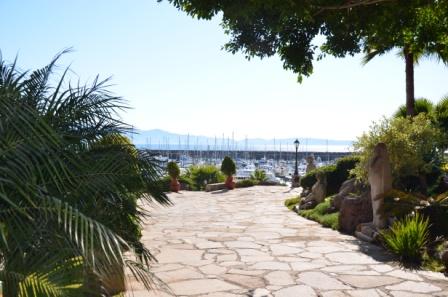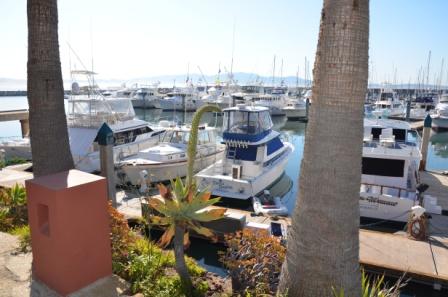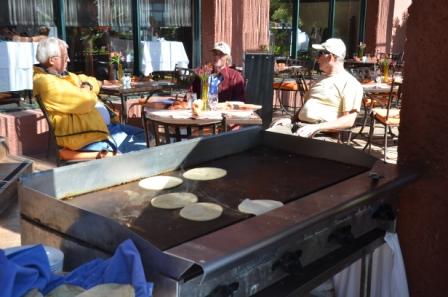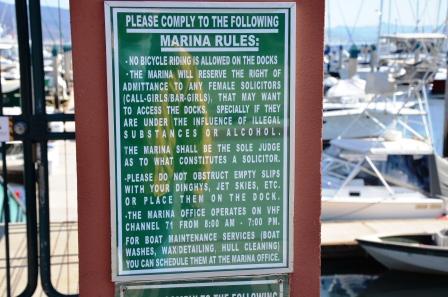 I really enjoyed this sign at the dock gate. Basically, you can only bring hookers down on the dock that are approved by the marina management. We do not have a sign like that at our marina in Long Beach. The marina is home to a lot of sport fishing boats, so I guess they have a problem with people riding bicycles on the dock and drunk hookers that have not paid the marina management their cut.
At 5:30 p.m., we gathered at the marina office again and were shuttled to the Baja Naval boat yard, where they had set up a large tent in the yard, with heaters, table rounds, a bar and table from about a half dozen of the best local restaurants who each gave out a specialty. One table had salads, another lasagna, one with fresh grilled fish, a risotto table, a steak house serving delicious steaks, and a fabulous dessert table. All of the food was very good as each of the restaurants were putting their best foot forward as a marketing effort. We met a lot of people from other boats and were back to the boat by 9:00 p.m. after a very nice evening and dinner.
Wednesday, November 9, 2011 Ensenada:
Today, we are going to take a taxi up to the wine country east of Ensenada for some wine tasting and lunch. I made biscuits for breakfast so we are rested and well fed. We have decided to leave for Turtle Bay tonight about 9:00 p.m. We expect it to be about a 40 hour run, which will get us in mid-day on Friday. Since we are a relatively slow boat, and we would like to get a close in anchorage, this make sense to us.
The run to Turtle Bay is the longest run of the trip and will involve two overnight watch schedules. The fishermen on board are excited about the run south as it is usually very productive fishing grounds for bonita, tuna and even an occasional marlin. I look forward to eating them if we catch any.
About noon, Jim arranged for a taxi van to pick us up and take us to the wineries in Guadalupe Valley. The Baja wine country is about a half hour up the road to Tecate and exists in a valley above Ensenada. There are thousands of acres of grape vines, mixed in with old oak trees and a few olive orchards. It is a pretty valley studded with big granite boulders. Jim is very familiar with the valley and guided our tour. We stopped first at a very nice winery, with a very sophisticated tasting room and very nice grounds, but they were closed until 4:00 p.m., the time we intended to be back at the boat. Next on the agenda was lunch at La Hacienda, a very nice local place, set in a plant nursery, shaded by huge old oaks.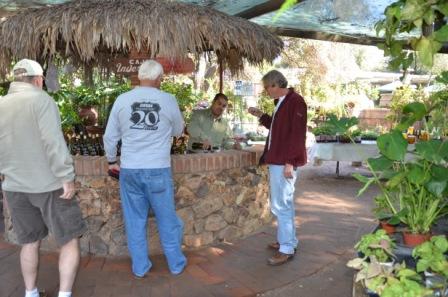 Just after the entry, a guy had a stand of flavored liqueurs, and we all had a sip of several; coconut, hazelnut, pomegranate, etc. We sat down and had drinks and lunch. I started with a delicious bloody Mary and had tortilla soup. Det had some great looking tostadas.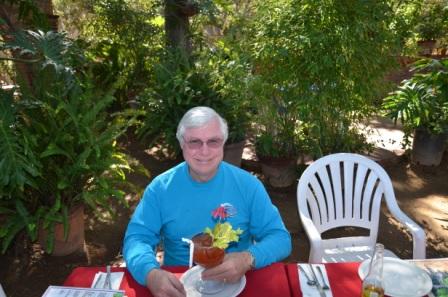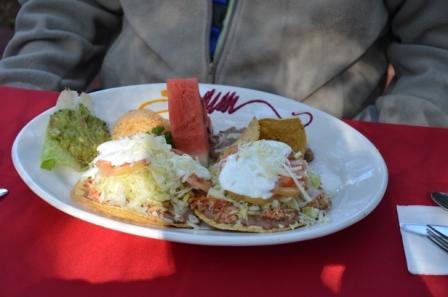 Our first winery was Liceaga and we tasted four wines which were served with bread, cheese, crackers and chips. Next we went up the valley to Monte Xanic, where the tasting room is in a loft just off of the wine production and storage building. They had a Merlot that both Jim and I poured out (but which the server insisted was his favorite), but had some very nice sweet white wines. That was not surprising since it looked like the founder was German.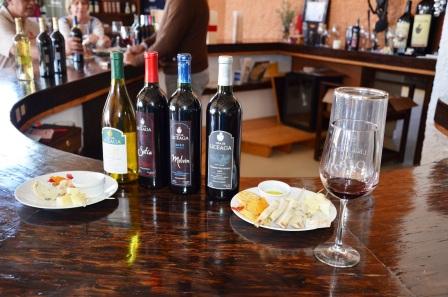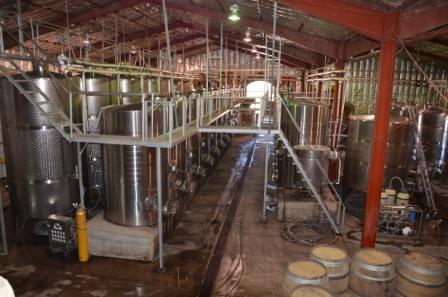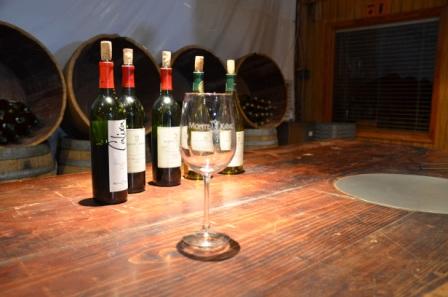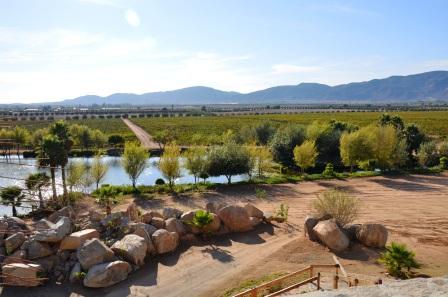 We took a much faster ride back down to Ensenada (the driver seemed motivated) and stopped by the grocery store on the way back to the marina to pick up some last minute groceries.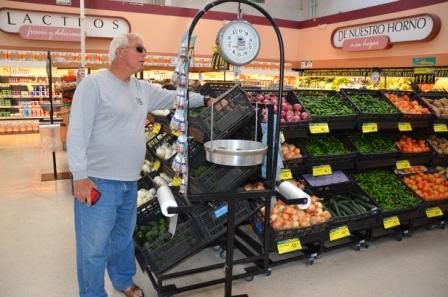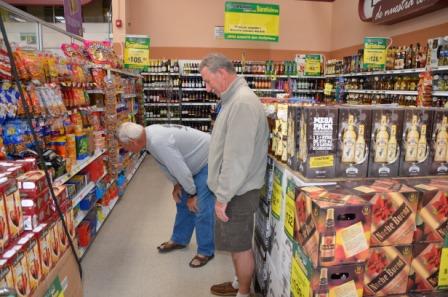 We got back to the marina at 4:00 p.m. and get busy getting everything ready for a departure; dropping off marina keys, getting departure paperwork, dumping trash, putting away groceries, etc. We were ready and off by 5:30 p.m. I made spaghetti with Italian sausages with French bread and we ate that as we left Todo Santos Bay and made the left turn south down the coast. After our previous night passage, this one was smooth and quiet, with only 1-2 seas and little wind. We had a very comfortable ride and other than tracking a parade of various kinds of commercial boats coming north outside of our track, there was not much activity. The full moon lit up the sea and it was a very nice night with everyone able to sleep well on their off-watch times.
Thursday, November 10, 2011 In Route to Turtle Bay:
I had the 4:00 a.m. to 8:00 a.m. watch and we had another pretty sunrise. At 6:00 a.m., Pete rigged three fishing poles to see what we could catch. While we did not catch any fish that morning, we saw two whales, one of which sounded, sticking his tail flukes into the air while I had the video on the camera running.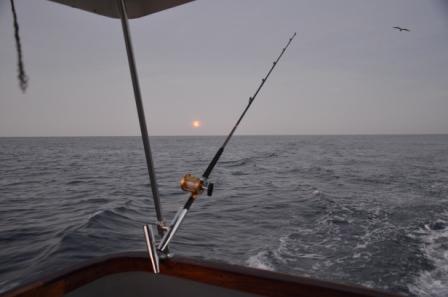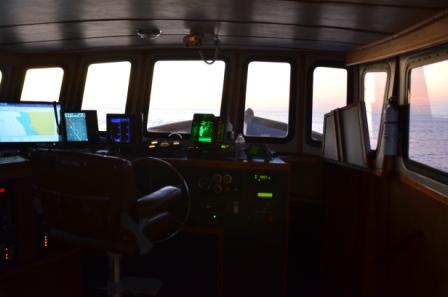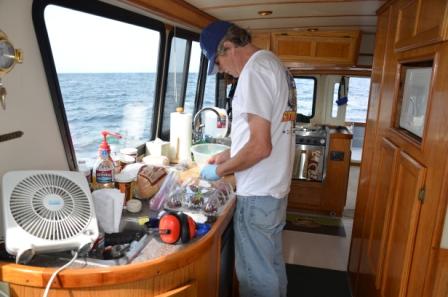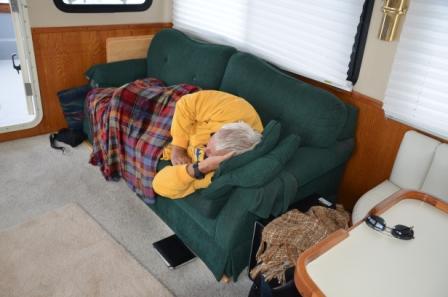 The day continued on with smooth seas and the boat running well. Before dark I cooked a dinner of pork chops, steamed asparagus, salad, fresh tortilla chips with the salsa fresca that Peter made.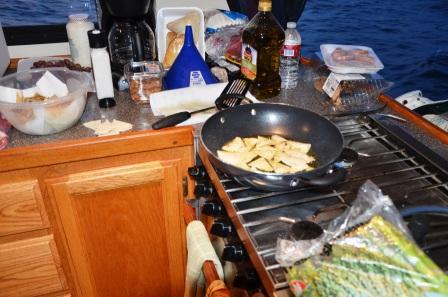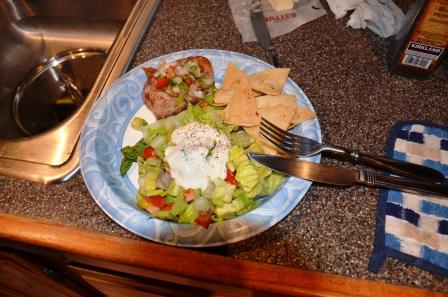 We spent most of the night in sight of Cedros Island, a 3,000 ft. high island with a couple of villages on it. We had the nearly full moon, calm seas, and little traffic as we were headed inside the island and all of the commercial traffic was outside. I had my usual 8:00 p.m. to midnight and 4:00 a.m. to 8:00 a.m. watches. I had downloaded the new Stephen Kink book, "11/22/1963" onto the Kindle app on my iPad, so I got a lot of reading done.
Friday, November 11, 2011, Turtle Bay:
By dawn on Friday morning we were just past Cedros Island heading for the channel at the point of the "hook" on the Baja Peninsula. Turtle Bay is around the point of the "hook" and about a dozen miles south east along the coast. The bay is a big, round bay that opens to the South, giving it good protection from the prevailing west and north west winds and seas. Since the area is known for its good fishing, Det and Peter were up at dawn, setting the rods and reels and getting the lures streaming. We caught some sea weed, but then one of the reels sung out with line reeling out and Det grabbed pole and started reeling in what was obviously a large fish. Jim slowed the boat and Det worked in a 20 lb. yellow tail tuna.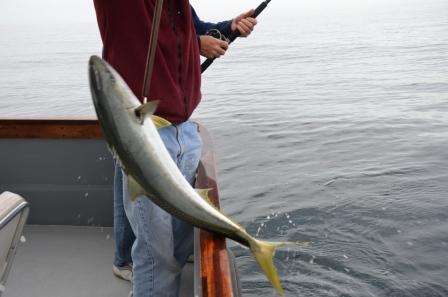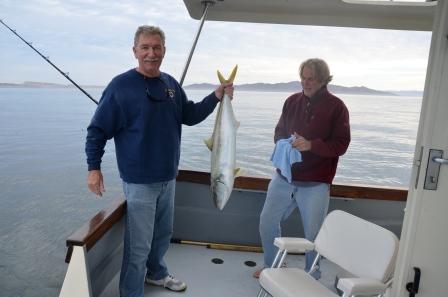 By 10:30 a.m., we were heading into Turtle Bay, the first of the Fubar Fleet to arrive. We were surprised as we were not the first boat to leave, and certainly were not pushing it hard, never going over 7.5 knots, and even slowing down to 6 knots passing Cedros Island so as to get the channel between the peninsula and the islands after dawn. There were about 14 sailboats in the bay, so we got to pick our spot and drop our anchor where we were comfortable.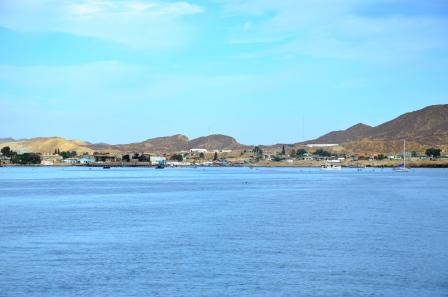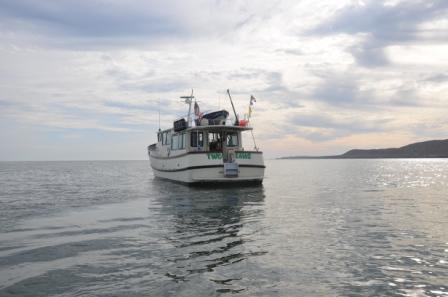 Peter fileted the tuna, I fixed some more chips, guacamole and rice, and Peter grilled some of the tuna and we had a lunch of some pretty fresh fish. As other Fubar boats trickled into the harbor, we rested, read and napped.
About 3:00 p.m., Peter and I took a panga ashore and landed at the town dock. There is a long wooden pier, with the most rickety steel staircase I have ever seen leading down to a floating finger dock. As the swell came in the floating dock moved up and down like a sea serpent.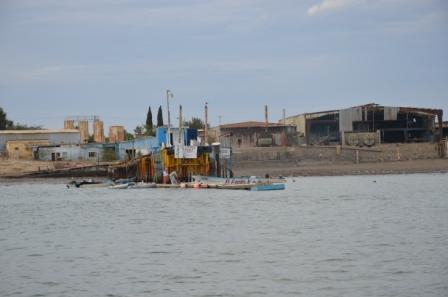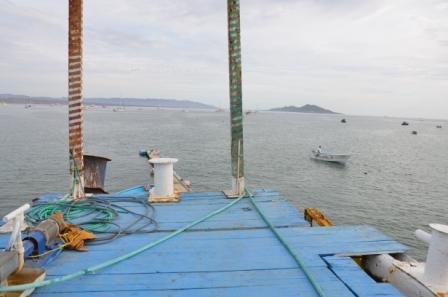 We walked onto the beach and Peter went up to the beach bar and I wandered into town. The town is much larger than I expected; I would guess about 2,000 people. There is a very nice elementary school, a Pemex station (Mexico's national gasoline distributor), a number of markets, clothing stores, stationary stores and various car repair facilities. All of the streets, except for the block in front of the city hall, are dirt and the town is covered in dust.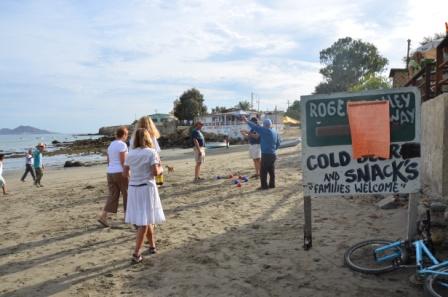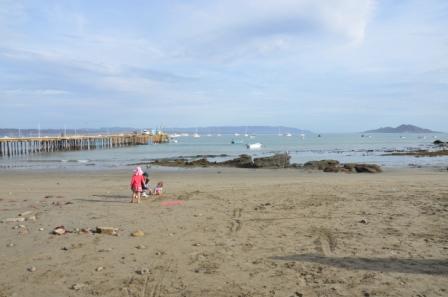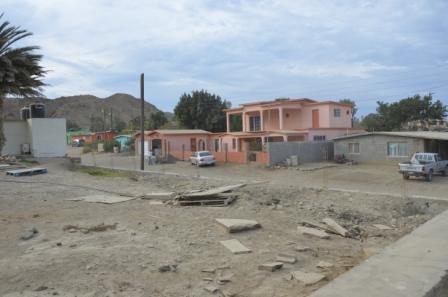 I found Peter at another bar, sat for a few minutes and talked with some folks from Boise. One lady apologized for staring at me and said that I looked just like her two year old nephew, or what he would look like at my age. I am not sure how to take that, but since I have inadvertently insulted their boat (not knowing it was their boat, a Choy Lee '70 that is about 3 stories tall) I tried to take her comments nicely.
I came back to the boat alone and made a salad with grilled chicken on it. Peter arrived just as we were starting to serve the food. About mid-night we had a squall pass through, with light rain and 25 knot winds. The boat was on anchor watch for a couple hours, but it quieted down and we got some sleep.
Saturday, November 12, 2011 Turtle Bay:
Lots of radio chatter this morning about the front coming through. The weather is not predicted to be very bad, but 20-25 knots winds, a little rain, but with small craft warnings. Since there is little else to do here this morning, everyone on the radio beat the thing to death, with lots of name dropping regarding weather routing services and which said what.
Peter made poached eggs on English muffins this morning and the rain has been light but steady. Luckily, the rain stopped, the sun came out, and FUBAR decided to go ahead with the dinner.
I got a panga to shore with Det and Peter and found that a closed beach bar had wifi. A guy hanging around told me the door was probably open, so we went in; the web log-in key was posted on a piece of paper hanging from a post; so I was able to log-in, up-load the web site and Peter and Det were able to send e-mails.
About three fourths of the fleet moved to the south side of the bay, which was more protected from the swell coming into the bay, but we elected to stay put for two reasons. First, our anchor held solid the night before, and we were a little reluctant to pull an anchor that had held. Second, that part of the bay was looking crowded and we had a lot of room, especially with the movement. A dozen or so of the larger power boats stayed as did some of the sailboats. A boat behind us tried to pull their anchor, their bow sprit started breaking and their chain jammed. The boat then dragged about 50 yards and then caught on something on the bottom. There they stayed all night.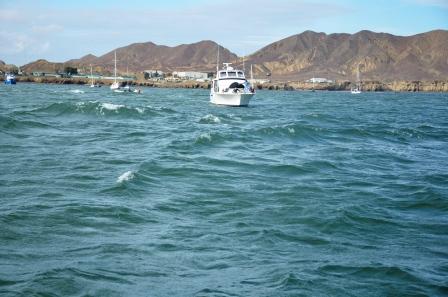 About 3:30 p.m. the pangas from Enrique's, one of the beach cafes, started picking up FUBAR crews from the boats to take them to the FUBAR Dinner. Jim, Det and I went and Peter stayed to watch the boat. About 50 people from the cruise gathered, drank beer and margaritas, and were fed soft tacos( beef or fish, three only, served at the table). At least I did not have to cook dinner.
Before dark, we left and went down to the dock to get a panga back to the boat. While we were at dinner, the dingy dock broke free and drifted off. The seas were building too, and they were 3-4 at both the dock and the boat.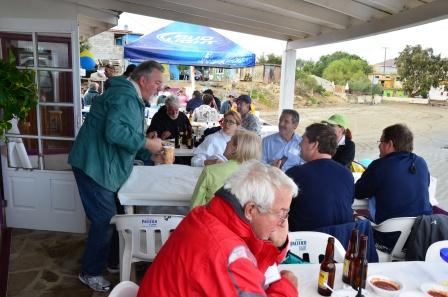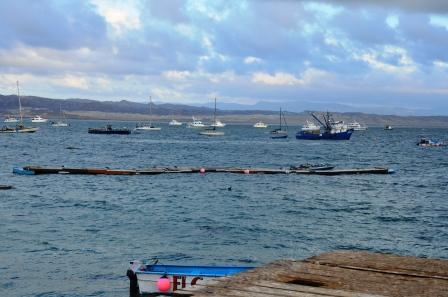 We had the climb down a steel ladder to board the bouncing panga, which was surging back and forth and up and down next to the ladder. I had the camera in a dry bag, hanging from my wrist, when the surging panga rail hit it against the ladder. When I jumped into the panga and felt the bag, the camera body and lens were separate.
Getting back on the boat was an athletic fete, with the swim step going up and down 3-4 feet, going under water and back up. I jumped, went down on a knee, just as the swim step dunked itself. Good thing I was wearing quick drying pants. Jim boarded over the rail near the middle of the boat to avoid the heaving swim step.
I am again impressed with the Nikon camera. It took a pretty good blow, but the major damage was that a sacrificial ring on the lens with the mounting tabs broke off those plastic tabs, but the camera body has a steel ring so there was no damage to the camera body. I will have to have the tabbed plastic ring replaced on the lens, but I have a telephoto lens I can use with the camera body.
The night was bouncy and rainy. The anchor held, and although an uncomfortable night, most of us were able to jam into some corner and get some sleep.
Sunday, November 13, 2011 Turtle Bay bound for Magdalena Bay:
We left about 9:30 a.m. with 15-20 knot winds and 4-5 foot seas. Since this is prime fishing ground, the fish wackers were deployed and lures were dragged through the water.
The wind and seas declined and the ride got pretty comfortable. I cooked a pork roast in the oven, boiled some red skinned potatoes and made mashed potatoes, made a salad and steamed some broccoli.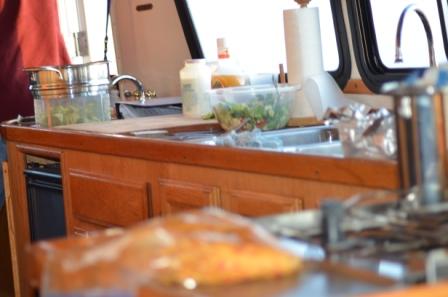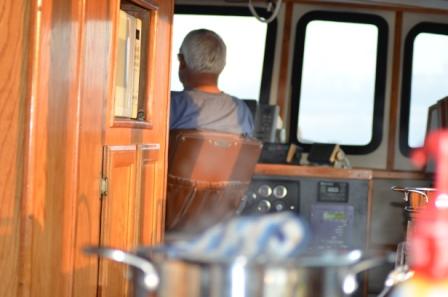 During the night and into the next day we caught a lot of dorado, tossing back some, but keeping 3 or 4 which were filleted and put in the refrigerator and freezer.
Monday, November 14, 2011 Bound for Magdalena Bay (or Bahia Santa Maria):
The wind and seas came up again over night, making it a bumpy ride. We saw lots of sea life; lots of dolphins, the fish we caught, and even a marlin dancing on the waves (but not on our hook). After noon, the seas calmed down and our course took us with them, so the ride was comfortable.
We got into Bahia Santa Maria just after dark, about 7:00 p.m., and with the moon not up yet, it was very dark. The bay, part of the complex of bays and estuaries that Magdalena Bay is part of, is a couple of hours short of Magdalena Bay, so we came in to get anchored. After picking our way to the anchorage, we dropped in 35 feet in a big, but quiet and calm bay. About a dozen of the FUBAR boats were with us along with a fair collection of fishing boats. We were anchored by 8:00 p.m. and I made fried fish, rice and salad for dinner. Not being at sea, it was nice to have a glass of wine with dinner.
Tuesday, November 15, 2011 Magdalena Bay:
We woke up with the sun after a great night's sleep, uninterrupted by at sea watches or anchor watches, for the first time since Ensenada. It was a beautiful sunrise and I made coffee and biscuits for breakfast.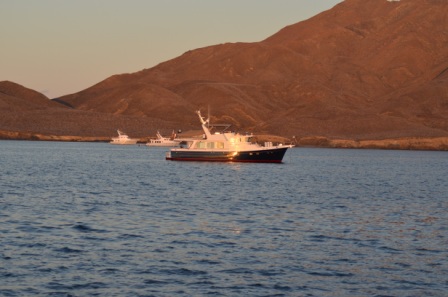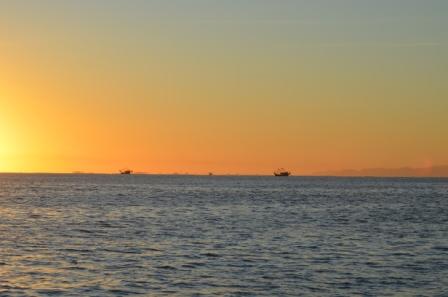 We pulled the anchor about 8:00 a.m. and started the short trip out of Bahia Santa Maria around to the entrance to Magdalena Bay. We were treated to a great show by a whale just out of the entrance of the bay.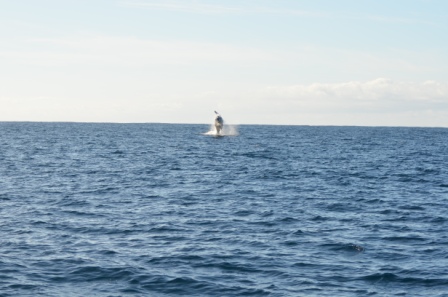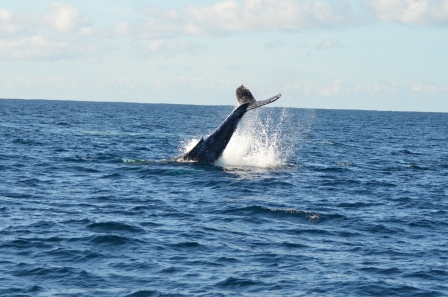 After a short trip down the coast, we turned into the entrance of Magdalena Bay. The irony of the landscape required us to do a U-turn and head back the way we came, but inside the Bay. The two bays are separated by a low peninsula of sand dunes, so the only way to get from one to the other is going out to the open ocean. After an hour of going north inside the bay, we dropped anchor off a small fishing village of probably 30 houses, a cantina and a church. We got cleaned up, got Peter's aluminum boat and outboard off the big boat, and put it in the water. Peter had run out of cigarettes and getting to shore was a high priority item.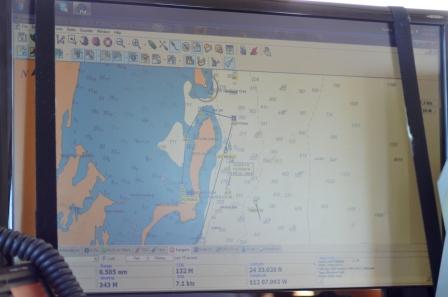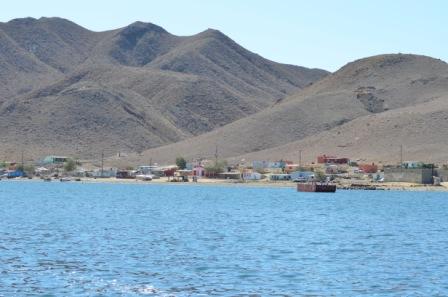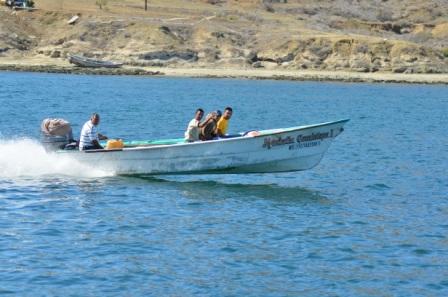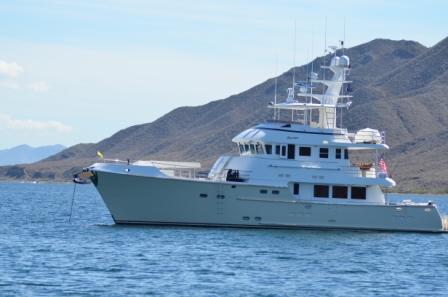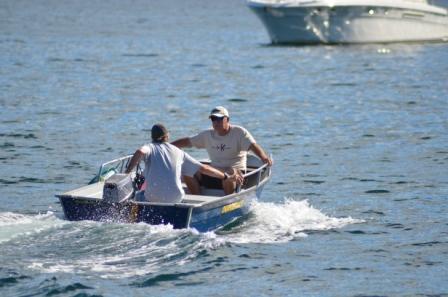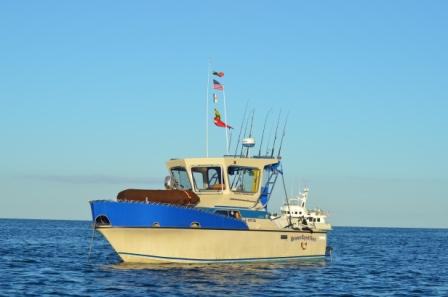 Above right is "Brown Eyed Girl," the smallest boat in our fleet, at a little over 30 feet. That crew is not enjoying the same creature comforts as a lot of the rest of us.
About 5:00 p.m., pangas came around to the boats and picked us up to go to shore. As we pulled up, a mob of kids struggled to move a set of rickety wooden steps up to the pangas so the gringos could step off without getting their feet wet. Or as in our case, we were able to jump off of the bow into the sand and still not get our feet wet.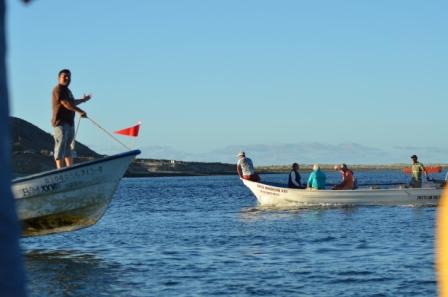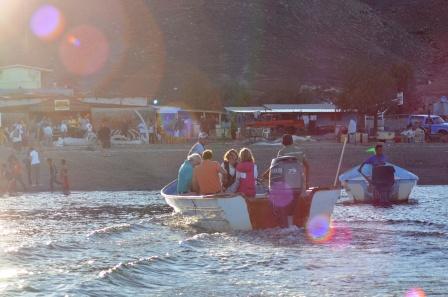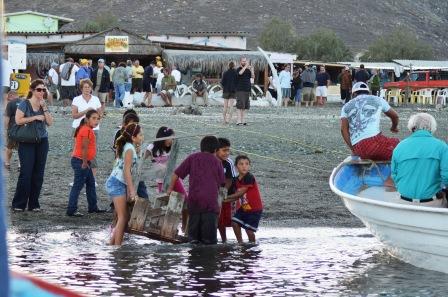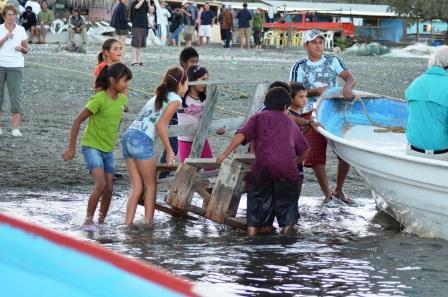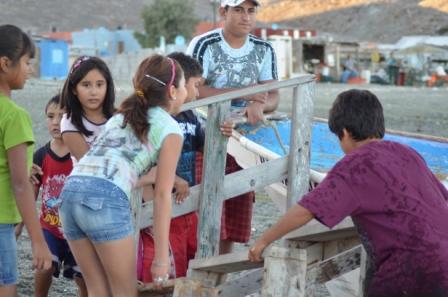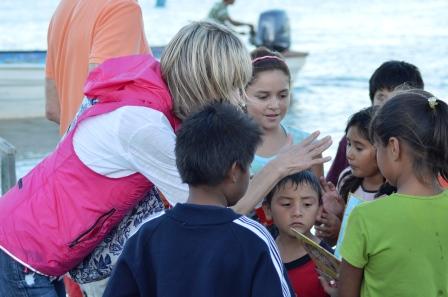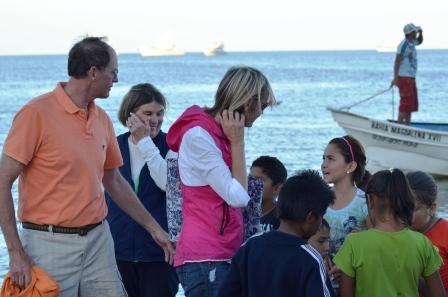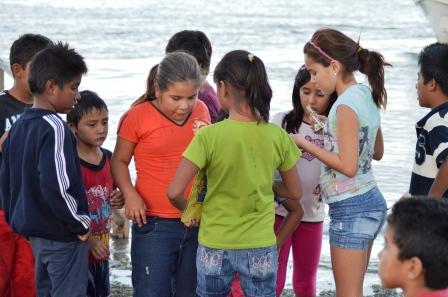 We gathered up in front of a small cantina on the beach, in front of which was the skeleton of a large whale, with the bones arranged so as to make seating on the beach. The cantina had a sand patio, with a few plastic tables and chairs, one large room open on the sea side, a kitchen and an open air bar. The FUBAR fleet donated the fish from an abundant supply that was caught on the superb fishing grounds through which it cruised, and the cantina supplied beans, coleslaw, and tortillas.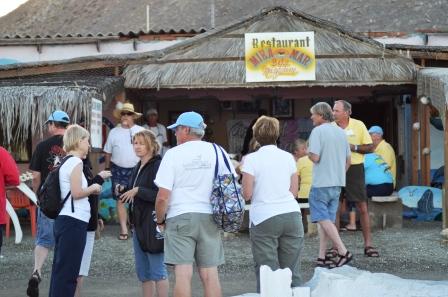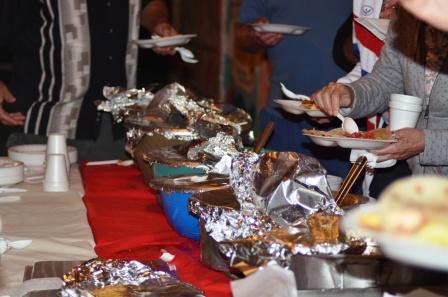 After the the cruisers were ashore, the FUBAR organizers pulled out their gifts to the local children, which were fresh water fishing poles, reels, line and a bag of lures and hooks to go with each set. The kids gathered around and ecstatically collected their share of the booty.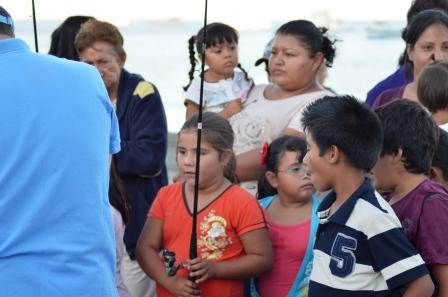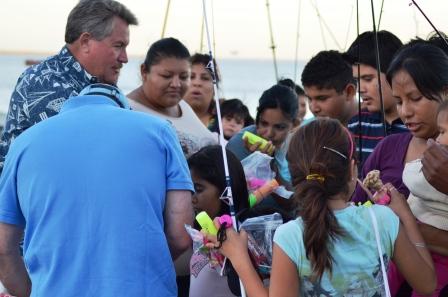 The whole incident, along with an incident on our boat a day ago got me to thinking about fish, fishing poles and cultural arrogance. First, this section of the coast of Mexico has no reason for having people living here except for fishing. When they fish, they do not use poles, but nets, fish traps or any other method that is likely to most efficiently get the fish in, because for them, fishing is not sport, but survival. Second, it reminds me of a boat delivery I did from Seattle to Newport Beach a long time ago. We spent our second day out of Seattle battling west in the Strait of Juan De Fuca, and decided to stop at the little fishing village of Neah Bay on the north west tip of Washington. The village is on an Indian Reservation and we went ashore looking for a salmon dinner because the fishing boats and a fish processing plant were chock full of freshly caught salmon. We found a little diner and all they had on the menu was hamburgers and fried chicken. Our skipper asked about getting some salmon and I have never forgotten the waitress's response. She said, "We eat fish when we have nothing else to eat here; when someone can afford to go out to eat, they sure do not want fish."
The other incident is that a couple of days ago, transiting through the great fishing areas, we caught a couple of large dorados and after killing them, left them on the side deck where they spoiled and had to be thrown away. I had decided to stay away from the aft cockpit of the boat while fishing was going on because the activity seemed to turn Peter into a raving lunatic and I not only did not like being around him, but thought it might be dangerous with hooks and gaffs flying around. Having divorced myself from the activity, I took no responsibility for dealing with the fish after they had been caught. I had never fileted a fish, but I suppose I could have volunteered and done it. Peter had fileted the fish we previously caught, but apparently never got around to these.
Overall, I am largely troubled by the concept of fishing for sport. I do not have a problem with fishing and then eating the fish we catch, but doing it simply for the thrill of it is morally questionable as I think that we have to curtail our activities that involve hurting and killing other creatures so as to do the least damage possible. Giving the kids fishing poles, rather than books, clothes or something they really need is also questionable. I think the organizers enjoy fishing and thought the kids would like it too, and their motive was good, but I think that there is an element of cultural arrogance in assuming that these people, who fish for living, would enjoy it as sport, shows a lack of understanding of the real conditions of life here.
Anyway, the dinner was good and I enjoyed talking with other people on the beach. One guy, a retired Connecticut dentist, and the first buyer to commit to a Nordhavn 55, who owns hull number four, (Dave) was an interesting guy to talk with. He is crewing on another boat, but he and his wife have taken their boat to the Mediterranean and have ended up semi-permanent resident of Turkey, living on their boat there.
Wednesday, November 16, 2011 Magdalena Bay in route to Cabo San Lucas:
We woke up to beautiful clear skies, moderate predicted sea conditions and predicted northwest winds, which should make for good conditions for my final leg of the trip. We pulled out of Magdalena Bay at about 8:30 a.m. and spent most of the first hour back tracking down the bay to the entrance. Once we were out into the open ocean, the sun was out, the wind warm and the skies clear. The wind and the seas pushed us along so we got a little more speed out of the same engine effort.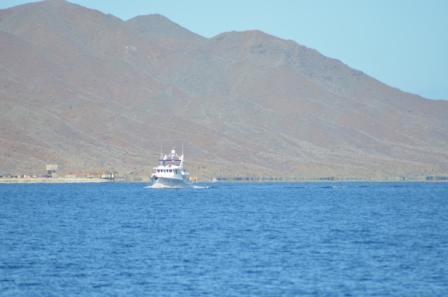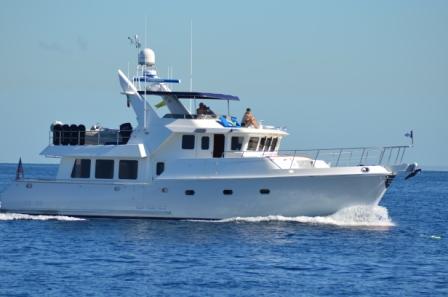 An hour or so south of the entrance to Magdalena Bay, we spotted the Nordhavn 62 that was put on the rocks a couple of years ago by a delivery captain who believed in coming north "with one foot on the beach." The boat that hit the rocks on a dark night and is still on the beach is a monument that his theory has some drawbacks.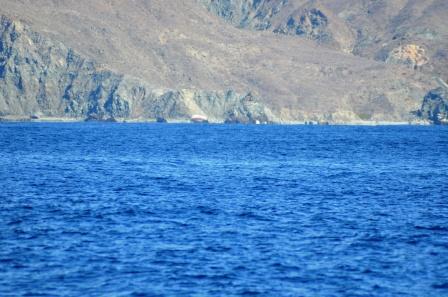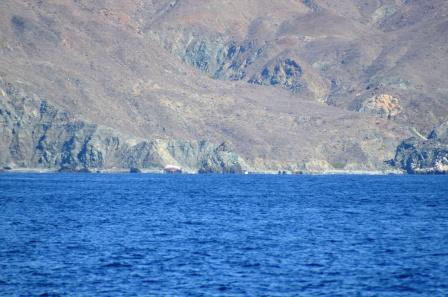 The cruising at 8 knots was easy and we had a pack of Nordhavns around us all cruising south at the same speed and on the same course. I made a broccoli and asparagus stir fry, with left over pork roast for dinner; my last dinner at sea on this trip. The night watches were still hard, but we had developed good routines and we all knew that this night watch was our last of the trip. Even the rest of the crew taking the boat on to La Paz only has day hops after Cabo San Lucas.
Thursday, November 17, 2011 Cabo San Lucas:
When I got up for the 4:00 a.m. watch, we could see the lights of Cabo San Lucas looming on the port bow. By sunrise, we were rounding the famous arch rocks at the point of the peninsula, behind which the Cabo San Lucas marina sits. While we did have a reservation at the marina, we did not have a slip assignment, so we anchored off of the beach at about 7:30 a.m. The water, at 85 degrees, and so clear you could see the anchor in 40 feet of water. I pulled on my board shorts and went for a swim, followed by a shower aboard, and my last clean underwear and shirt.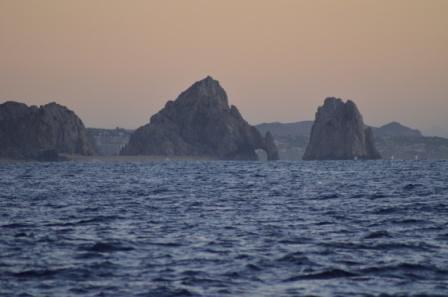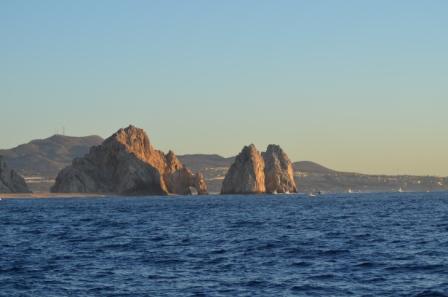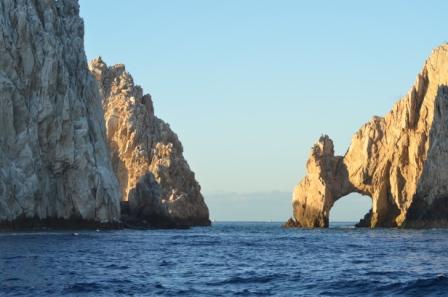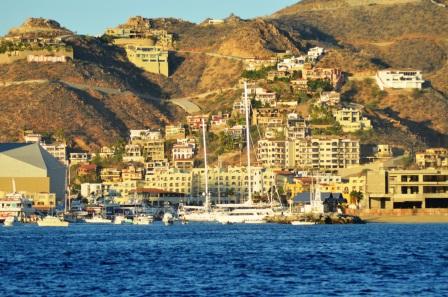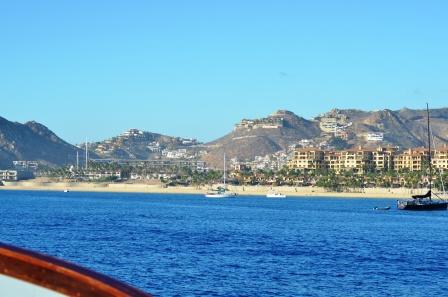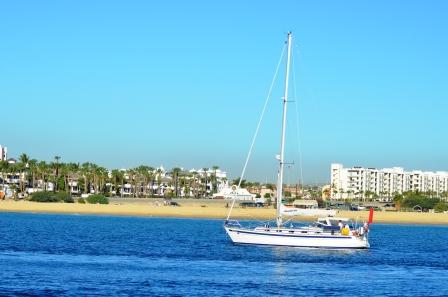 About 10:30 a.m. we got a call from the marina with a slip assignment. We got the boat in a slip in the marina, went ashore for lunch, and came back to the boat for naps. Darkness came far too soon.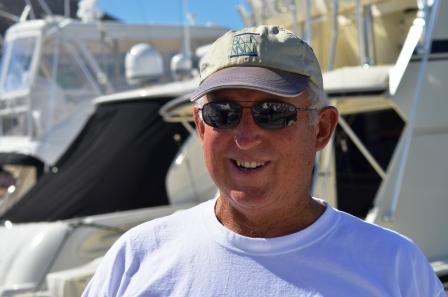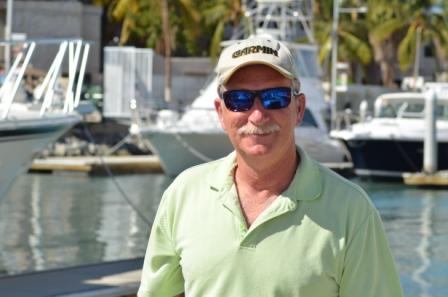 We wandered off the boat after dark and walked around the marina. I got a couple of tacos at a street stand and went back to the boat. I had never read J.D. Salinger's "Catcher in the Rye," but I found it in my iBooks, so I read it. I guess I am better educated for now having read it, but I am not sure my life was all that deficient before I read it.
Friday, November 18, 2011 Cabo San Lucas:
After getting up leisurely, we hung around the boat, made coffee, and I went up to the marina showers where I was able to enjoy a shower with the water promiscuously down the drain for 15 minutes. While Two Dreams has nice showers in the heads, you cannot let the water just run as there is a finite amount of the stuff in the water tanks. Some of the other boats have water makers, but I think I would still be hesitant to use as much water as I do at home.
Peter, Det and three folks from the boat "Orion" took a cab together down to the main beach and a beach restaurant on the sand called "The Office." It is one of the oldest restaurants in Cabo San Lucas and had pretty good food. I enjoyed a shrimp omelet and then went down and took some pictures on the beach. I am certainly glad I do not have to spend any more time Cabo San Lucas. It is sort of a waterfront Las Vegas without the casinos.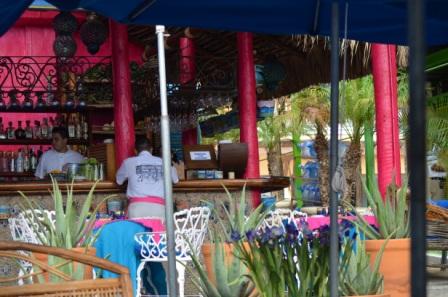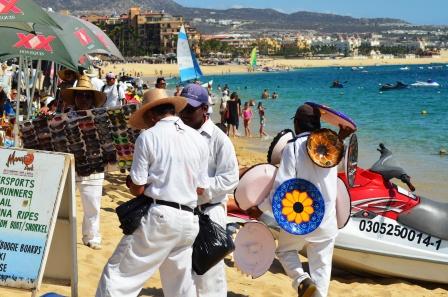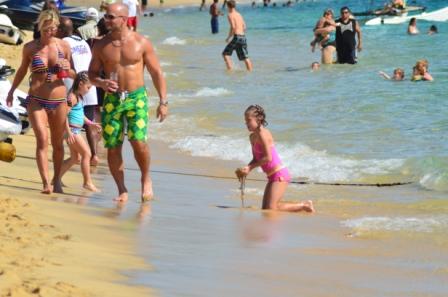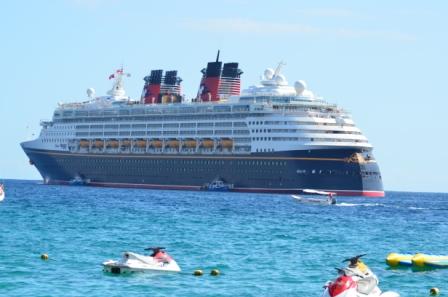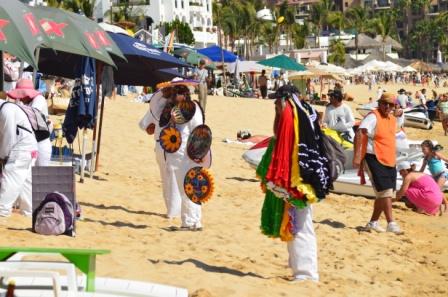 After brunch, and getting back to the boat, we relaxed a little longer and then Peter grabbed a shared taxi with some other folks going out to Costco and Det and Jim helped me carry my bags around the marina to a hotel where I had arranged with the concierge to share a taxi to the airport with some of the hotel guests. It is about a half hour out of town and the taxi ride is $70, so it helps to share. I shared with a couple from Edmonton, Canada, and only paid a third of the fare.
The airport is surprisingly busy and in nice and modern. There was even an AreoMexico flight on the board to Singapore. Even a Starbucks.