Mount Kilimanjaro
September 2011 Climb

We have been lucky enough to have been invited to climb Mount Kilimanjaro in Tanzania in September of 2011 by Patty's sister Lisa. Coming along on the trip is the whole Patagonia group from 2009 including Lisa and Mary and our son David. Karla who traveled with us to Peru in 2006, is also coming with her friends Ray and Jill. That group make up our eight person climbing team. We will be supported, guided and pampered by "Team Kilimanjaro" who carry our tents, sleeping bags, and other gear, carry and prepare our food and feed us in a dining tent with tables and chairs. Team Kilimanjaro has a web based tracking feature that allows users to track climbers on the mountain at http://www.teamkilimanjaro.com/track-a-kilimanjaro-climber.html Our group identification letters are: LIRO (Short for LIsa ROmney).
September 14, 2011, Wednesday, LAX to Amsterdam
We flew out of LAX on Wednesday at 2:00 p.m. on KLM flight 602 to Amsterdam. Flight time 10 hours, 15 minutes. While the airplane was full, we were in a row of three with a nice older lady who was on her way to Rome with a friend who was sitting a few rows away. Since she was out of the aisle seat a lot visiting with her friend, we had an easy time getting out to stretch, go to the bathroom and move around. The food was better than we have had on an airplane in a long time and the service was great, making it a very pleasant flight. KLM's entertainment system was also great, with movies, music and television shows on demand.
Just before we took off, we got an e-mail from David who was having a problem leaving from San Francisco. His KLM flight ran low on fuel coming into SFO because of fog holds and had to set down in Sacramento to pick up more fuel. It looked like he was going to miss the connection in Amsterdam and have to catch the next day's flight.
September 15, 2011, Thursday, Amsterdam to Tanzania
We got into Amsterdam at about 8:45 a.m. and were supposed to have about an hour layover before we got on KLM flight 571 from Amsterdam to Kilimanjaro airport in Tanzania (JRO). We rushed to the gate, found that it had been changed to one just down the concourse from where we had gotten off the previous flight, so headed back. On the way back, we saw Lisa and Mary in an airport restaurant and went in and hooked up with them. Together we went to the new gate, only to find that the flight was delayed a couple of hours. At the gate we got together with Ray, Jill and Karla.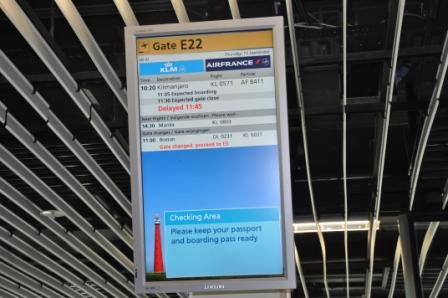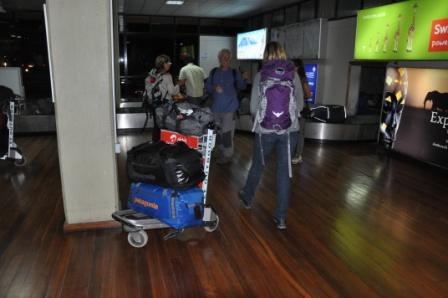 After a wait, we got to go through another security checkpoint at the gate and got loaded on the airplane. We were making ourselves comfortable when David's smiling face appeared coming down the aisle. He had gotten in on the SFO flight 20 minutes before and had made the Tanzania flight.
The total flight time from Amsterdam to Tanzania was 8 hours and 25 minutes. At that point we had been in the air a total of 18 hours and 40 minutes with about three hours off the airplanes. The food was again good and the service very good. The total time took a toll though.
We arrived at JRO a couple of hours late and David's luggage did not arrive at all. When he went to the baggage counter, they already knew his bags were delayed, but did not seem all that hopeful about when they might arrive. Team Kilimanjaro was waiting for us and about 6 other clients with a small bus at the airport. David Squire, who is based in the UK, was in town and came out on the pick-up. He had been our contact and it was good to meet him in person.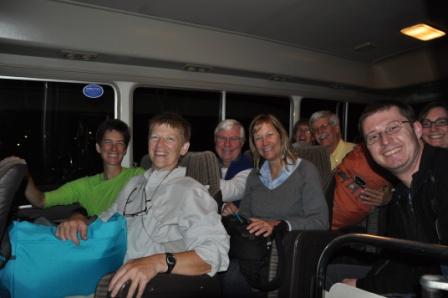 The drive to our hotel in Arusha took about 45 minutes. We got in about midnight and were quickly checked in and given our rooms. The hotel is the Kibo Palace Hotel in Arusha and is as nice as it looked from the web site. It is a Marriott quality hotel in all respects, with flat screen TV, great beds, hairdryers, air conditioning controlled with a remote from the bed, wireless wi-fi, and every convenience you would expect in a nice business hotel in the US.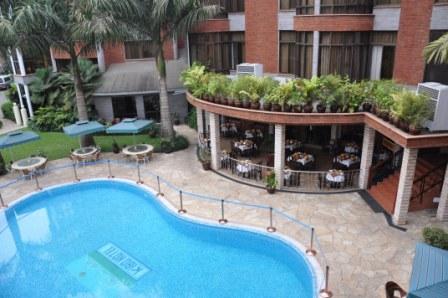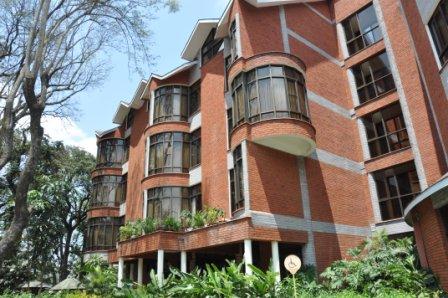 September 16, 2011, Friday, Arusha
We slept well for a little while, but since we were trying to sleep in what was the afternoon at home, we woke up early and had to lay around until the sun came up at 6:30 a.m. We showered and went down to the breakfast buffet (omelet bar, fresh fruit, cheeses, great coffee, cereals, breads, etc.) Ray and Jill were there so we had breakfast with them. We will also celebrate David's 34th birthday today.
By 10:00 a.m. everyone had roused themselves and gathered in the dining area and David Squire from Team Kilimanjaro came by again and answered questions for about an hour. After we had grilled him with every question we could think of, he left and we headed off for a walk around downtown Arusha.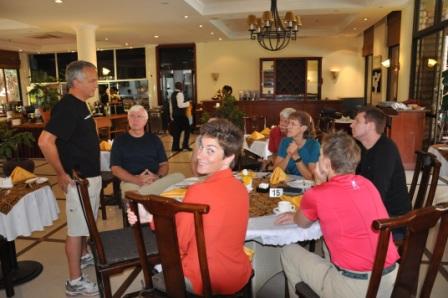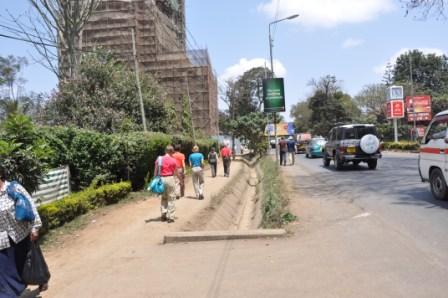 Arusha is a typical third world town with the addition of hordes of touts trying to be our "guide" for the day to help us find what we need. We were also assailed by sellers of drawings, shoes, bracelets, bananas and other products. We found an ATM machine that worked on our third try and David and Ray both found local sim cards for their mobile telephones.
One of the "guides" led us to a "market" which turned out to be just a tourist trap flea market set up to sell the tourists various junk. David and I elected to sit it out in the cafe in the front, which turned out to be a local lunch place and not part of the tourist trap at all. The food looked good and David and I each got a plate of rice paste and a bowl of vegetable stew for $.62 each. The drill is to eat it with your fingers, picking up a chunk of the rice paste and dipping it into the stew. It was a good and filing lunch and you could not beat the price. We each got a bottle of Coke for an additional $.30 each. Lunch for under a dollar.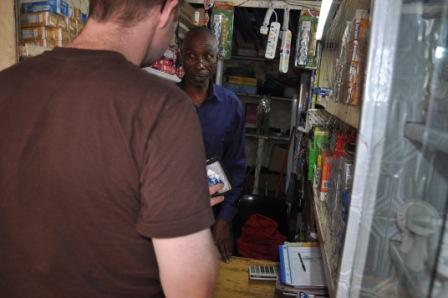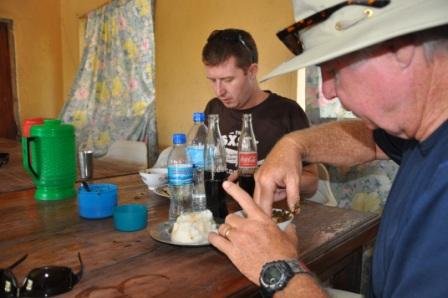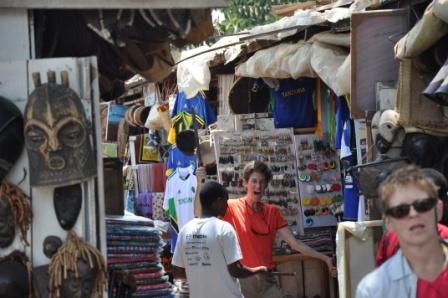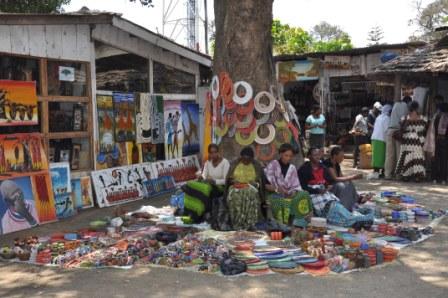 We all came back to the hotel and hung out for the afternoon. Lisa got a massage; David and Karla went to the pool; Patty and I napped. Patty and I walked to the Hotel Arusha, which David Squire had recommended for dinner and checked it out. It looked nice, so we made 7:30 p.m. reservations for our group of 8 and walked back to the Kibo Palace.
The guide books recommend not walking around Arusha after dark and especially along Old Moshi Road past the river bridge. Well it so happens that the river bridge is between the Kibo Palace and the Arusha Hotel. It is only an 8 minute walk, so we braved it in mass and survived the "bridge of death." It did look like a place where locals sometimes hung out, but no one robbed or killed us.
David's birthday dinner was a nice buffet of local dishes. We all avoided the salads because of the probability that they were washed in tap water. That was too bad because they looked wonderful.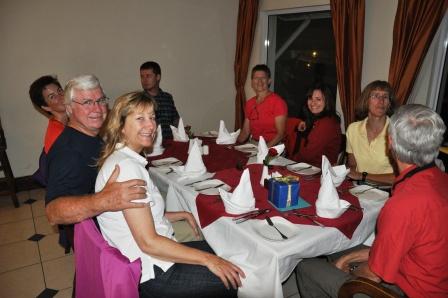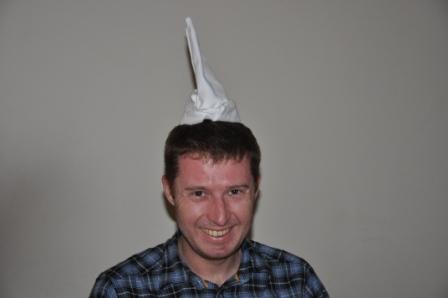 September 17, 2011, Saturday, Arusha
One of David's two bags arrived last night (late birthday present) and luckily, it was the one with all of his mountain stuff; sleeping bag, socks, etc. We also slept better last night, except those who tried to sleep without Ambien, who slept poorer, but were less loopy this morning. Lisa and Mary were off on a short safari to a game park about 45 minutes away, but the rest of us are hanging out sorting our stuff out for the mountain.
Our guide, John Naiman, came to the hotel about 6:00 p.m. to meet with us and to tell us what to expect on the following day. John is about 40, quiet, soft spoken with practiced, but halting English. He has summited Kilimanjaro over 400 times as a porter, assistant guide and then chief guide. We learned to trust him implicitly, do what he told us, and depend on him for everything. Even our group of two doctors, three lawyers, and other high energy type A's gained so much confidence in him that there was not ever a moment of questioning his judgments or not doing just what he told us to do. We learned that John is a Massai, which in the local culture, is a little like being an American Indian just off the reservation, and the town tribes tend to look down on the Massai. However, everyone respected John, and his quiet, firm leadership was the driving force behind what sometimes seemed barely controlled chaos.
September 18, 2011, Sunday, Rongai to Simba Camp
Rongai Gate (6,548') to Simba Camp (8,615')
Total Gain: 2,067 ft
Total Miles: 4.2 miles
The day started with meeting the bus at the door of the hotel about 8:00 a.m., and having Team Kilimanjaro, hand out rental items (summit jackets, balaclavas, warm mittens, rain pants) to various members of the party who needed them. We got our mountain bags finally packed (25 lbs. per person, including warm clothing, sleeping bags, snack food, etc.) and the porters loaded them on top of the bus. We took our day packs on board with us. The "officers" of team got the front of the bus (the guides, and cook), the clients the middle, and the porters to the rear.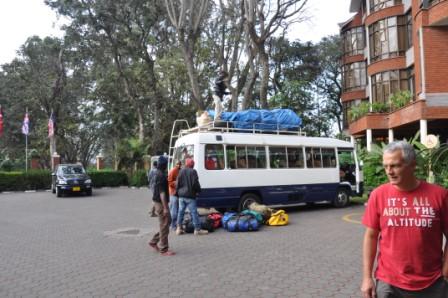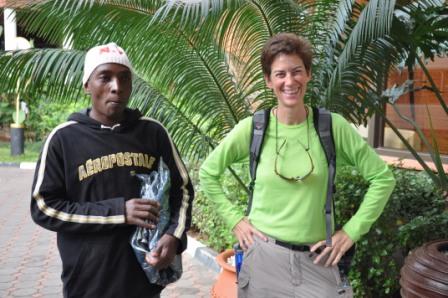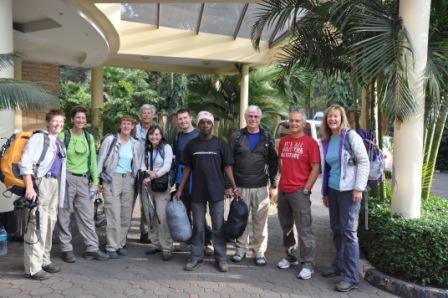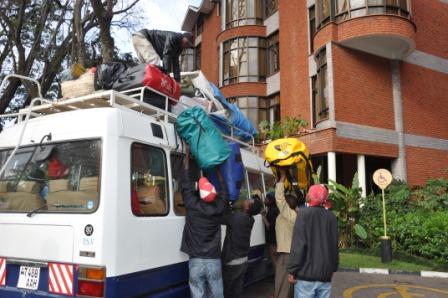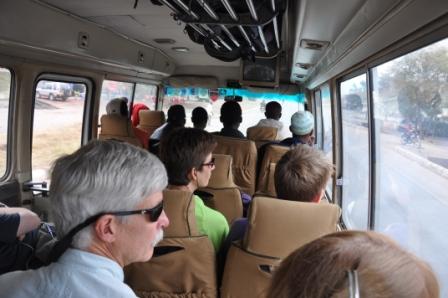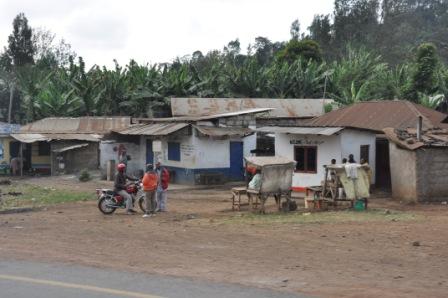 We first had to ride a couple hours, picking up porters along the way, to the Kilimanjaro Park Headquarters at Marangu Gate, where it was necessary for John to register our climb and pay the park fees. The park fees are extremely high; about $100 per day per climber, and a major source of revenue for the Tanzanian government. (This is also true of the game parks.) Unfortunately, the high daily fee puts pressure on people to complete the trek in the least number of days, resulting in an extremely high incident of altitude sickness.
The Marangu gate area is a pretty place, with a little store, rest rooms and grassy areas to lounge. It also has its fair share touts selling hats, bracelets, and as David discovered when we descended to there, a prostitute or two ready to sell their services to climbers coming off the mountain.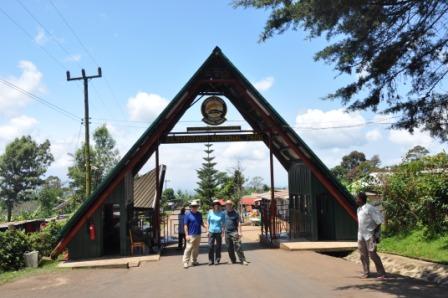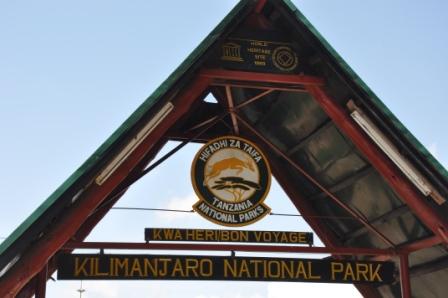 The Marangu gate is on the south side of the mountain, but our route started on the north, so we got back in the bus for the long drive 60 or 80 km on slow roads around the east side of the mountain to the north side near the Kenya boarder. The road may actually cross into Kenya occasionally, but there are no border controls.
We arrived at the controlled chaos of the Naramoru trail head about 2:00 p.m. While the porters unloaded the bus into the dust, we went to one last porcelain bathroom facility and had our lunch provided by the crew cook. Soup and tomato sandwiches. The gate was quite crowded, with quite a number of groups getting going at once.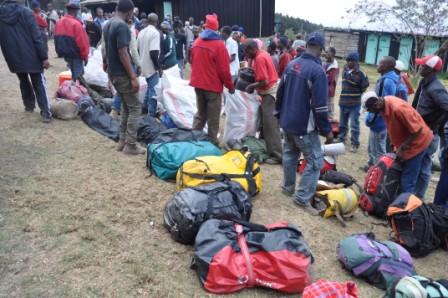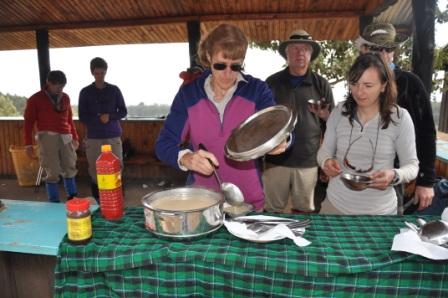 After lunch, at approximately 3:00 p.m., we started up the trail. The trail winds up through a pine forest, which had clearings occasionally where local people had small corn fields. Their little hovels where just stuck into the middle of the fields and kids came out asking for candy and to gawk at the strangely dressed white people moving through.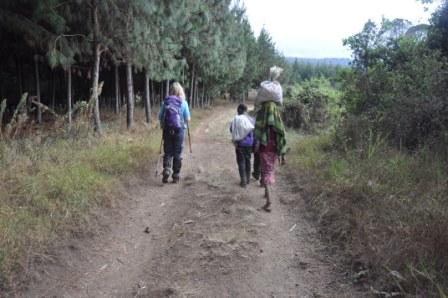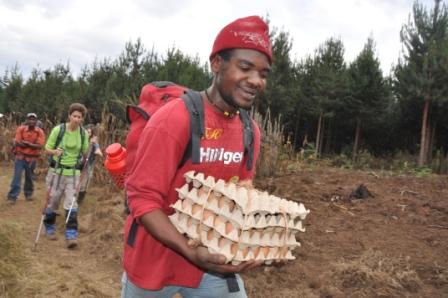 We saw monkeys in the forest and Joseph, our cook passed us by with the precious cargo of eggs, which he carried every day, not trusting that cargo to the porters.
The hike up to Simba camp took about 3 hours and we got there just as it was getting dark. The camp, above the forest in an area of dense brush, was jammed with trekkers and their tents. We actually had to sit and wait while our crew chopped back enough brush back in a semi-level area to create tent platforms for us.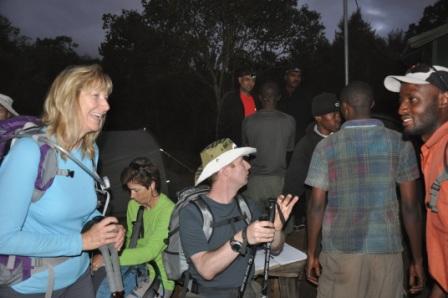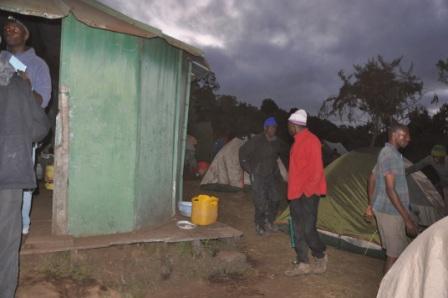 We had our first dinner in our dining tent, with the table and chairs precariously sloped on a rough surface of recently cleared brush. Our sleeping tent had a relatively level sleeping platform, but the vestibule sloped down the hill alarmingly.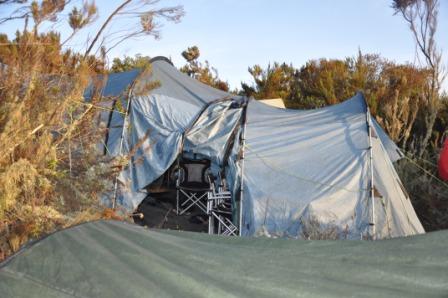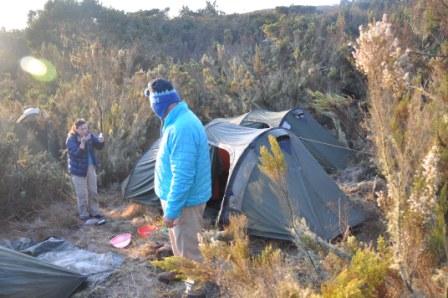 September 19, 2011, Monday, Simba Camp to Kikelewa Camp
Simba Camp (8,615') to Kikelewa Camp (12,070')
Total Gain: 3,455 ft
Total Miles:

7.3 miles
As we got going, we found that we did not have the worst tent locations; one group had been forced just set up the cooking, dining and sleeping tents on the trail and we had to pick our way past them, squeezing between the trail edge and their tents. They tried to ignore us and go about their morning routines as we tramped through their camp.
This second day of the trek was a long one, as we had lunch at "Second Caves," a site where some groups camped for the night, and kept on all day until we reached Kikelewa camp. Overall it was about an 8 hour day and we gained a significant chunk of altitude.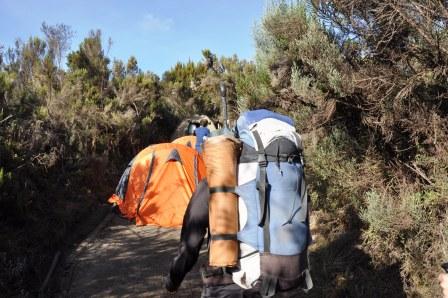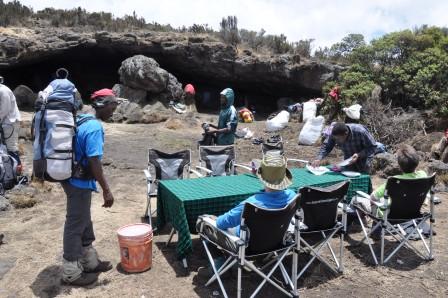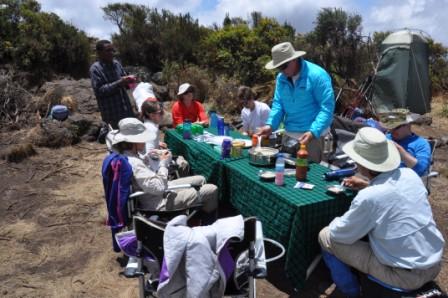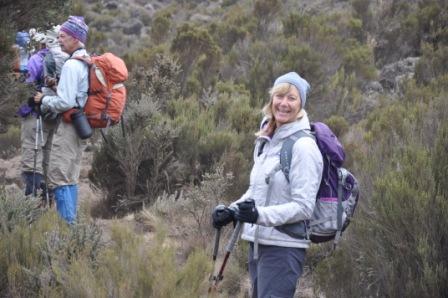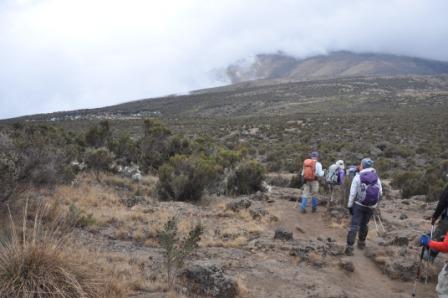 It became typical for the mornings to start clear, but after mid-day, the clouds would roll in with a cold fog.
John had sent an advance team of porters out at 5:00 a.m. to make sure we got good campsites at Kikelewa Camp, as the trail seemed to be very crowded and we feared the same conditions at the next camp. When we got in, our tents were set up on flat, brushless ground, but somehow, David's bag did not arrive until after dinner. He was losing patience with missing luggage, especially since KLM had also lost his luggage. A night at 12,000 feet without a sleeping bag was not attractive. It finally did arrive, but while we were waiting for clean drinking water to be delivered to our tents, David and Karla saw a Kilimanjaro bottled water bottle sitting outside of their tents, and thought it was one of theirs. Karla used it to take some vitamins to ensure her health before they found out it was straight stream water; a porter's bottle, and she ended up with diarrhea in the night. Luckily, she is a walking pharmacy, and was able to medicate herself.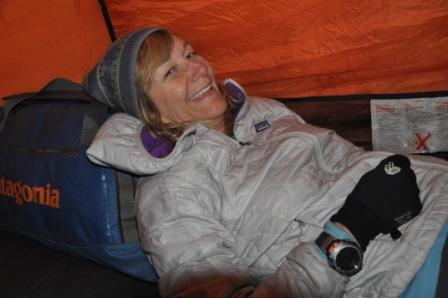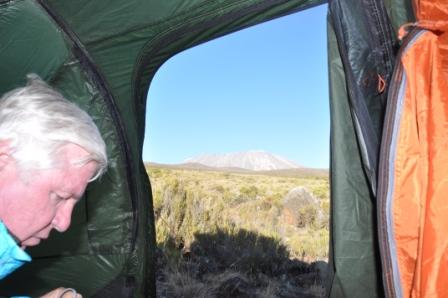 September 20, 2011, Tuesday, Kikelewa Camp to Mawenzi Tarn
Kikelewa Camp (12,070') to Mawenzi Tarn (14,117')
Total Gain: 2,047 ft
Total Miles:

2.3 miles
When we woke up, we had a great view of Kibo peak out of our tent door. It turns out that this was one of the best views of the mountain that we ever had, given that the clouds often obscured it. After breakfast, we had a short, steep day. It was a nice hike up to our most beautiful camp site at the Mawenzi Tarn. Mawenzi is the eastern most peak of the three peaks of the Kilimanjaro mountain. It is lower, but much more craggy and rotten than the main peak of Kibo, our goal. The camp is in a depression that creates a small pond at the bottom, which is the water source for the trekkers.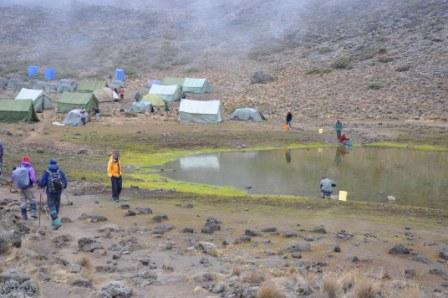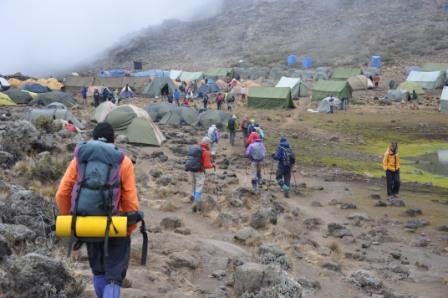 After a rest, John rounded us up for a late afternoon acclimatization hike up on the ridge above camp to about 15,000 feet. It took about an hour and a half and we got to see the sun set over Kibo peak, quite beautiful. After that it was a twilight hike back to camp, to dinner and to bed.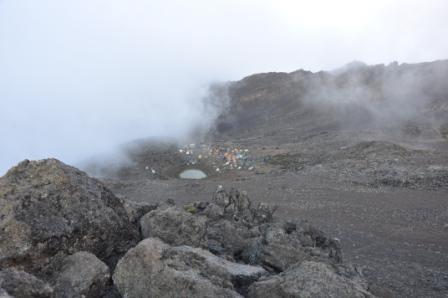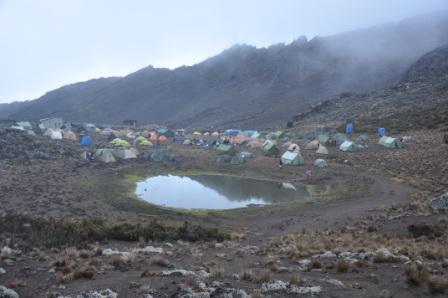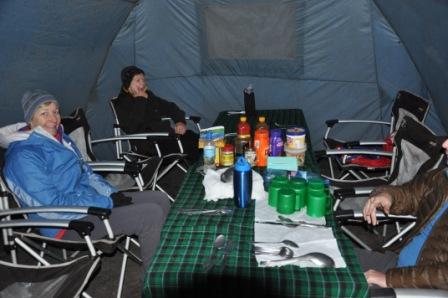 September 21, 2011, Wenesday, Mawenzi Tarn to Third Cave
Mawenzi Tarn (14,117') to High Point (15,137') to Third Cave (12,185')
Total Gain: 1,020 ft (2.2 miles)
Total Loss: 2,952 ft (4.0 miles)
Total Miles:

6.2 miles

The next morning we awoke to frost on the ground and on the tents. When we got around the ridge headed for the saddle, Kibo peak had a new dusting of snow. The goal today was to actually drop down to a lower camp for the night, allowing our bodies to recover from the altitude before we started the summit push. We hiked around the ridge, onto the saddle between the two peaks and rather than going up to Kibo Hut, where the trail led directly, for a summit bid that night as most of the others camped at Mawenzi Tarn were doing, we turned north and descended a couple of thousand feet to camp at Third Cave, up the trail from Second Cave, where we had lunch the second day.

On the saddle, there was the remnant of an airplane that was taking safari clients from Nairobi in Kenya to the Tanzanian safari parks. He did not quite have enough altitude to clear the saddle.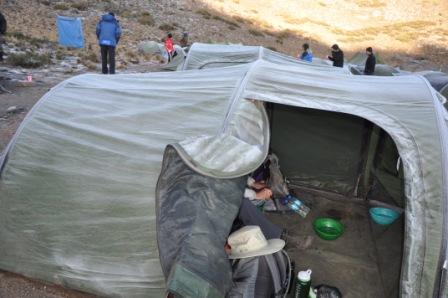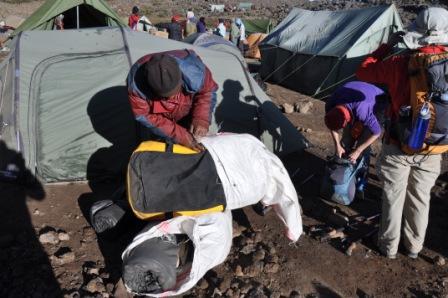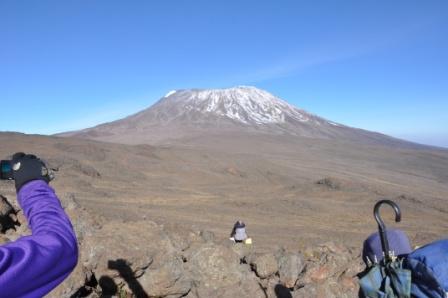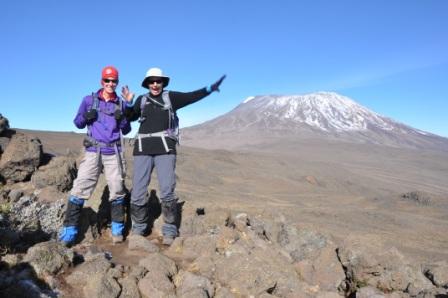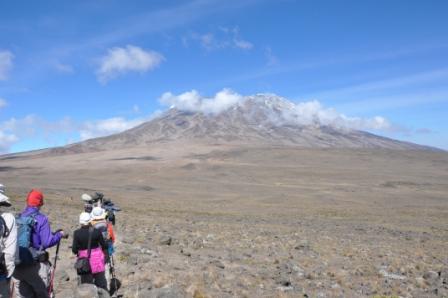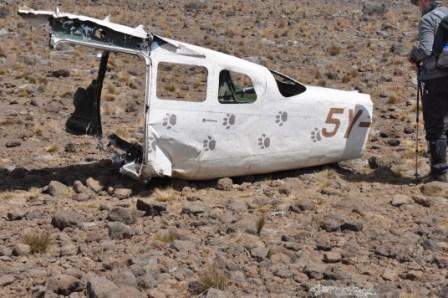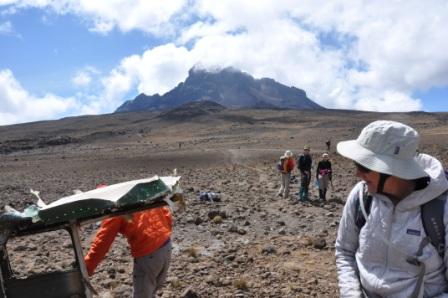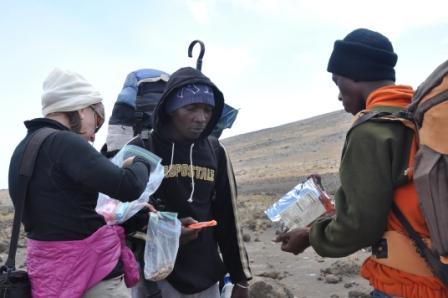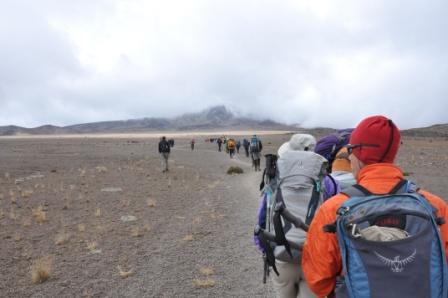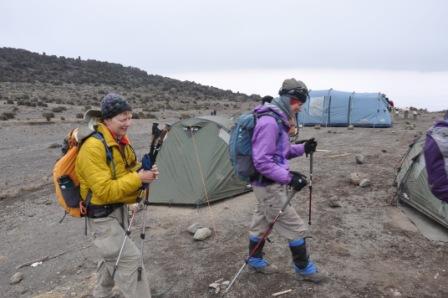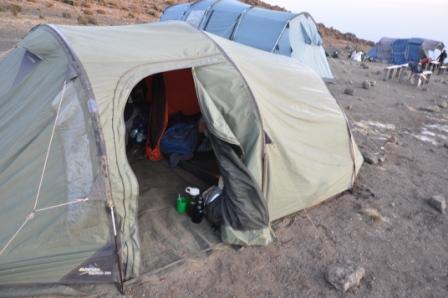 After all of the crowed campsites that we endured, it was pleasant to find that we were the only group at Third Cave. That was also true at the School Huts.

September 22, 2011, Thursday, Third Cave to School Hut
Third Cave (12,185') to School Hut (15,357')
Total Gain: 3,172 ft
Total Miles:

5.6 miles

We all slept well and woke up the next morning refreshed and feeling good; happy that we had descended and ready to move on. While our hike up to School Hut today was fairly easy, we knew that when we got to the School Hut camp, we would rest for a few hours and then start our summit climb; something we were all both looking forward to and dreading. The trekker's guide we had (Cicerone) called the climb "agonizing" and we got no more encouragement from any other source.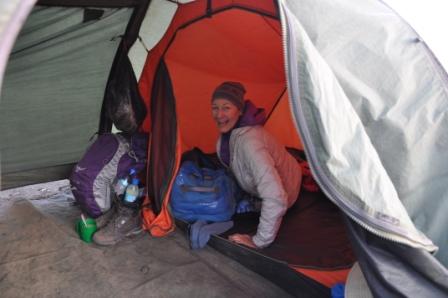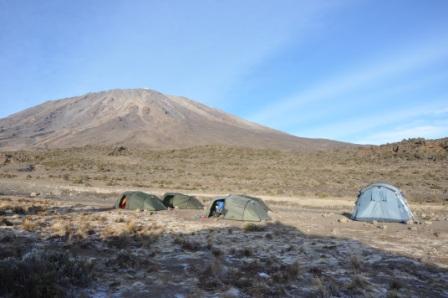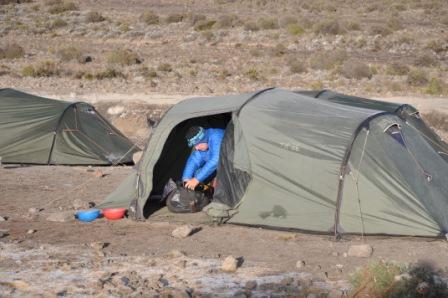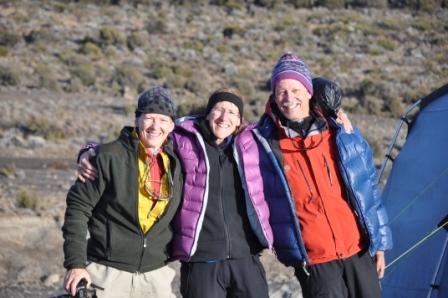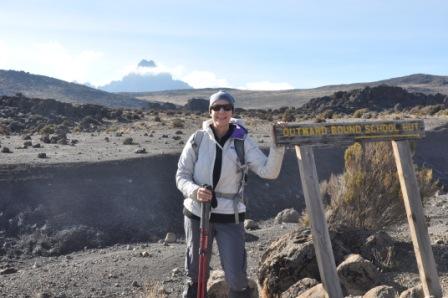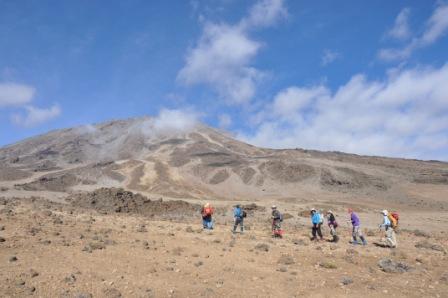 Our hike up to School Hut was about three or four hours and we all felt great. Dropping down to 12,000 feet in altitude had done it's magic and we all felt rested and recovered. Once we got to School Hut we rested, got up for an early dinner at about 5:00 p.m. and went back to our tents to try and sleep a few hours. I think most people managed to get a few hours sleep.


September 23, 2011, Friday, Summit Day


School Hut (15,357') to Uruhu Peak (19,340') to Horombo Camp (12,185')

Total Gain: 3,983 ft (2.8 miles)

Total Loss: 7,185 ft (9.3 miles)

Total Miles:

12.1 miles
We started the climb by getting up at 10:00 p.m. on Thursday Night, leaving the School Hut camp at 11:00 p.m. and we all summited at 8:05 a.m. on Friday, September 23, 2011. The climb from School Hut goes up about a mile on a fairly decent trail and then joins the main trail from Kibo Hut toward Gilman's Point, on the rim of the crater. The night was cold, but clear with little wind. Regardless of trying to blow the water back out of our camelback hoses, they froze, making the camelback bladders useless. We put our spare water bottles upside down in the pockets of our packs so the ice formed on the bottom, but the water froze in them making an ice slushy when you got a chance to drink. We tried to choke down Goo every hour or so.
Mostly the climb was just putting one foot in front of the other, looking at the beam of your headlight on the feet of the climber in front of you in line. Time had no meaning and breaks were short; just enough time to try to get some water and a packet of Goo down. We chilled quickly when we stopped. All you could see was a line of headlamps stretching up the sandy slope and down from where we came.
The moon came up at some point and was striking as it rose over Mawenzi peak to the east. It was blood red in the clouds. At one point we heard shouting above as a basketball sized boulder came bounding down the slope, dislodged from above. Thank God it went through without hitting anyone.
A few hundred meters from the top we edged to the left of the large drainage we were climbing up, and started scrambling up rocks. After a half hour or so of that, we topped out at Gilman's Point, on the crater rim. We put on what we had left of warmer clothes, my Denali era North Face down jacket for me, and sat down for a break. The guides passed around cups of hot ginger tea as the sun rose over Mawenzi.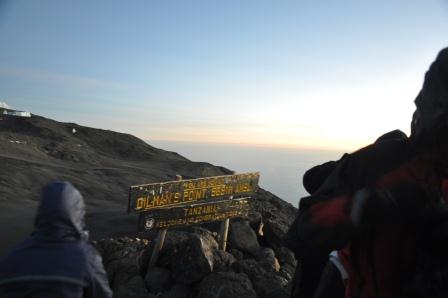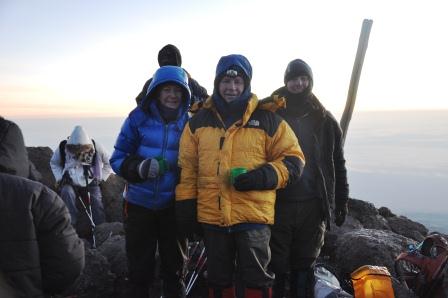 After a break we worked our way around the crater rim, circling to the South, and about an hour later we slowly shuffled our way up to Uhuru Peak, the highest point on the mountain. We posed for pictures while other climbers stumbled and vomited. It was not uncommon to see guides supporting clients at this point.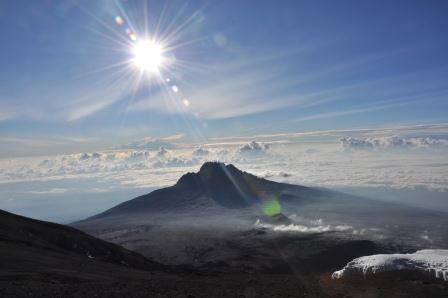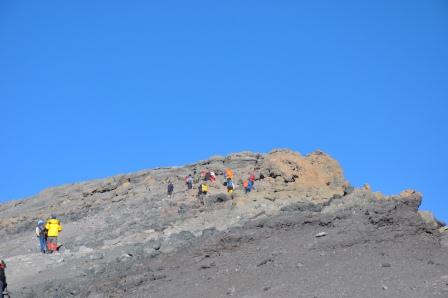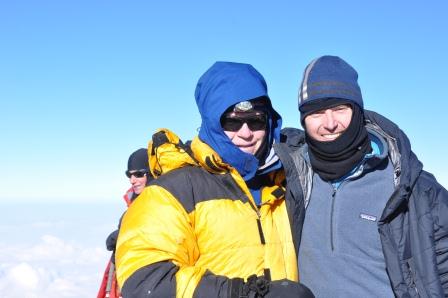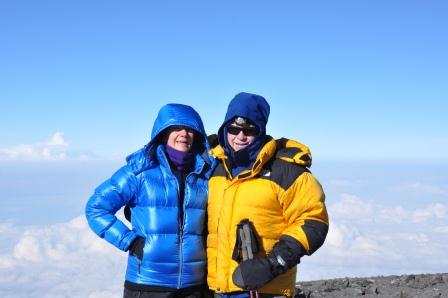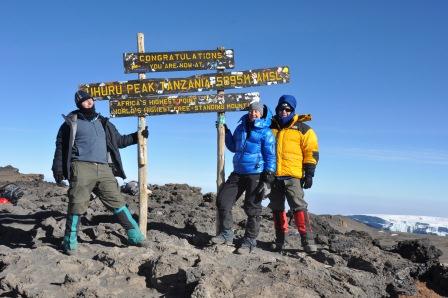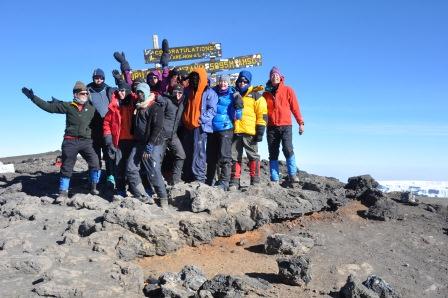 After pictures, we made our way back toward Gilman's Point. We took another break and the guides gave us cans of Red Bull and cookies. For me, the time on top was a sleepy blur; but as soon as I had dropped about 80 yards down from Gilman's Point, my energy came back and I felt great. Thank you oxygen.
Quotes:
"Amazing Experience" "Worst Fucking Night of My Life"
We descended the sandy slope, ingoring the ad hoc switchbacks, sliding down the sandy slope for 1,500 ft. and hiked on to Kibo Camp for lunch in the lunch tent. Unfortunately, John the main guide, had offered to carry my camera in his pack, and an orange juice container had broken, giving the Nikon D90 an orange juice bath, frying its little brain. John came up the trail and had me disasemmble the camera to the extent I could, so he could try to dry the parts with toilet paper, but to no avail.
After lunch in the dining tent at Kibo Camp, we hiked the fairly flat 5 miles or so to Horombo Camp where we finally got dinner and to bed.
September 24, 2011, Saturday, Horombo Camp to Marangu Gate and on to Arusha
Horombo (12,185) to Marangu Gate (6,102')
Total Loss: 6,053 ft
Total Miles:

12.3 miles
We hiked out in 6 hours. The trail was one of the best we had been on and we dropped down through the forest, saw a lot of monkeys, and got to the Marangu Gate about noon. After we collected everybody, did our exit paperwork, and loaded the bus, we drove to Moshi and ate at a restaurant/nightclub where we were the only customers. About 4:00 p.m., we got back on the bus and got back to the Kibo Palace Hotel at 6:00 p.m. for our first shower in a week.
September 25, 2011, Sunday- September 27, 2011, Tuesday Tarangire, Ngorongoro Crater, and Lake Manyara
After the climb, we arranged a three day, two night safari visiting three of the Northern Tanzanian game parks, Tarangire, Ngorongoro Crater, and Lake Manyara before heading home on September 29, 2011.
David, Patty and I had arranged this trip and everyone else had other safari plans of various lengths. Martin, our guide met us at the Kibo Palace Hotel on Saturday evening, as we were getting off the bus from the climb and made his introductions and agreed to meet us at the hotel at 8:00 a.m. the next morning for our safari. He did indeed, and we got into the Team Kilimanjaro Toyota Land Cruiser, safari edition with the pop top that lifts up so you can stand and stick your head out to see the wildlife and take pictures. We were disappointed no to have our Nikon with the big telephoto lens that we had brought along for the safari, but we had to make do with David's point and shoot and my iPhone.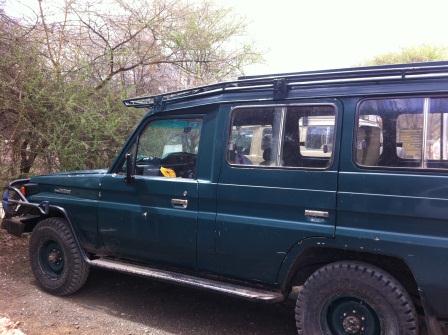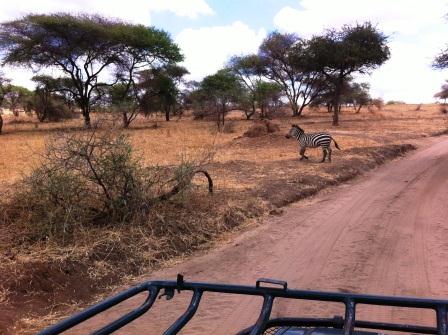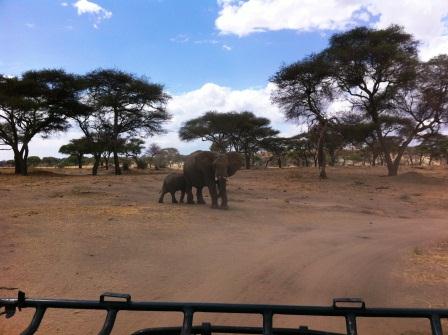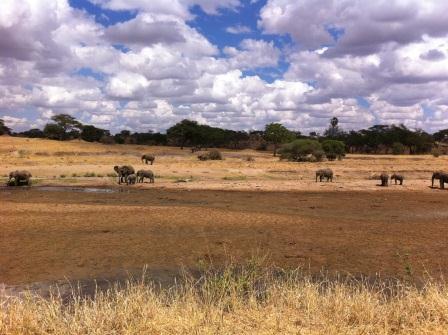 It was a bout a three hour drive on a rough paved road to Tarangire National Park. The route was mostly though Massai country, reminiscent of the Navajo Reservation in Northern Arizona. The Massai are headers and live in little mud villages on the savannah. The grasslands support an amazing number of grazing animals, and the Massai herd cattle and goats. Since it was the dry season, and many seasonal streams were dry, we saw a lot of people with water containers strapped to the side of burrows, walking miles to the nearest water source, to then bring the daily water back to their villages. What a luxury running water even at your house, let alone inside, turns out to be.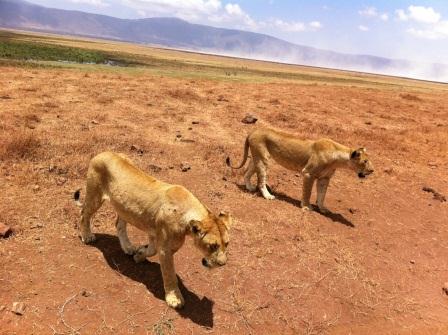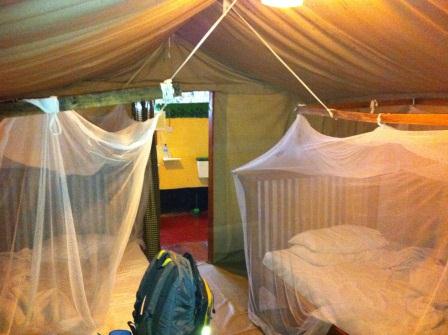 Tarangire National Park exceeded my wildest expectations. We saw monkeys, Impalas, many other antelopes, baboons, elephants, giraffes, wildebeest, zebras, wart hogs, lions, a cheetah, many within less than a hundred foot distance. After three or four hours of incredible wildlife viewing, we headed up into the Ngorongoro Highlands, over the Great Rift Valley. The Ngorongoro Crater is an old volcanic crater that has 7,500 walls around the crater floor, which is savannah and wetlands. Because of the crater walls, the wildlife stays in the crater and does not migrate. It is a world heritage site. We stayed at a hotel on the crater rim and got up and descended into the crater the next morning. Soon after getting onto the crater floor, we came upon a lion dining on freshly caught zebra about 100 feet from the road. We watched her for a while; just laying down and chewing away at the juicy rump steaks.
The crater has lions, cheetahs, rhinos, hippos, wildebeest, zebras, warthogs, elephants, but no giraffes. The animals were thick and again very accessible. A pride of lions walked right around our Land Cruiser, close enough you could hear them breathe. We had lunch at a hippo pond and got back on the road to a tent camp near Lake Manyara, just down off of the highlands into the Rift Valley.
Lake Manyara was a little disappointing after the other two parks as the wildlife was not as thick and we did not see anything we had not seen before. The baboons were thick and aggressive enough to jump up on the hood of our vehicle. After the morning in the park, we left, went back to the tent camp for lunch, and headed back to Arusha.
On the road back, we came upon an overturned local bus, sitting on it's roof in the ditch. Luckily, the people had been taken away and it looked like the roll over may have been at a slow enough speed that the carnage was not too bad. It was a reminder that the roads are far more dangerous than the animals.