Working as a Part of the Obama-Biden Legal Team

I volunteered to be part of the Obama/Biden Campaign Legal Team and said I would travel anywhere, any time to help with the effort. The Campaign assigned us to Ohio, specifically to the Dayton/Springfield area.
T-6 Wednesday, October 29, 2008 OC to Dayton:
Up at 4:20 a.m., out the door at 5:00 a.m. for the short drive to John Wayne airport to catch the Northwest Airlines 6:45 a.m. flight to Minneapolis; change planes, fly to Detroit; change planes and get into Dayton at 6:50 p.m., hopefully in time to get to the Hawthorne Suites Hotel in North Dayton in time to catch the 8:00 p.m. half-hour TV time bought by the Obama campaign tonight. The flight is a little convoluted, but the cheapest that Expedia had to offer. I packed everything in carry-on because of the two flight changes; less chance of lost bags. In order to conform to the stereotype, I stopped at Starbucks and got a latte to sip.
After going through Minneapolis, Detroit, and on to Dayton, I got my rental car, put on the "Obama" sticker and drove straight to the North Dayton Obama/Biden office. It is in the Electrical Worker's union hall and is quite an operation. There were about 40 people there, making phone calls, working on computers and waiting for the half hour television spot.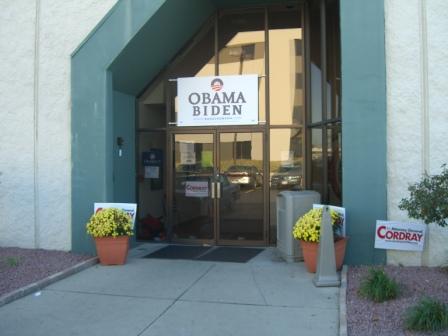 I found one of the paid staff, Andres Correa, a nice young man who just graduated from law school and is working the campaign after taking the New York bar exam. He gave me a registration form and I signed up to start canvassing tomorrow. He said they had 40 people out today, on a Wednesday!!
I then went and checked into the hotel. Since it has a kitchen, after I watched the 30 minute television spot, I went to the closest store (a Wal-Mart) and bought some food, beer and wine.
Work starts tomorrow.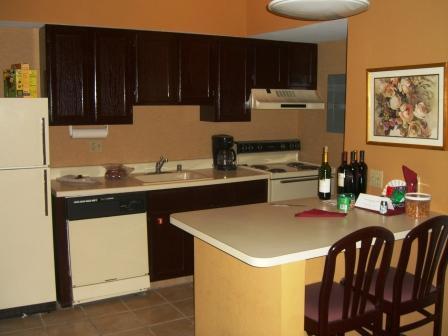 T-5 Thursday, October 30, 2008 Dayton, Ohio:
I got up about 7:00 a.m., and even though it was 4:00 a.m. at home, since the sun was up it wasn't too bad. I went to breakfast at the hotel which was weak, but sufficient (cold cereal, toast-yourself bagels and a couple of little yogurts and coffee).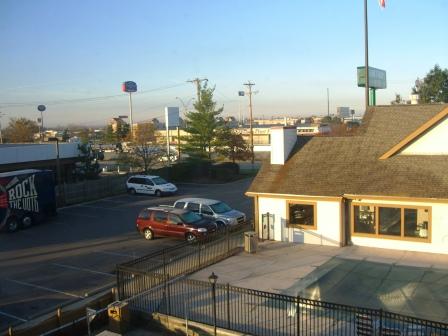 When I got up, there was this "Rock the Vote" bus parked at the hotel. It looks like they were staying at the same place. The campaigns of both parties are completely dominating the TV ads, and the electioneering here is obviously at a fever pitch.
I got to the North Dayton Obama campaign office about 9:30 a.m., just as the staff was getting there. I went in, signed in, and Andreas, one of the staff who is working on the campaign while waiting for the bar exam results from New York, gave me a brief training on how to "canvass" or knock on doors. I was given a precinct list with only registered Democratic or independent voters on the list. I had their names, addresses and whether or not they had already obtained a mail in ballot. I also had a map of how to get to the area, along with a street map with each house to visit shown by a red dot. Each packet was in a folder and ready to be taken out. Clipboards were available and the training was good.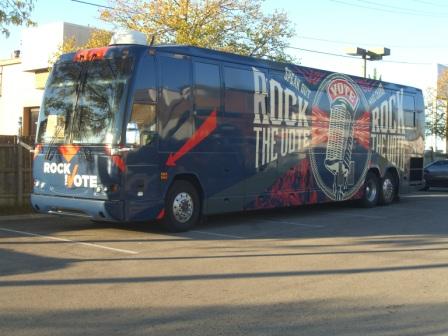 An experienced canvasser, a middle aged African American man, gave me a few more tips and drove out toward my area so I could follow him. When we got there, he drove into the neighborhood and got me set up. He then left to drive on to his area. My first area was a fairly poor blue-collar white neighborhood, just over a levy from a river, down in the flood plain. The experienced canvasser explained to me that most of the residents were from the Kentucky hills and had come to Ohio to work in construction.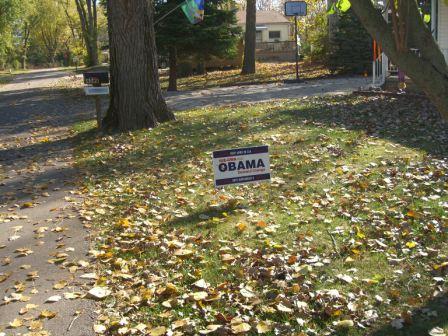 It was a pretty morning, with the fall leaves blanketing the ground, and while the temperature started in the 40's, it was comfortable for walking around. While about 60% of the people were not home (or did not answer the door), the people I met were solid Obama supporters. The first guy I met was just leaving for a part time job at UPS; his jobs as a bricklayer had dried up with the end of construction and he was happy to have at least a part time job. Our list did not include registered Republicans so I did not knock on unfriendly doors. People were either very polite or very friendly. I found every address in the neighborhood, and left literature if there was no one to talk to in person. One of the interesting thing about this neighborhood was that there was about one small church for each dozen houses. There had to be six churches in the neighborhood. I did not see the guns (grateful for that), and they seemed OK for at least one person who did not look like them, but sure seemed to cling to religion.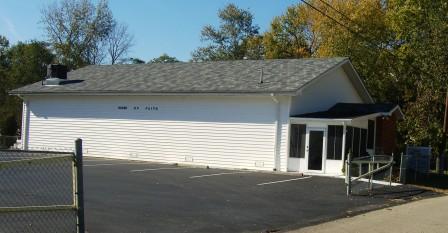 After a couple of hours, I took a break and went to a Walgreen's (the experienced guy had told me where it was if I needed to get water or anything). Things that I forgot: 1. Water; 2. Sunscreen; 3. Moleskin for my blisters; and 4. Scissors to cut the moleskin. Walgreen's had it all.
After stopping at the Walgreen's, and at an outhouse at a soccer field, I went to my next neighborhood, which was a new, middle-class housing tract.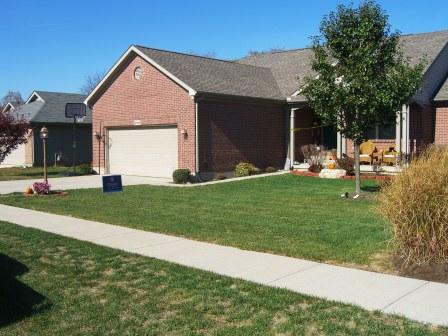 There were fewer people home in the middle of the day as these folks had day jobs. In these houses, it was interesting that the registered Democrat was a 18-22 year old who was obviously living at home with Mom and Dad, who were not on my list. One house even had about 4 "McCain" signs on the lawn, but the 22 year old registered at that address was a Democrat.
I finished up about 2:30 p.m. and got back to the campaign office about 3:00 p.m. There I had to do a summary of the doors knocked on (60) and the number of people I talked to (21) and any volunteers I recruited (0). I talked to a few other people and then came back to the hotel.
T-4 Friday, October 31, 2008 Dayton, Ohio:
Awake about 7:00 a.m. with the sun again.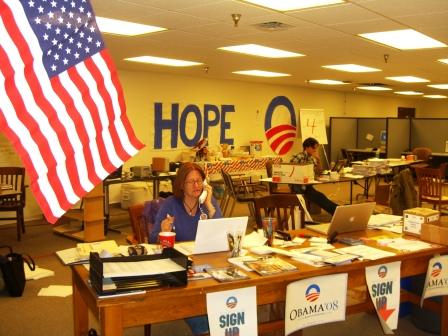 The temperature is supposed to be 68 degrees today, almost like Southern California. I had breakfast at the hotel again, same stuff only the juice was watery today. I made coffee in the room and it was better than the coffee in the breakfast room. I got to the campaign office about 9:30 a.m. and checked in with Alyssa, as I had promised yesterday. She got me set up with a couple of packets of precincts to canvass, but caught me as I was going down the stairs and called me back. It seems that another campaign worker, Maria (another young lawyer awaiting bar exam results in New York and New Jersey), did not have a car and had been stood up by her volunteer at a coffee shop in the Northern suburbs. I gave my packets back and got the address where Maria was stranded. The rental car has a GPS system in it and it was really useful today. The suburbs are in a hilly, wooded area and the streets wind around and everything looks like everything else. While it is a little slow, I can plug the address into the GPS and it gives me directions. I did not pay for it, but it was in the car and I figured out how to use it.
I met Maria at the coffee shop and she set me up with a packet and had me drive her to a neighborhood near where I was going to work. I dropped her off and promised to pick her up at 12:15 p.m. to take her back to the coffee shop where she was meeting another volunteer at 12:30 p.m. I started my area, which was a nice middle class neighborhood with big lots and well kept nice houses, some with nice views off of the hill.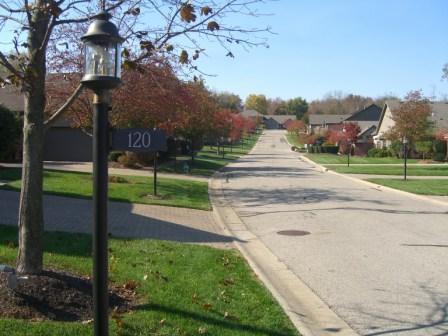 A lot of the residents were retired, so I actually was able to talk to about 20 people out of 40 houses that I visited. The neighborhood was fairly spread out, so I had to do a lot of walking and it took me as long to do 40 houses as it had taken to do 60 houses yesterday in about the same time.
There were a few people that were not particularly friendly, but no one shot at me. Most of the people were nice and I even had fairly long conversations with people who said they were voting for McCain. One was a nice old guy who was pretty sensible and I think he was just lonely and was happy to have someone to talk to in the morning. One lady was a retired school teacher who said she had learned too much about Obama on the internet, such things like he knew a guy in Hawaii, a friend of his grandfather's, who was a poet and a communist. Associating with people like that, he could not be trusted.
The highlight of the day was knocking a nice house on top of a hill, and having it opened by an African American lady about my age (the only person of color I met all day), who just beamed with pride that I was knocking on her door to make sure that she was going to vote. She said her ballot was already in, but she was working on her kids to make sure they voted. Seeing her made up for all of the rude and crazy people I ended up talking to at other doors. The Obama and McCain signs were about evenly split in the neighborhood, and most of the people were very nice and a lot thanked me for walking the neighborhood.
Midway through the day, I had to go and collect Maria and drop her off at the coffee shop so she could meet her volunteer. This lady showed up and was ready to go do her first canvassing. I told her that yesterday was my first day and that I had managed to figure it out, so it could not be too hard.
T-3 Saturday, November 1, 2008 Dayton, Ohio:
I got up this morning, and after another lean breakfast at the hotel, I headed back over to Wal-Mart to get some more lip stuff, my old tube having run out. Being out in the sun all day, I used up my old tube. After that I went to the campaign headquarters, and they assigned me to a retired school teacher named Susie Toney, who was new to canvassing, and needed someone to go with her. I agreed, and we went to another middle class neighborhood, with well kept older houses, and started knocking on doors. Susie had retired a couple of years ago, and had three children, all college graduates. Her husband suffers from dementia, but they have kept him home for the ten years he has had the decease.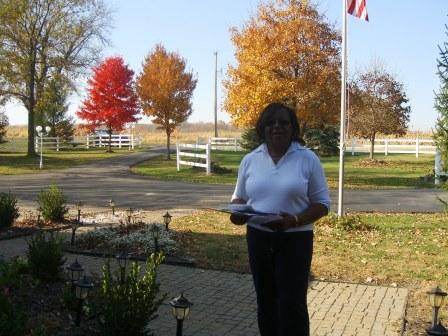 This was the smallest group I had had, so we finished up in about two and a half hours. The first part of the packet were all houses in an the older neighborhood, and since it was lily white, Susie was happy to have me with her. She was not fond of big dogs (she was raised in Mississippi until she was 16, and I suspect that dogs were not there friends). We found a few unfriendly doors, but ended with a mom and daughter who had signed up to canvass tomorrow. That was a nice ending.
When we finished that neighborhood, the last part was out on a farm road, where the houses were big, on acres of land, and had expensive cars parked off of their circular driveways. We walked up one and found our voter was an 18 year old girl who had just graduated from high school and was volunteering for Obama. She was so excited that we were at her door. We ended with a guy in a big house said he was undecided by had voted for McCain after he went to an Obama rally and was upset that the VIP section never got filled, but they could not sit there. He then went to a Sarah Palin rally and she "rocked the house." He was middle aged and very nice to us, lived in a big house, but I have to wonder about his decision making.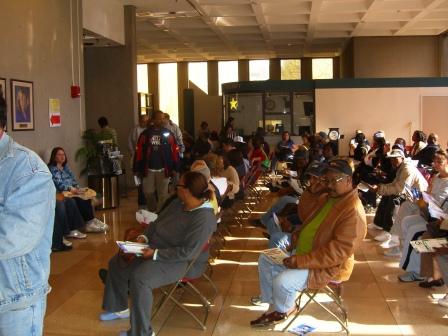 After Susie and I went back to the campaign office, I decided to go downtown to the early voting for Montgomery County, where Dayton is, having heard that there were long lines. It was well organized, with police out directing traffic to a county lot where the parking gates were up so you could park for free. On the way into the building, campaigners, mostly for local offices and "Issues" as they call ballot propositions here, were working the crowd on the way in. The rule is that campaigners must stay 100 foot away from the polling place and those limits were marked with signs. I had to take off my "Obama" sticker before going into the poll. It was fairly well organized, with several hundred chairs set up around the first floor of the county building. People got a number and were told to come back in an hour or so. They then called numbers so people could actually go and check in and get their ballot.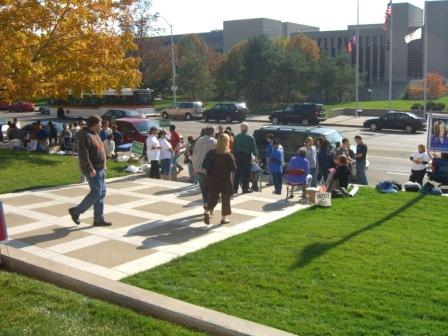 I walked through the county building and went out front. A lot of candidates were out there meeting people and asking for their votes; county commissioners, judges, and Obama workers. There was a strong Obama presence, recruiting volunteers, passing out buttons, and talking to people. No McCain people at all.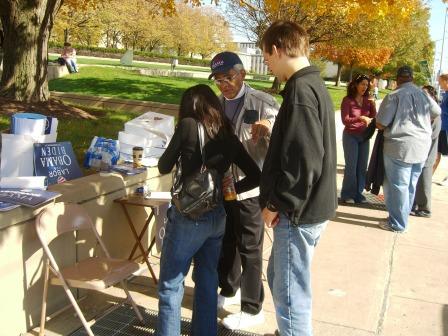 The crowd was mostly people of color and the Obama campaign was out in force. That has been notable, in that I have not seen a McCain office, a McCain volunteer and the bumper stickers and yard signs seem to be primarily Obama.
It seems that the Obama enthusiasm and ground game is really overwhelming. I hope my perception is right. Maybe in the more rural areas, their core areas, they would be more visible. However, I have been working in the northern suburbs which are overwhelmingly white, and the McCain supporters are not at all visible except for a few yard signs.
Patty got in on time and we went straight out to dinner at a Japanese restaurant ("Sake Steakhouse"), sat at the Sushi bar and had a good dinner. This was the first time I had gone out for dinner, as I have traveled enough on business and eaten enough at nice restaurants alone, that I am no longer a big fan of the experience. Since the hotel room has a kitchen, I have just been cooking simple meals.
T-2 Sunday, November 2, 2008 Dayton, Ohio:
After getting the time change sorted out, along with changing various clocks from California to the new time changed to Ohio time, we got to bed and slept to sometime after the sun came up. Today, Michelle and Barak Obama are speaking at a rally in Columbus, the capital of Ohio and about an hour from here. We decided to go. The gates opened at 11:00 a.m. and the speaking was scheduled for 1:00 p.m.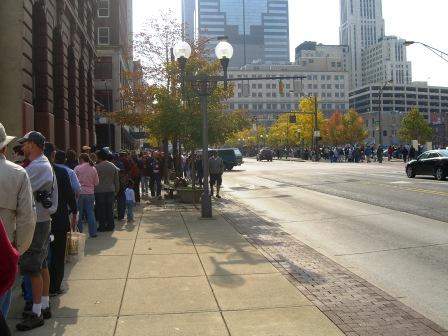 We got ready and were out of the room by 9:30 a.m.; had breakfast at the hotel, and programmed our GPS device in the car for the Columbus capitol building. We got there just before 11:00 a.m. and parked a couple of blocks short in a museum parking lot, when we could see blocked off streets and crowds. We knew we were in trouble when we walked across the river and saw lines snaking for blocks. Little did we know; we could only see a small part of the line that probably was four deep for a mile winding around buildings, through alleys and up and down streets. We started following the line and it just never seemed to end. The campaign had line monitors out and we heard one assuring a group that they would make it into the Capitol grounds: blocks and blocks before we finally found the end of the line. Not long after we got into the line, it continued to grow much faster than it moved, snaking more blocks away from the Capitol. We were next to some nice people and certainly had a lot of time to talk. It was fun to be with such a politically homogeneous crowd. They were young and old, black, white, yellow and brown; lots of kids on this warm, sunny Sunday. The line slowly moved and we had a thousand opportunities to buy lots of Obama merchandise; buttons, T-shirts, jewelry, keychains, and everything else these entrepreneurial folks could think up to sell. There were also campaign volunteers recruiting more volunteers and an occasional other person passing out literature about propositions and other races.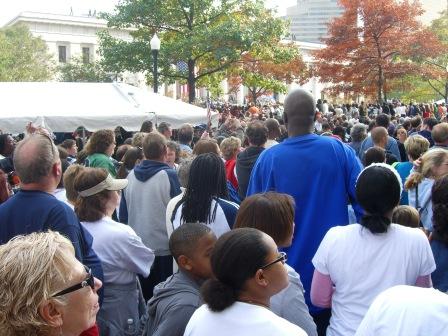 Finally, about 12:45 p.m., we had made it to a couple of blocks from the Capitol grounds, when the line started surging forward. It turned out that they had closed the gates to the grounds, but they were filling up the streets around the Capitol. We made it to a spot near the speakers and a big outdoor television screen, where our progress stopped. We could see the Capitol steps, where the speakers came out of the building and down to the speaking platform, the people behind and above the speaker, but not the actual podium itself. We were probably about 50 yards from the podium, but were only about 10 yards from the outdoor sound system speakers and the big television screen. We felt lucky to be that close as there were people as far down the streets as we could see.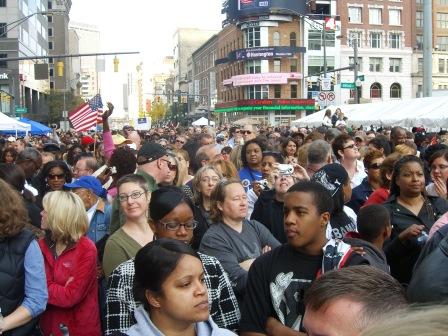 The security was impressive, with the roof of the Capitol building festooned with men in battle fatigues with high powered binoculars and sniper rifles on tripods scanning the buildings, the crowds and the air. A helicopter circled. We later learned that there were 60,000 people in attendance.
The crowd was unvaryingly polite, and having a good time, even if they were getting tired of standing. There were moms holding kids, pre-teens, and lots of young and old people. While in line, a Hispanic couple behind us were interviewed by a Spanish language television station.
We just got to hear the last of Governor Strickland of Ohio make his remarks and then we all waited for the MAIN EVENT. Michelle Obama came out first in jeans and a yellow sweater that we had seen her wear on Letterman a few nights ago (no $150,000 clothes budget for her.) The crowd went wild.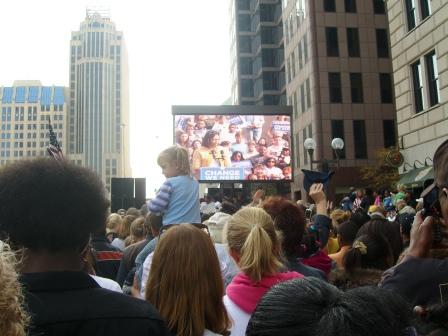 She gave a very nice talk and is a very impressive lady. Since they normally campaign apart, we really got lucky to see them both. She said that they had done all they could and the rest was up to us.
Michelle Obama spoke for about 15 minutes and then welcomed Barak Obama, who came down the stairs with one of their girls on each side, holding a hand of each. The crowd really went wild at that point. Barak talked for 40 minutes, a lot of the same stump speech that some of us have heard a number of times before, but had some new material. He really enjoyed the fact that Dick Cheney had come out of his "undisclosed location" and had endorsed John McCain. In fact, was "delighted" to endorse John McCain (Barak noted that he had never before seen Dick Cheney with anything like delight on his face) and complemented John McCain on having worked so hard and been such a good team member of the Bush/Cheney team to win that endorsement.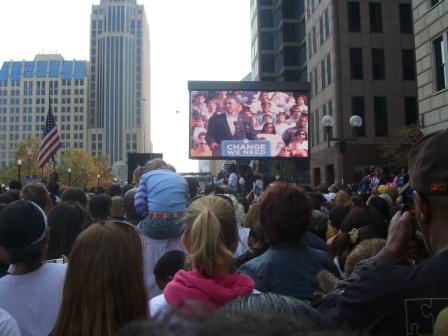 Barak also said he had seen John McCain on SNL (care of YouTube), and said, "He was really funny." He said that the world would be a better place if all politicians could laugh not only at the other guy but at themselves. Barak was genuinely complimentary.
When it was over, we made our way back to the car and got out of downtown Columbus and found a Waffle Shop off of the freeway; a tacky place with unexpectedly good, if not heart friendly, food. We stopped at the Walgreens I knew about for some more supplies and made it back to the hotel too late to do anything else for the day. On the way back, we went into one of the neighborhoods that I had canvassed on Thursday and found a young guy canvassing the same neighborhood for pass number 2. He had my same packet with my notes. It was nice to see the campaign had enough volunteers to cover this same ground again. The "ground game" here is really amazing.
T-1 Monday, November 3, 2008 Dayton, Ohio:
We got up today, got breakfast at the hotel, and drove the two blocks to the campaign office to see what was on tap today. The task for today was to put door hangers on the doorknobs of likely voters who had not been identified as having voted via early or mail in voting.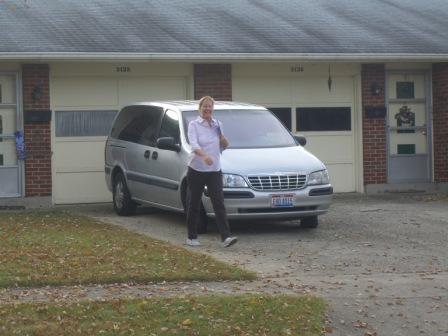 Patty got to meet some of the campaign staffers and we got two packets of about 50 houses each, and took off. Both neighborhoods were within a couple of miles from here. It really worked out well to have both of us, as one person could stay in the car and identify addresses and the other could put the hangers on the door (luckily, Patty volunteered to do most of the walking and I got to do most of the address spotting and driving). We were in a lower income area where the houses were duplexes or apartments so they were pretty close together. We made good time and got both of our packets done by noon. This definitely was not a random shot as we had addresses of likely Obama voters and only left the hangers where they were likely and they had not already voted, as identified by calls and canvassing walks. The ground game is really organized. I saw on the news this morning that Obama has 100,000 people walking on the ground in Ohio this week.
After we checked in and let them know that we finished our work, we drove downtown to the law office where our training was to be held.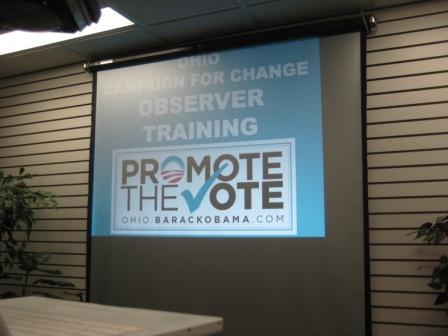 It was a couple of blocks from the Convention Center where Jessie's Woodbridge High School Color Guard team had competed in the national semi-finals in order to make it into the finals at the University of Dayton. That brought back fond memories.
We found a little BBQ place around the corner and as we walked in, adorned with our Obama buttons, a couple sitting at the counter asked if we were there for the legal training. I guess we look like lawyers. They had just flown in from New York to work the election.
After soggy BBQ sandwiches, we drove around the corner to park and found the basement where the training was taking place. It was a poorly ventilated room that they use for neighborhood church services, music performances or some sort of thing like that, but was comfortable for about 30 people to sit in. Unfortunately, about a hundred people showed up. They told us that they had been assigned to recruit 70 out-of-state lawyers for just the Dayton area, but that 170 had signed up. At least a hundred were at the training. That did not include the Ohio lawyers who had a separate training.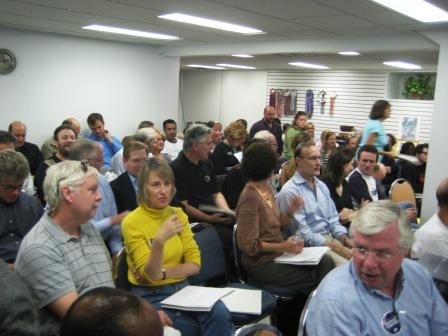 The few you can see in the picture are just those sitting in chairs. They were lined up down the hall, sitting on the stage, sitting on the floor and everywhere they could find a spot. Lawyers had come from New York, California, Chicago, U.S. Virgin Islands, and other non-battleground states.
We went through our role as outside observers. We have to go back to the downtown campaign office tonight and pick up our polling place assignment. Tomorrow, we will have to be at the polling place before it opens at 6:30 a.m., and will stay until it closes. The polls officially close at 7:30 p.m., unless ordered to stay open later; but anyone in line at 7:30 p.m. still gets to vote, and we have to be there the entire time to see that everyone does get to vote. We will be giving voters advice, answering questions, reporting problems, and acting as observers. We will be collecting declarations as needed, keeping logs and being the legal eyes on the ground at the polls. We cannot wear Obama pins, shirts, etc., and have to appear impartial. The campaign has instructed up not to be confrontational, but to see and report. If there is any ugliness, they want it to be the other side.
The final topic, "Where is the Election Night Party?" brought the biggest round of applause. It will be at "Masque," reputedly the largest gay bar in the state. Everyone cheered. The crowd is ready to party.
It is going to be a long day tomorrow, but the Get Out The Vote teams are supposed to provide food, water and help us as runners, etc., if needed. Other than the getting up at Oh Dark Hundred part, we are excited.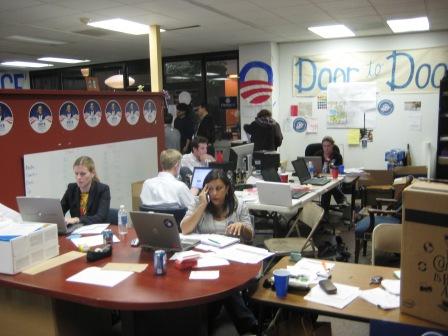 We went back to the hotel, got a little rest and did a little work, and then drove back downtown to pick up our actual polling place assignments. The downtown campaign office was crowded, with a hundred and fifty lawyers waiting to get their assignments and the regular campaign staff working to get ready for the big day, with targeted get out the vote efforts.
It took them a little while longer to get the actual assignment packets finished, with maps, timetables, report sheets and final handbooks collated and assigned. Finally we were assigned to a polling place at the "World of Wonder" elementary school in west Dayton, where precincts 21c and 21e were to vote.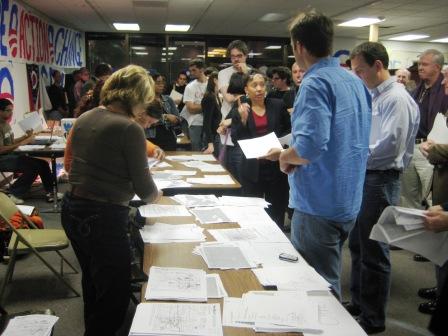 We got into the car, punched the address and took a test drive to the site. It became apparent from the general lay of the neighborhood (payday loan places and "Church's Fried Chicken stores) that we were going to be in a very African American set of precincts.
Seriously, with the level of enthusiasm we have seen here, and the lack of a visible McCain ground game, the legions of people on the ground working every day, I cannot see us losing Ohio. One of numerous polls has us down by 2 points going into tomorrow in Ohio, but all the rest have us up by 2 to 8 points. I expect Ohio to go BLUE!!!
ELECTION DAY: Tuesday, November 4, 2008 Dayton, Ohio:
Wow, what a day. We got up at 4:00 a.m. (which by my calculations is 1:00 a.m. west coast time) and got ready. We put our leftover food and water, drinks, etc., in the car and got to the polling place at 5:45 a.m. We introduced ourselves to the precinct workers and introduced ourselves to the "Chief Election Judge, or poll worker in charge, met one another and started reviewing our respective jobs. We were paired with Robert Schwartz, a San Francisco ERISA lawyer and a lady from South Dayton, Linda Spears (retired school teacher) who would be the credentialed "inside" observer. We non-Ohioans could not be inside the polls.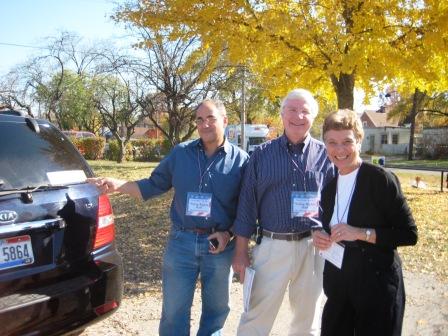 We also met the somewhat dour republican poll watcher, who sort of knew that he was swimming in a pretty hostile sea.
It was dark and cold and there were already a few people in line at 6:00 a.m. waiting for the poll opening at 6:30 a.m. Part of our job was to call in the poll opening, voter numbers, line length, and ballots cast every few hours during the day. We also gave directions, answered questions, and helped people find polling places. We tried to make friends with the poll workers, so they would tolerate us hanging out. While they were all African American, they were pretty strict, and we needed a good relationship to work with them on issues such a what a proper ID was (an expired driver's license would not work, but a utility bill was OK.) We had to convince one worker that a paycheck, that was not a government check, was acceptable ID. Robert found a copy of a letter from the Ohio Secretary of State stating that position, so we got that cleared up.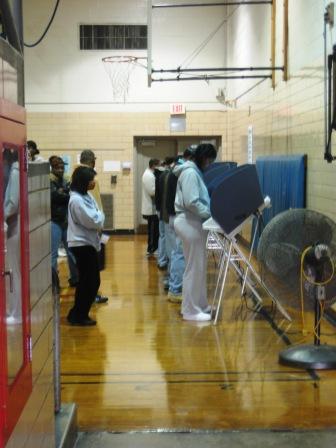 To grease the skids, we went out and brought them donuts, gave them all of our cheese, crackers, chips, etc., bought them a bucket of chicken wings, and bought them smoothie's in the afternoon. A seventeen year old high school student, Kameron, who was one of the paid poll workers, could not believe that we were actually spending money out of our own pockets to buy this stuff for them. She actually got permission to go with Patty to pick up the smoothies in the afternoon.
At one point in the day, a dial-a-ride bus with a wheelchair lift came up and unloaded a lady, with a medical attendant, in a wheelchair, on oxygen, and she came up to the door. Just after she got in, and the van had left, she realized that she did not have her identification. She was almost in tears. I volunteered to drive back to the nursing home (about 7 miles away) and get her drivers license. The attendant called back and arranged for the staff to find her driver's license. When I got there, they came out and gave it to me in an envelope, and I drove it back. One more vote.
Patty drove a lady who had walked a long way to the poll to her house to get a utility bill because her driver's license was expired (she had no car). For the most part, except for some confusion as to polling places (another polling place was in a church right next door), it went pretty smoothly. One old man came up and looked hesitantly at the polling place and told Patty he was going to need some help. He was a little hostile, but it turned out that he could not read and was not sure how he was going to vote; he was embarrassed to tell us his problem. We got him in and a poll worker read the ballot to him.
My most touching event of the day was when I was helping on old lady on the arm of her daughter or granddaughter to haltingly walk into the polling place, and I said to her, "Big Day" and she replied, "Biggest day of my life." Being in an almost 100% African American area, it was an exciting day and everyone was voting; young gang bangers, moms with kids in tow, old folks, cripples, young families.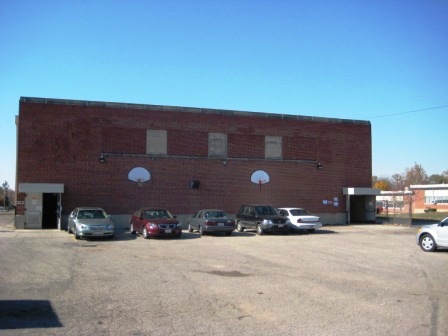 At the end, we were there for the poll closing and the final numbers. There was no end of the day rush and no lines at the closing time. A lot of these people had done the early voting and those who had not got out early. We got tally's off of the machines, not including the paper ballots cast (an option when the machine lines were long) or the provisional paper ballots. The machines showed 4 McCain votes out of about 400 machine votes cast. The republican poll worker still had enough of a sense of humor to ask how those got in there?
I checked the final tallies the next morning on the Montgomery County web site and in precinct 21E, there was a 97.3% turnout with 486 registered voters, people cast their votes 473 for Barak Obama, or 97.3% of the vote. In precinct 21C, we did even better; with 671 registered voters, 742 ballots were cast. Yes that is right, it was a 110.58% voter turnout. That can be accounted for either by the "vote early, vote often" principal; or more likely, people who were not properly registered were allowed to cast provisional ballots, that ultimately not count. In the final tally 99.3 % voted for Obama.
We left the polling place about 8:30 p.m., or about 15 hours after we got there. We were too tired to go to the party, so we picked up sandwiches and went back to the hotel to watch the returns. Patty remembered that I asked one of the poll workers at the end of the day, "How we doing?" and she replied, "You never did so much good."
We still have a long way to go. Of the five (four Democrat; one Republican) poll watchers, all were white. All of the poll workers and almost all of the electorate were African American. I found that disturbing. On a positive note, we met and talked to a number of very articulate young black men who where going to college, going after graduate degrees, and were just there to see the process. That is hope. Too many of the people were intimidated when they saw us standing by the doors, and their first reaction was that we were there to try to keep them from voting, not there trying to see that they did vote. We could not wear Obama pins and sometimes it took a little bit to get over their initial reaction to us.
We did it though; we thousands of volunteers who descended on Ohio, and the truly amazing ground game of the Obama campaign carried Ohio by 4% points. "As Ohio goes, so goes the nation."
Wednesday, November 5, 2008: Flying home.