Trip to Europe, July 2006
July 8, 2006 LAX TO PARIS We have made it as far as LAX, through check-in, security, the bathroom and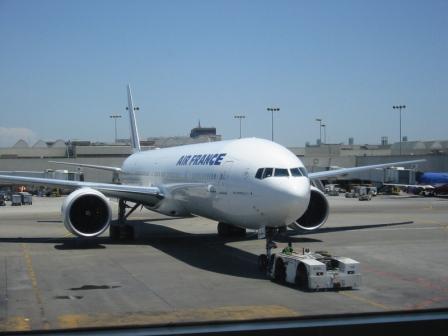 to the boarding area for Air France flight #65, direct to Charles DeGaulle airport in Paris. We got packed up and said our good-bye's to Denali, and prevailed on Jessie to ride with us to the airport and drive the car home. We left home about 10:00 a.m. (for a 3:30 p.m. flight), but had to drive to Laguna Hills to a dancewear store to buy dance shoes for Jessie's end-of-color-guard-camp performance later this afternoon. After finding the dance store and buying the shoes, we started driving north and realized that everyone was hungry. Having a little extra time, we stopped at IHOP on Jeffrey. Patty called Kim and Romaine and they came right over and had breakfast with us. At 12:30 p.m., we pulled up to LAX terminal 2 and turned Jessie loose with the car. Being three hours before flight time, we zipped through check-in and security. I got a New Yorker and the new issue of the Economist and here we are at Gate 23, with two hours to kill.
The current plan is to try to find the TVG station at Charles DeGaulle airport and get on a TVG train that leaves GDG at about 1:44 p.m. and gets us to Tarbes just after 10:00 p.m. We could not get reservations on this train, but we are hoping that since it is running during the France/Italy world cup final in Germany, enough people will want to be glued to their TV sets and we can get on the train. If not, we go into Paris, watch the game, and get on our overnight train for which we have reservations.
July 9, 2006 PARIS TO TARBES Well, we made it to Paris and are in the Montparnasse train station waiting for the TVG to take us south. We were not able to take the train from CDG, but the ticket counter there got us a reservation on the TVG leaving from downtown Paris at 5:30 p.m. and getting us into Tarbes about mid-night. There was no charge to change the reservation, but we had to take the Air France bus from CDG to the train station, about a 90 minute drive. It was nice to sit back and let someone else drive. The train station is huge and very crowded.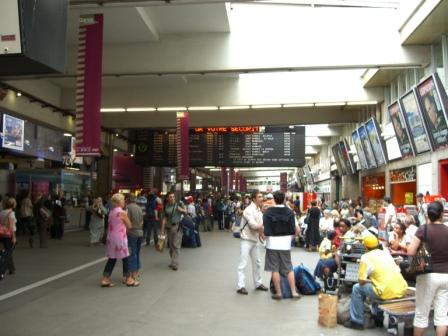 Many trains in all directions leave every hour and there are lots of cafe's and various sandwich stands. Lots of families and people of every type are waiting to get a train to somewhere. I wanted to watch the Tour de France stage, but no one seemed to have a TV going. Fortunately, a bar that had been showing soccer changed the channel and we were able to watch the last of the stage; won by a solo breakaway that was a long way down on the general classification. The world cup match starts at 8:00 p.m. local time, so we will be on the train and miss the festivities.
The flight was not too bad for a full plane and being crammed into steerage. We had the window and aisle seats, but our third seat was occupied by a nice 40 year old Cuban lawyer who worked for Fox TV as a transactional lawyer. She was a UCLA and Columbia law school graduate. She was very well traveled and we exchanged how we hate Bush and what he has done to our country. The food was good, the movies mindless, and the seats hard, but we survived. If we can just stay awake until we get to the hotel about 10 hours from now, we certainly should be able to sleep tonight.
The TVG was fantastic. It goes so fast that everything closer than several hundred yards is a blur. When it goes through tunnels your ears pop from the pressure. We had a three hour non-stop from Paris to Bordeaux, and our reservations were in second class. The car was comfortable and comparable to an AMTRAK train at home. The conductor pointed out though, that with our Eurail pass we were entitled to First Class, but we stayed in our 2nd class seats. The train was abuzz with World Cup fever. The game started just before we got to Bordeaux and all of the males congregated in the bar car, just ahead of ours, where someone had put a battery operated TV.
We changed trains in Bordeaux,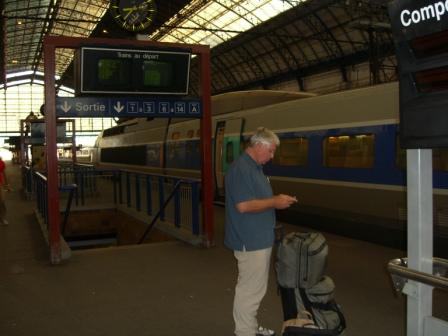 where we only had to wait for 20 minutes on the platform for the next train. Even though our reservations were in 2nd class, we got on a first class car as the train was pretty empty. The first class is very nice and we got a compartment with four big, luxurious seats and made ourselves comfortable for the 2 1/2 hour ride to Tarbes. France lost to Italy on a penalty kick, so there were glum faces and gallows humor on the train. A traveling salesman (with 5 kids and a motorhome that he likes to drive to Spain) found us and talked to us the last half hour.
We got off in Tarbes and had to wait fifteen minutes or so before a taxi wandered up to the taxi lane in front of the train station. Since the other passengers were backpacker types, he stopped in front of us and we got in first. We did share the taxi with a couple of young guys who may have benefited from us paying the full fare. We had called the motel and they had tried to give us instructions for the ATM style computerized check-in machine, but it would not recognize our reservation number (nor that of the two German guys who were also trying to use it). However, we both were able to get a room as if we had no reservations. It has two double beds, but we were so tired that any bed was great. The room is clean, quiet and basic, with lots of hot water. Our voltage converter will not plug into the style of plug, so we will have to try to find an adapter.
July 10, 2006 TARBES AND LOURDES We both slept great and woke up about 8:30 in the morning. Today we get our rental car, some maps, an adapter for the voltage converter and try to find an internet hot spot. We had to change rooms, and found a bus to downtown Tarbes, but it was not coming for a half an hour so we decided to walk. The hotel brochure was wildly misleading and the advertised "3 km" from the train station took us 45 minutes to walk. However, we had a great lunch at a sidewalk cafe across from the car rental place and then went looking for an internet access. The first place we found had no wi-fi access (and since the web site is on the laptop, we needed wi-fi). The guy directed us to another place up near the center of town. While we walked we stopped at every hotel and asked if they had room for Wednesday night. Everyone just laughed and told us that the Tour de France was going to be in town and every room had been booked for months. We stopped in at the Rex, a new hotel that just opened this year. They not only had just had a cancellation and had a room, but let us use their wireless internet access in the bar!!! Double bingo. Now we just have to find a plug that will allow us to plug in the adapter so we can charge the computer. But we now have rooms and train reservations and cars through the end of the week until we leave Paris on Monday.
We picked up our little blue diesel Renault from Avis a block from the train station.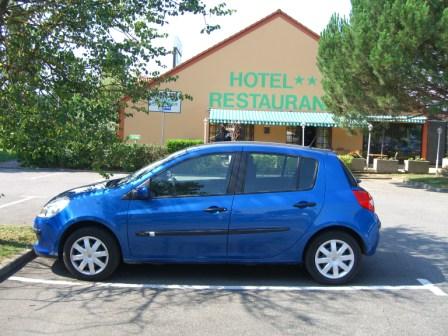 They told us about an electronics store a couple of miles down the road. We found it and it was a little "Good Guys" place with all kinds of electronics. Patty got a hair dryer that works on 220 volts and I found a plug and a voltage converter better than the one we had, so we got both.
In the evening we drove the 20 km to Lourdes, the site of the grotto where Bernadette saw the Virgin Mary a verified 18 times. (I do not know how often they chatted where it was not verified.) The water, now with healing powers, is quite in demand as people can buy a gallon jug
in town with a picture of the Virgin on it and fill it up at the grotto themselves; or they can bring any old bottle to fill up and many had plastic bags full of them on the walk to the grotto. We parked the car and hiked down to the gate of the sanctuary and then into town where we had dinner. A couple who are staying at our hotel from Melbourne, Australia , who we had met and talked with back at the hotel, found us sitting at the sidewalk cafe in Lourdes and we chatted some more.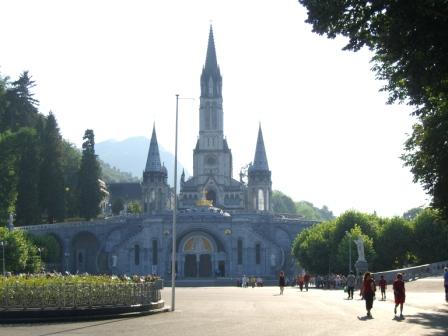 They brought their bikes and are following the Tour for three weeks, riding a lot of the climbs themselves.
July 11, 2006 CARCASSONNE We drove from Tarbes to Carcassonne, an old walled city first started by the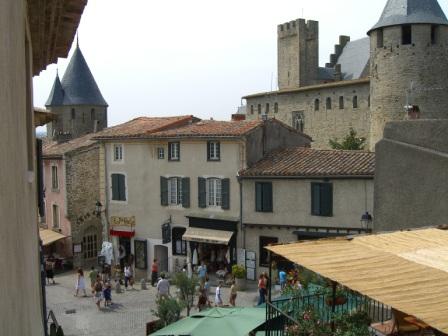 Romans and added onto by everyone else. Our hotel is in the middle of the old medieval city. We wandered around the walls and ramparts but were glad to get into our air conditioned hotel room in mid afternoon. In the evening we walked down to the "new" city, down the hill and across the river and had dinner near the train station.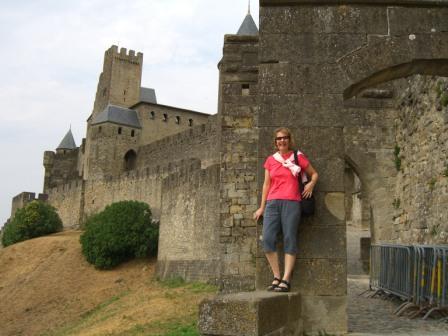 Dinner included a salad and dessert bar and we were stuffed as we made our way back up the hill to the old walled city. The walled city is lighted at night, but since it is not dark until after 10:30 p.m., we were too tired to go see the city at night. There are about 200 souvenir shops in the old city, most selling swords ranging from plastic to nice steel with a matching price. Thousands of tourists come to see the city, the jousting tournaments and the summer opera under the stars, but the place largely empties out at night because there are only a couple of hotels in the walled city and a youth hostel. The picture is from our hotel room window.
July 12, 2006 TOUR DE FRANCE day. We had planned to drive up into the Pyrenees to watch
the stage from the side of the road, but by the time we got to Pau, about a 2 hour drive from Carcassonne, it was close to noon, and traffic was all messed up. We saw the finish area for the Tour stage and a (hard to get) parking space at a bout the same time; so we parked and walked to the finish area and decided to stay there. It really ended up being fun and we spent five hours watching the spectacle. We got to meet the commentators from OLN network (Bob Roll, Phil Ligget & Paul Sherwin), watch the stage on the massive outdoor TV screen and see the finish from the grandstands sponsored by one of the newspapers.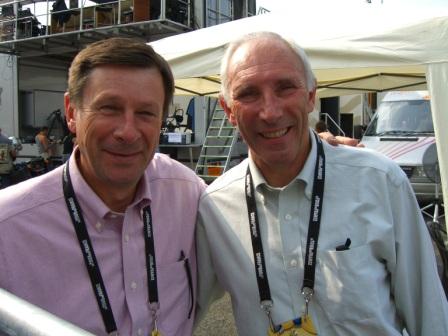 We drove back to Tarbes and checked into the Rex hotel. Both the Milram and the Bouygues Telcom teams are staying here. It is an ultra modern hotel and our room is fantastic. The hotel was just completed in January and the room is huge and decorated with very modern furniture, but very luxurious, with huge down comforters and pillows, a glass bathroom with the shower head coming out of the ceiling, a flat screen TV and all the comforts. Too bad we checked in late and have to leave early. Unfortunately, the internet service seems to be down. We were looking forward to a good connection since we were are to up load this site from here when we were here before.
July 13, 2006 TARBES TO PARIS We got up at 6:00 a.m. in our beautiful hotel room and tried once again to make the internet connection work. Unfortunately, even though it had worked well for us when were were there before making our reservation,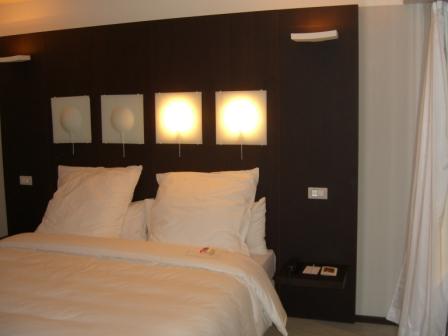 the log-in screen would not come up and we could never log in to the network to get internet access. We will try in Paris.
Leaving the hotel, traffic was tied up because the Tour stage was starting in the main square, just across the street from the hotel. We drove around trying to get to the train station, getting around the blocked off streets, and Patty asked a guy in the car next to us how to get there. He said, "follow me" and led us on a serpentine route bypassing the blocked off sections of town. We got to the train station 15 minutes before the train was to leave and parked the car. The Avis folks had told us to just leave the key with the information booth. We went there and Patty mentioned that we had not filled with gas because we could not find a gas station open. The worker told us there was a gas station just down the street we were on and we could be back in 10 minutes. I ran out and drove the car several blocks to the gas station while Patty stayed with the luggage. I filled the car and went in to pay. Three Liquigas Tour team cars were filling up as were but the credit card they had was not working. I finally gave the guy at the counter a 50 Euro bill to pay for 48.10 worth of gas and ran back to the car. I got to the train station just as they were shutting the doors to the train. Luckily, there was some problem with the train, so they let us on and we sat for another half hour before we left the station. This train should take us all the way to Paris, so we are sitting back for a long, comfortable ride. We bought croissants last night, and we had water, cheese, banana and apple left over from yesterday, so we had breakfast on the train. We also have some jam and cheese, so we might be able to avoid the train bar car prices.
We made it to Paris, navigated the Metro and found our hotel. It is a nice little place just off of the Plaza Republic, just off a metro line with lots of shopping and restaurants. We also found an internet cafe so we can upload this web site. Patty is having trouble with her Treo and now her token, so she it out of luck trying to check her e-mail. The web site is having trouble loading the pictures, but we will keep working on that.
We had Turkish food for dinner at a sidewalk cafe and then went over to the cyber cafe. I was unable to connect the laptop to the wi-fi, so I plugged in a network cable and was able to upload the text on the web site. While I was working, Patty read the hotel brochure and it says that they have free wi-fi access; duh, so 6 Euro poorer we decided to try that later.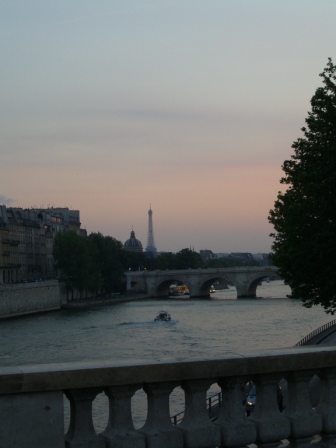 After dropping the laptop off at the hotel, we walked down 10 blocks or so to Norte Dame and the I'sl Saint Louis. It was beautiful with the sun setting and Patty took lots of pictures. We also walked around the Latin Quarter and bought a crepe for dessert. After that we took the metro back to the hotel and came up and tried the wi-fi. While it appeared to connect, there was no connection to the internet. I poked around and found out that the firewall settings were preventing the connection to an open network and turned that off; wahl-la, it worked. I was also able to get the pictures to upload to the web site, so it looks better.
Patty e-mailed her office and the tech support gave her suggestions on how to get her Treo to talk French. She is going to try that and see if she can get connected as well. We sure do get used to being connected.
July 14, 2005 PARIS, BASTILLE DAY We slept in a little this morning and both got a good night's sleep without waking up in the middle of the night (which happened to me both of the last two nights-something about my body thinking it was the middle of the day). I went down to the breakfast at the hotel in the basement this morning and had coffee (hot & strong), orange juice, a croissant, a boiled egg, a piece of Gouda cheese, and corn flakes. I took a yogurt back to Patty. This was better than my previous small Paris hotel breakfast experience, which consisted of a hard roll, jam and coffee that would take paint off of cars (but I was not an Espresso drinker back then).
We got going about 11:00 a.m. and took the Metro down to the Louvre. Even though we have been to Paris before several times, neither Patty nor I had been to the Louvre. Since it is Bastille Day, it is free and we went in the pyramid entrance and only had to wait in line for a security check where they look in your bag for Mona Lisa slashing knives and David smashing hammers (both of which have been used in recent years (yeah, David is in Florence, but here you could take a hammer to Venus de Milo). After we got in, we started with the Denon wing, to pay homage to Mona herself. We picked up an audio guide that let you punch in numbers on art pieces and get a mini lecture on each piece. For art idiots such as myself, it greatly adds to the experience to know something about what you are looking at to appreciate it. There were also numbers on rooms that would tell who built it and when and how it had changed over the years.
I expected the Louvre to be long corridors of musty walls. It is anything but; it is open, pleasant and has a modern feeling to it. They have done a marvelous job of keeping it updated and the interior architecture, while a mix of the very old and the very new, is artistic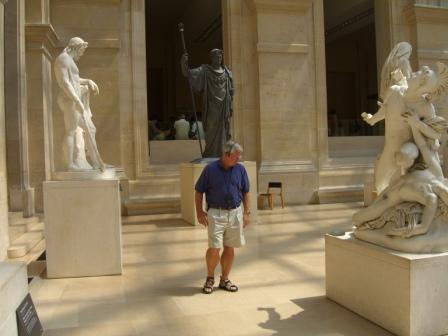 and people friendly with many places to sit down and enjoy the ambiance. We made our way to Mona first, and while the crowds were certainly there, we worked our way to the front and got to appreciate the masterpiece. It really is a marvelous painting and seeing it in person gave me a new appreciation for it after seeing pictures of it a million times.
After Mona, we wandered through the Italian sections, and the Greek and Roman sections, the medieval exhibition and the Egyptian area. We had lunch at a restaurant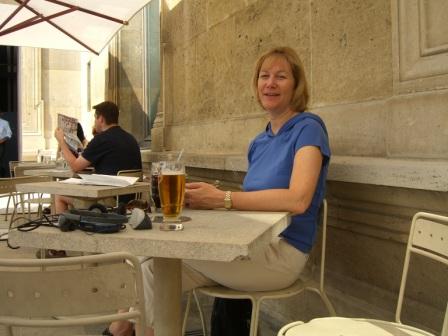 on a balcony overlooking the courtyard with the pyramid and the free admission off-set the price of the lunch, which was not cheap.
In the afternoon, we wandered around the Napoleon apartments, built by Napoleon III, and saw how the Republican French lived as opposed to the Royal French. It seems that even the Republicans had a taste for luxury and the apartments were quite lavish. They were occupied by the minister of finance (appropriate use of tax dollars?) until 1989, when they were made part of the museum. About 4:00 p.m., we had seen enough and left.
Since we were to pick our rental car near there, we starting trying to find Hertz. It turned out, after asking directions from a parking lot attendant, that the Hertz is in the Carrousel Mall, which is under the plaza on the Champ de Elyeese side of the Louvre. The address, 99 Rivoli, was that of the entire mall. We went in and found that the inverted pyramid (which the Da Vinci Code implies is where Mary Magdalene's bones are buried, drops right down to the floor of the mall.) I was quite shocked that the Madonna has indeed turned into a Material Girl.
We took the Metro to a train station and booked an overnight sleeper train to Milan. We paid the big bucks surcharge over our Eurail Pass and booked a two person compartment. This will be a new experience for both Patty and I as neither of us has ever tried this. We leave Paris on Monday for Milan at 8:00 p.m. and get in at 8:00 a.m. In Milan we change trains and head for Naples. That will be our base for Capri and the Amalfi Coast.
We took the Metro back to the hotel, played internet connection roulette for a while, and then went out for dinner. We walked down into the Marianas district, toward the Hotel de Ville and Norte Dame, and found a little cafe off of a pedestrian walkway a few blocks from the Pompidou Center (the building with all of the plumbing on the outside). I had a steak with French fries, and Patty had a ham crepe. We topped that off with sorbet. While waiting, we found a paper with Floyd Landis on the cover wearing the yellow jersey that he had just taken the day before in the toughest climbing stage in the Pyrenees. He surprised me because I did not think he would be able to climb that well. He may be able to keep it until the end, but we will see on the climbing stages in the Alps, including Alpe du Huez. He can certainly time trial well so that will not be his problem. The paper talked about Armstrong's former lieutenants all battling for his vacated spot.
We also found in the paper a map of the fireworks and spectator areas around the Eiffel Tower, so we took the Metro that direction. When we had to change cars to go directly to the spectator area, the station was jammed with people and the trains were jammed as they came in. People were 6 deep on the platform, but were in a good mood and everyone was just laughing about trying to get all these people on cars that looked like a telephone booth stuffing contest already. Since the French have not perfected the Japanese style of subway car stuffing, we gave up and went out to the street to walk toward the viewing area. It was not hard to tell which way because the sidewalks were crowed and all moving he same direction. The street we ended on looked like a tree lined Rodeo Drive, with all the designer shops along the way. When we got to the end, where the street intersected the Seine, there was a large sculpture and flower garden with wide grassy sections between the roses and other flowers. We went in and found a place on the grass with the picnicking Parisians where we could see the Eiffel Tower and where the fireworks would go off. We were just behind a mixed race British couple, to the left of a nice French couple about our age, just in front of a family of Americans and just to the left was a young family of Italians. Two French girls were just behind to the left. Quite an international gathering. About fifteen feet in front of us were two couples with a white table cloth spread on the grass, silver wine cooler with Champagne in it, and a candelabra (which they could only get lit long enough to take a picture, because there was a wind blowing.)
The fireworks show started at 10:35 p.m. and lasted a half an hour, complete with smiley faces, and hearts. After the finale, we started walking down the Seine, knowing that the Metro trains would be impossible. We walked to the Plaza Concord (where the obelisk is and cut away from the river toward the hotel). After walking a half and hour, we found a Metro station and went in. While the cars were full, we were able to get in and the line took us right to the hotel. We got back about mid-night and went straight to bed.
July 15, 2006 WEDDING DAY We got up at 6:30 a.m. and got showering, packing and getting ready to leave Paris. By 9:00 a.m., we had breakfasted at the hotel basement, checked out and shouldered the bags for the short walk to the Metro station about 40 meters down the street. Our two day passes had expires so we bought two one-way tickets for 1.3 Euro each and caught a train to the "Opera" and there changed trains to the Louvre. At the Louvre, we got off with 30 high school students from Pittsburg, took the stairs up and had a 100 meter walk to the mall entrance. Luckily, we saw Maj, a Latham associate, traveling in Europe, who we had agreed to meet and take to the wedding, on the street just outside the mall entrance (which is small and easy to miss) and we were able to go to the Hertz counter together. We got our car, a Renault Cleo, just like the one we got in Tarbes, and took off by 10:00 a.m.
We turned left at the Louvre, drove up the Champs Elysee, around the Arch de Triomphe, and on to the perimeter road. Making only one wrong turn (not counting the slight detour down a one way street, which was remedied by a quick dive into an alley) we found our way onto the A15 and off to Cergy, the town that was near our hotel. Once we got there though, life got interesting as the maps we had were very poor and we wandered around touring some small towns to no effect before we finally found signs to Gisors, the little village that the chateaux we were staying at was out of. This is rolling countryside, full of wheat and corn fields and an occasional chateaux.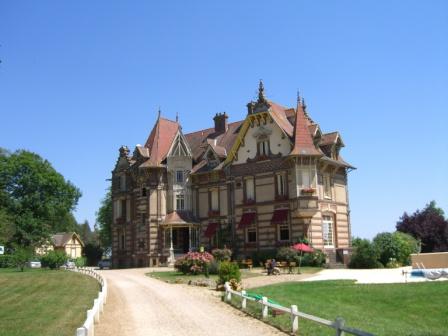 After going through Gisors (where we started seeing signs for the Chateaux de la Rapee) we drove out of town and into the forest on a one lane country road. We then turned off onto a gravel road which led to a riding club and the Chateaux de la Rapee. It is a beautiful old house, with about 16 rooms and a view one way into the forest and the other to the riding club. A pool is on the grounds and there are acres of lawn shaded by magnificent old trees. Given the ambiance, the price of 80 Euro per night is amazing (probably driven by the isolation and the fact that there is no air conditioning and the abundant flies remind one that horses are near).
After Paris, this is quite a change. Patty has gone down to the basement to try to iron some of the wrinkles out of my jacket and I am sitting at a little desk at the open window, looking over a window box of flowers, past the lawns and into the forest (swatting at flies-no screens on these windows).
The wedding was at a church in a little town called L'Isle de Adam, which is on the Oise River. The bride is a Latham associate in the Paris office who spent a year in the Orange County office of the firm where Patty got to know her. The construction of the church started in 1459 and it was completed in 1559. In France, there is a civil ceremony first that legally marries the couple and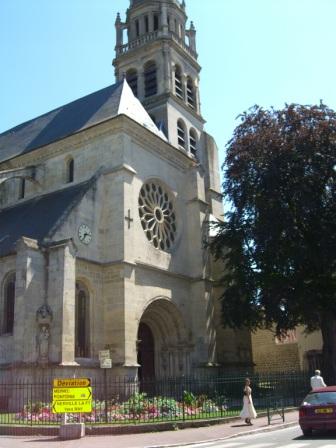 then if they want a religious ceremony they are welcome to go the their church, mosque, hogan or whatever. The civil ceremony was performed by the Groom's mother who is the mayor of the town across the river, but we did not go to that. The church wedding was a fairly liberal Catholic Mass, that the bride and groom (Coralee and Ludovic) had written the pre-sacrament portions. They included a few "Gospel" numbers, which were American standards, but quite unusual in a French wedding.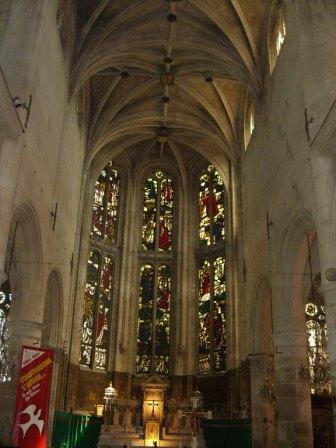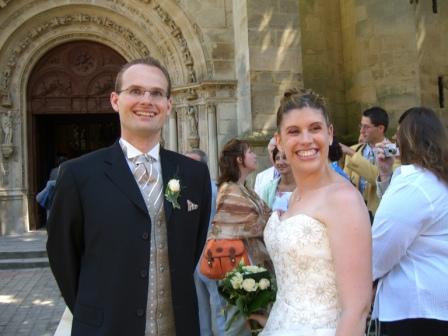 After the wedding, we drove over the river and through the woods a short period to a cocktail reception in an old walled courtyard in which tents and folding chairs had been set up. That lasted for a couple of hours and then the party moved 30 miles or so to the Alincourt Castle, which was incredibly difficult to find, including having to spot a handwritten sign on a wall in a medieval village, turn down an alley and drive several kilometers through first an old village, then fields, a forest, and finally to the castle.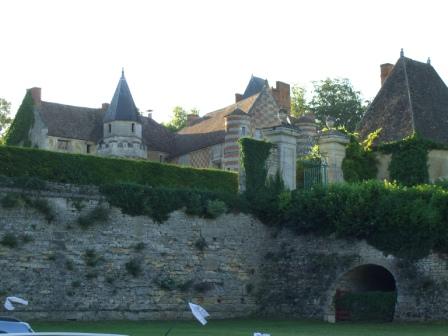 We got there about 7:30 p.m. and people gathered outside for drinks and heavy hors d'oeurvres, including oysters, roast beef, ham, pastries, melons, and everything you could think of. After several hours of eating and drinking outside, the party moved into the chateau rooms where tables were set up, including a table for the English speaking guests, including the 7 from California. All together there were 60 to 70 guests. Starting at 9:00 p.m., a long, French, multi-course meal started, with wines for each course and a DJ that held contests between courses, leading to each table getting keys, one of which opened a treasure chest after dinner for the lucky guest who got that key. (It contained wine.)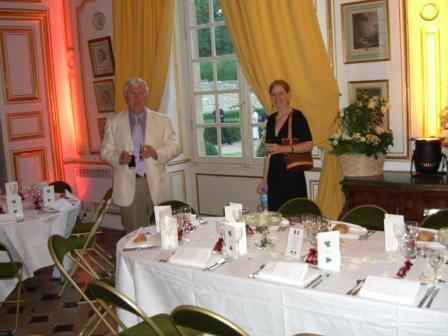 The dinner proceeded apace until the wedding cake was brought out about 1:00 a.m. and other desserts were set out. The cake was not at all traditional but was a series of cakes that looked like cheese cakes on an iron frame that had to be carried by two people. Dessert and coffee lasted another hour and a half and then the dancing started. We finally figured out that this event was going to go on until dawn and bailed about 3:00 a.m. We got back to the Chateau and to bed around 4:00 a.m.
July 16, 2006 RECOVERY We tried to sleep in but the flies made it difficult. The only way you could sleep was to pull the sheet up over your head and sleep that way. We had to open the window about 8:00 a.m. as it was getting too hot with it shut and that only invited more flies into the room. We finally got up about 11:00 a.m., showered and drove the 3 km into Gisors. Since it was Sunday afternoon and hot, not much was moving.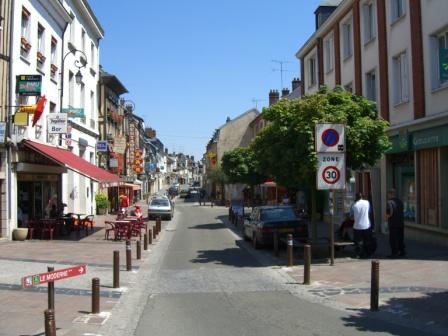 We parked near the church and walked around town. It appears that this area has become a hot real estate market for country week-end get-a-way houses for Parisians. The town had dozens of restaurants and equally as many real estate agents, including a Century 21 franchise. The town appears to go back a long way and advertises itself as the founding spot of the Knights Templar. The local church dates back to the 13th century.
We had lunch in a Chinese fast food place and it was very good for stuff that had to be taken out of the display case and microwaved. We wandered around town, which was deserted except for a few groups of teenagers hanging out at various spots. Church had just gotten out so we went into the church and wandered around. It is really a spectacular church and was interesting to wander through. Between it being Sunday afternoon and almost all of the shops were closed and too hot to really enjoy being out in the sun, we just about had the whole place to ourselves. We wandered past a bar with a large flat screen TV showing the Tour de France stage and went in, bought a beer and a Coke and watched the stage for a while. In France you get the entire 5-6 hours of the stage, not just the last 2 hours we see in the USA. While I watched, Patty went out and found a bakery open and bought various treats which we ate when she came back.
With about an hour left in the stage, we drove back to the Chateau Rapee and watched on the 13" TV in our room and napped a little more. By the end of the stage about 5:00 p.m., the temperature in the room was approaching 90 degrees and the flies were getting angry, so we went out for a walk in the forest. It was cooler in the shade but something in the woods and the area was really exciting my allergies. (By this time we were really not interested in the "Chateau & Hotels de France" guidebook which was provided in our room to plan our next Chateau stay.)
We went back to the Chateau and found that Darrel and Joanne Morgan and their son were back from the post wedding lunch at the Castle Alincourt (an event we decided to pass on) and were hanging out by the pool. We hung out with them, staying in the shade and dangling our feet in the cool water of the pool. Joanne had some Claritin which I gladly accepted. Later we all went into town and had dinner at a typical small French town Chinese/Thai/Vietnamese restaurant decorated with scenes of Cambodia. It was actually very good and relatively cheap. It was also air-conditioned, which was very nice.
July 17, 2006 PARIS AND THE TRAIN Today we left the Chateau about 9:00 a.m. and drove into Gisors, where we stopped for coffee and pastries. They had a street market in the square and we wandered around the square, looking at all of Chinese made clothes and underwear. You could buy a live chicken or bunny and we saw a grandmother and 8 year old girl leaving with a bunny in a box. We could not decide if it was a new pet or fresh dinner meat. After sitting in an outdoor cafe, eating our pastries and sipping coffee and people watching, we drove back to Paris and found our train station-not an easy task. There are three train stations within 3 blocks of each other and the middle one, Gare Lyon, is huge. We parked the car in a public garage and found the train station we are leaving from and took the shuttle bus back to Gare Lyon. We found a Hertz car rental and they are letting us turn the car back in there. We took the car out of the public structure, paid the tariff, and drove a block to the Hertz structure and parked the car in their parking area. They said we can leave the car there all day, keep the keys, then take our bags out of the car and officially turn the car in at 7:00 p.m. Viva Hertz.
We left the train station and immediately found an internet cafe. They guy sitting next to me is an editor for Travel & Leisure magazine, based in Mexico City, and just wrote an article on Naples. He told me to look it up. It is fun who you meet traveling. Patty is on another computer catching up with her e-mail. It appears that my e-mail server at the office may be down because I have not gotten any e-mail for the last 24 or so hours. I am hoping that we the folks at home get to work they get it sorted out.
We had lunch, consisting of two huge, delicious salads at a cafe near the internet cafe. We then went on a quest to find a book store and wandered around the train station area, finding a few news stands, but no real book stores. It is interesting to note that the "Star" style tabloids in France publish the paparazzi pictures of the stars topless on the front page. It is hard to believe that the American press shows more restraint, but I guess they have different standards here for supermarket check-out lines.
Failing to find a book store, we went back to the train station and found two great bookstores in the station, including one with a large English language section. Patty bought a Michael Brown book a mathematician who is trying to break a code someone found imbedded in NASA software. It must be good because she has not looked up from it since she bought it.
We got on the sleeper train about 7:30 p.m. and it had air-conditioning that was working valiantly to tame the 100 degree heat. We had our own compartment about 6' square. It has three seats lined up across the back of the compartment, with a sink with running water. The porter came by, collected our passports and tickets, and told us we were assigned an 8:45 p.m. dinner seating and gave us a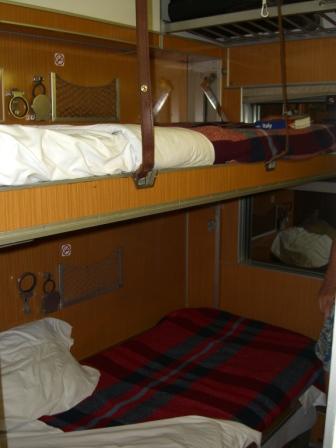 ticket for two (We could not figure out if it was included in the ticket price or not, but decided to go). The train pulled out on time at 8:20 p.m. and we soon thereafter made our way, lurching and bouncing on a rough section of track, up to the dining car. The porter/waiter sat us by the window at a four top table, facing each other. The table was set with nice china, a white table cloth and lots of silverware. The only concession to the fact it was on a train was the the wine glasses had no stem. A few minutes later he sat a couple about our age from North Carolina in the aisle seats. They were on their first trip to Europe and had spent their first couple of days in Paris. They were on their way to Venice, the final destination of the train. Dinner was a three course affair and it was apparent that we were on an Italian train, with Italian bottled water, Italian wine, and pasta as a first course. Second course was veal, chicken and potatoes, and third course was a pastry with a chocolate filling. The menu was fixed and the porter/waiter just came around and filled the plate with the food, no choices, my ideal dining experience. Since he had opened the bottle of wine, I had to drink it all my self (it was just a half bottle). Patty did manage to talk him out of a cola (a Pepsi, the first of its kind we have seen on this trip). Turned out that dinner was not included, only breakfast, and it cost us 26 Euros each, a moderate price for a dinner.
After dinner, we went back to our car and found our beds made up. They are stacked three high and are single wide bunks. Only the bottom two were made up in our compartment. (The guy at dinner had failed to communicate that his wife was female and the porter told them that they had a third guy in their compartment getting on at a later station. They were not happy with the prospect, but had little choice. We never found out if he showed up.) Unfortunately, the top bunk was about 10 degrees hotter than the bottom bunk. Patty's trusty travel alarm/thermometer read 76 degrees on the lower bunk and 86 on the upper bunk. I offered to take the top bunk, but the prospect of sweat dripping on her during the night inspired her to take it. It was a little like sleeping on a boat (with less chance of actually being tossed out of your berth) and I fell soundly asleep and woke up once or twice when we stopped at a station and light was shining in the window, but fell immediately back asleep. I asked Patty how she slept, and she said she slept some. I did not question her further.
At 5:30 a.m., the porter pounded on our door and gave us our breakfast, telling us that due to difficulties, the train was arriving in Milan an hour early. That was a new one on me, but we had the cappuccinos and rolls, with boxed orange juice, and packed up. At 6:00 the train rolled into Milan.
July 18, 2006 NAPLES Since our train We had a two hour layover in Milan. The train station is magnificent and is undergoing a restoration. I walked out into the plaza in front of the train station and, unlike other European cities, all you can see from the train station are relatively modern high rises. It is like walking out of Union Station in Los Angeles. At 7:30 a.m., our train was in, so we went and got on. The train looks like the TGV in France, sleek and streamlined, and the car is very nice. The seats are big and well spaced and even have an electrical outlet to plug in the computer or whatever. Unfortunately, no wi-fi access or it would be perfect. If I had brought a movie, I could put on my headphones and watch it on the laptop. No movies however, so here I am working on this narration. The stewardesses (we are in first class, all you can buy a Eurail Pass for) and passed out papers. A few minutes later they came by with coffee (espresso), juice and pastries. Changing trains got us two train breakfasts this morning.
I researched hotels in Naples the Lonely Planet guidebook while back at the Chateau and called one close to the train station, which is also close to the port where we can get ferries to Capri and to the Amalfi Coast. Naples has a bit of a dodgy reputation and areas near train stations are usually where the sex trade practices its craft. The guide book assured us that none of its listed hotels also rented rooms by the hour. They had rooms available but requested that I book by fax or e-mail. I e-mailed them and they replied with a confirmation. Very civilized. After we get there we will decide whether or not to make it our base of operations or try to get a place on Capri or down in Sorrento, Palermo or elsewhere on the Almafi Coast. Those places have the reputation of being very crowed and expensive during the summer, but we will see when we get there. They are all close enough to Naples to day trip if we want to.
Patty is about half through with Dan Brown's "Digital Fortress" and says she may have to get another of his books in Naples. It is a good way to pass the time on the train when one tires of viewing the pastoral splendor that is agricultural Europe. When we think of France and Italy, we usually think of the cities, but 70% of both countries is rich agricultural land and that is about all you see on the train trips.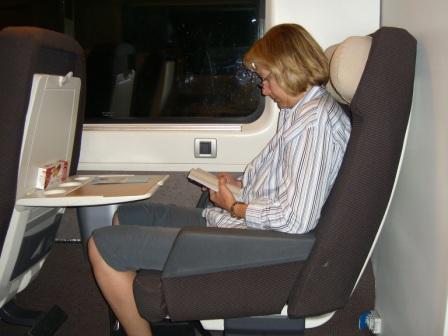 After stops in Florence and Rome, the train rolled into Naples at 2:30 p.m., or about 18 hours after we started our trip. Downtown Naples rivals Lima and Bangkok as the scarier and dirtier cities we have arrived in. We walked down the large square in front of the train station; choked with vespas, buses, taxies and trash. After fending off a couple of taxi drivers who followed us across the street offering their services, we started down the left side of the square looking for the street our hotel was on. We walked past it because it was under construction and had no sign. Getting to the end of the square, we backtracked, recognized the street before ours, and took the next one under construction. As soon as we turned, we saw the sign for the hotel and followed it for a block and found the hotel. They were expecting it and we immediately got our room. The hotel, "Luna Rossa" is an island of serenity in a sea of dirt and chaos.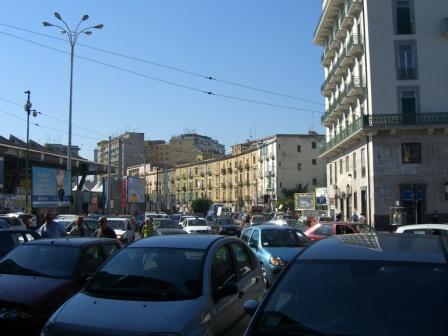 We immediately went upstairs and caught the final hour of the Alpe du Huez Tour de France stage. Floyd Landis took enough time from the other riders high on the general classification to take back the yellow jersey with an over two minute gap on his serious rivals. If he can climb as well tomorrow in the next Alpine stage he will have the yellow jersey in Paris and be the third American to win the Tour de France.
Patty went out and got a melon and sandwich stuff at the market and we had a picnic on the bed watching the end of the race. Afterward we went looking for an internet cafe. We finally found one, but they will not let me hook up my laptop so I cannot do some work for the office I wanted to do nor upload this. We will keep looking.
We still have not decided where to go tomorrow, but that may wait until tomorrow morning. We have the option of staying here and going out to Capri for the day or to Pompeii. After more rest we can make that decision.
July 19, 1996 POSITANO Today we decided to stay in Naples and do the poor man's tour of the ritzy Almafi Coast. I got up and went out looking for a cappuccino and found a coffee bar right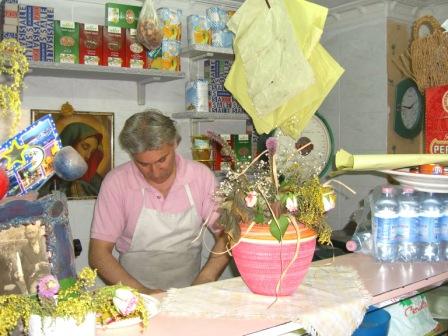 around the corner. Unlike Starbucks, they do not have paper cups, and you drink your coffee from a china cup at the bar. This was a little hole-in-the-wall place with room for 3/4 people at the bar. I bought a cappuccino and a pastry for a total of 2 Euro. I only had a 50 Euro bill and the guy behind the counter had to send his brother to get change. I do not know if he actually intended to do it (I suspect he did) but he short changed me by 5 Euro, but I pointed it out and he gave the extra 5. I left a tip in the jar anyway. Before we left the neighborhood, we stopped in a shop to get some bread and they guy offered to make us sandwiches for the day. He took a big, crusty loaf of bread, sliced tomatoes, mozzarella cheese and pepper. He packaged ham separately and we bought drinks for the train. All of that was 5 Euro. He only charged us for the ingredients and not for making the sandwiches. He was a really nice guy and very friendly. (We saw him closing up at the end of the day and asked how we liked the sandwiches and we told him "great" or "Bueno" ; keep in mind that he knew no English and we no Italian. It is funny how well you can communicate anyway.)
We walked a couple of blocks to the local train station and took the local train past Pompeii and to Sorrento (6 Euro round trip). It takes about 70 minutes and stops every three minutes. There are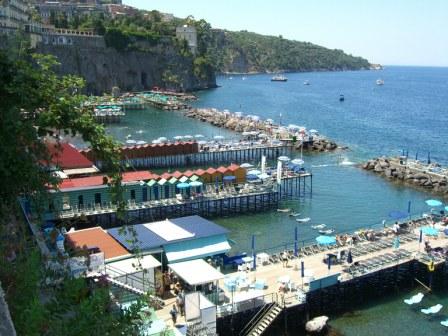 great views of Mount Vesuvius and it is fun to see how the locals live (in lots of high rise apartment buildings). The end of the line is Sorrento, which is the start of the posh resorts that line the coast south and east of Naples. We walked down to the beach and ate our sandwiches. After lunch and wandering around a bit, we went back up to the train station and bought a one-way bus ticket to Positano. The train does not run along the Amalfi Coast because of the steep terrain, so the bus or a car is the only way. The bus cost about 1.5 Euro and the guidebook said to sit on the right hand side. The bus is a nice air-conditioned bus with comfortable seats (unlike the train on both counts). I held a position near where I estimated the bus door would stop and make it second onto the bus. Every seat was taken, and people were standing, but Patty and I got a good set of seats on the right hand side with a good window.
The Amalfi Coast road is truly spectacular. The road is cut out of the cliffs and runs between three or four towns that make up the Amalfi Coast. It is a South facing coast with spectacular cliffs dropping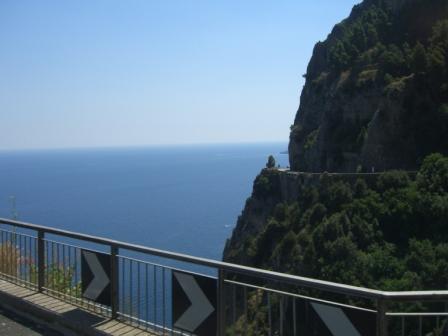 off to the sea and the towns built in ravines that cut through the cliffs. We got off in Positano and walked down through town to the beach and the ferry terminal. It is a very pretty town with lots of high end hotels, boutiques and art galleries. Kind of like Laguna Beach tilted on its side and compressed.
After wandering around, doing a little shopping, and watching the boats and bathers, we bought a ferry ticket that took us back to Sorrento. The ferry ride was fun and gave us a different perspective of the Coast from the water. We had dinner in Sorrento and then caught the local train back to Naples.
July 20, 2006 POMPEII Today we finalized the final few days of our trip and concluded that Croatia was too difficult given the time we have remaining. It would involve an overnight ferry from Bari, Italy that is not covered by our Eurail passes, and it is relatively expensive. We elected to go with the known and go back to Cinque Terre, a beautiful string of five Italian villages on the coast just south of Genoa. We walked to the main train station and got tickets to Cinque Terre for Friday and then from there to Paris on Monday. This splits the trip back north into two segments and avoids another overnight train. Besides, we loved Cinque Terre.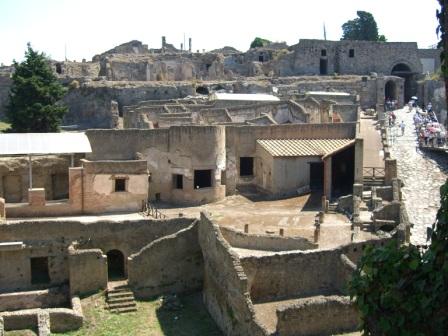 After getting the train reservations, we walked back to the butcher shop and had the guy make us a couple of more sandwiches and bought some water and bottled ice tea for Pompeii. Then we walked over to the local train station and caught the same train we went on yesterday to Pompeii. It certainly is easier once having done it, as we knew the routine and quickly got a train. The ride out to Pompeii is about a half hour and the station is right at the gate of the ruin. We did not want to hire a guide as the official guides are wildly expensive (94 Euro per person) and the unofficial guides have a dodgy reputation. We looked for a guide book and looked at all of the books the street vendors were selling. We were not impressed with the quality of any of them, and, after finding a couple of bottles of frozen water (so it stays cold longer-a trick we learned yesterday in Positano), we got to the ticket line. Patty stood in line and I went into the official bookstore and found a good guide for the same price (8 Euro) as the cheap ones the vendors were pitching.
We went in and oriented ourselves. The ruin is absolutely huge. It is a whole city buried and then unearthed. Granted it is a compact city, but it is easily bigger than the walled city of Carcassonne we visited earlier, or Sienna in Tuscany. Unfortunately, the experienced is pretty mixed. All of the furniture, movable art, cooking utensils, and anything else that has been carried away has been either to put in museums or from plunderers over the years. There has been some restoration, but it is sometimes hard to tell what is original and what has been restored. Mostly, however, the streets and the building walls are intact, as are some of the mosaic floors in some buildings and a few frescos painted on the walls, including some showing men with outsized erections and sex scenes in the brothel. The "fast food restaurants," stalls on the street with food cooking and counters were largely intact, as was a bakery, the large outdoor theater, and a 5,000 seat coliseum. The preservation is funny in that there is no effort to protect such things as the mosaic floors in some of the houses that are open and you find yourself walking on a 2,000 year old mosaic floor and wearing it down.
It was very hot (90 + degrees), had little shade and dusty. Everyone was in sun hats and carried huge water bottles, which everyone needed. There is little signage in the city and so everyone wanders around with various maps and either audio guides, guide books or a real guide, trying to figure out what street you are on and how to get to the next interesting site.
After 3 or 4 hours, we had covered the main sights, and walked the mile or so back to the entrance. We went into an outdoor cafe to get a drink and sit in a chair. It was a large place, shaded by large trees with 50 or so plastic tables and chairs sitting around the plaza just off the main street. We sat down and the waiter came over and asked us if we wanted food or just a drink (the place was 20% full). We told him just a drink and he told us we had to go to the bar around the corner. We got up and moved 50 feet to another section of the same plaza, with the same plastic tables and chairs, and the same waiter came over to take our order. Patty asked if she could get a Coke with ice and he said yes. I said I would like a beer and was waiting to find out what they had, and he took off. Apparently they only sell one kind of beer. He came back with a can of Pepsi, a little bottle of beer and two glasses. He asked for 8 Euro. Patty told him he could have his money when she got her ice. He turned on his heel and came back with her glass full of ice. Beer and soft drinks usually sell for about 2.50 Euro or less, so it it was an expensive drink, but nice to sit in a chair and get out of the sun.
We walked to the train station, fending off taxi drivers trying to take us someplace, and got on the train back to Naples. We got back in time to watch the last hour of the Tour de France stage, where Floyd Landis redeemed himself in the last Alpine state of the Tour, attacking on the first of four climbs and basically doing a 118 km solo breakaway, over four climbs, and taking back all of the time he lost yesterday when he lost the yellow jersey and six minutes when he exploded on the final climb, dropping out of the top 10 overall. Floyd finished the stage in 3rd on the general classification, but within 30 seconds of the top spot, which he has a very good chance of regaining in the time trial on Saturday. Everyone had written Floyd off after yesterday, except for Floyd that is. (Velo News had an on-line poll after Floyd self destructed on the climb the day before which said, "Now who will win the Tour?" which listed a dozen riders, not including Floyd.)
After the Tour, we plotted on the maps how to get to the most famous pizzeria in Naples, Da Michele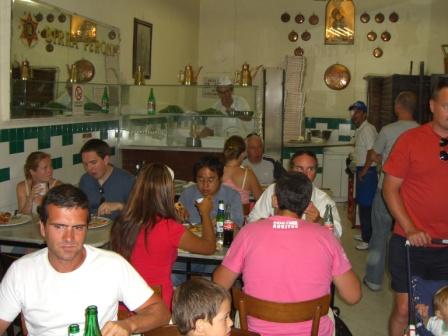 , which has been serving the same two styles of pizza (with cheese or without-you need other options?) since 1870. We walked to the end of the Plaza Garibaldi, on which the main train station sits and walked down a major boulevard that runs into the corner of the Plaza. It is a major shopping street, lined for blocks and blocks with clothing stores on the inside of the sidewalk, and street vendors (mostly Africans) selling mostly the same sunglasses, purses, cheap jewelry, an occasional fake Rolex and even the movie the DaVinci Code (which is apparently out on DVD on the street corners). After passing the street once, Patty spotted a likely sign down a side street and we found Da Machele. It was crowed, but turned the tables fast and we got a table by the pizza making station and shared it with a Japanese girl who is in England working as a care-taker for a year to work on her English. She was on a short holiday and had come to see Naples. The pizza has a thin crust, thin tomato sauce and mozzarella cheese with a few fresh basil leaves. It is cooked in a wood fired brick oven and is really good. One pizza, a beer and a coke came to 7.5 Euros, or less than our drinks by Pompeii.
We walked back to the hotel, stocked up on Euros at an ATM, and I wrote this.
July 21, 2006 TRAVEL TO CINQUE TERRE We got up and packed up, paid for the room, and walked over to a cappuccino bar and bought a cappuccino and pastries. A short walk, one death defying street crossing, and we were at the train station. We went in and found our train, and got on. We ended up in the same car with some Italian Americans that we had briefly met at the train ticket line yesterday. They are visiting family in Italy with a party of 11, including kids, cousins,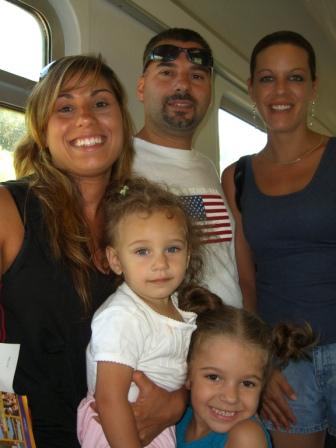 and grandma. We talked to them for a long time and gave them advise on Florence and Venice. They had been staying with family in Naples, but were now going to a rented Villa on the coast south of Piza and were going to day trip to Florence and Venice from there. Soon after they went to their compartments, three girls were wandering up and down the corridor and looking for seats. Since we were only two in a six compartment, we invited them in. They were in early 20's, from Southern Virginia and Northern North Carolina. The car they were assigned to had broken air conditioning and they were broiling and very happy to be in an air conditioned compartment. They were traveling Europe for three weeks and had just left Naples for Rome. At Rome a couple of late 20's backpackers got on and into our compartment. They turned out to be an Australian doctor and her boyfriend (a physical therapist) who had worked in Ireland for six months to save up Euros and were now backpacking through Europe and South America. When we got off the train in La Spezia, to connect to the Cinque Terre train, we met two elementary school teachers from Oregon who were also going to Cinque Terra. We all looked for the ticket office to buy the national park/train pass and found it. It seems that a labor action is going on and most of the trains were cancelled for Cinque Terra. We had called and gotten reservations at a hotel in Monarola, and I had to call them back and tell them that we would be late.
A train finally came and since the doctor and boyfriend and the teacher girls were both staying in the youth hostel in Monarola, we were all going to the same place. A train came a little after five and it is only a 20 minute ride to Monarola. We got off and walked the long tunnel to the village. When we came out, the backpackers turned up the hill and had to climb to the top of the village, while we got to turn downhill and go to our hotel overlooking the little harbor. In the picture, our room is in the yellow building on the left, bottom of the picture, third green window up. We later walked up to the hostel to talk to them about an internet connection and saw it. It is nice, but has no air conditioning and six person same sex rooms. For two, the price came to 64 Euros. Our room, including breakfast, shower, air conditioning, TV (for Le Tour) and location, was 105 Euros. I am glad we can pay the extra.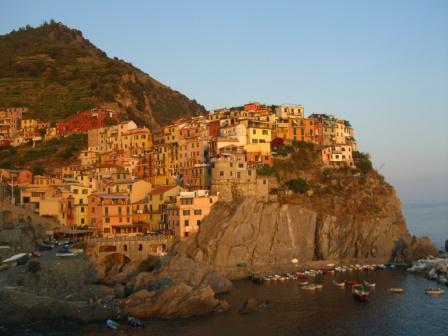 We had a great dinner at a little restaurant up the street, with salads, pasta and fish along with a bottle of the local white wine (which we shared with some girls from Minnesota at the next table; who were economizing by sneaking their water out of a bottle in their backpack.)
After dinner we wandered around the town and down the path to the next town to watch the sunset. This is really a gorgeous area and we are lucky to have a few days to relax here before we take off for Paris and home.
July 22, 2006 CINQUE TERRA We slept in this morning and only got to breakfast by the 10:00 a.m. cut-off by skipping our showers and just pulling on our clothes. In Italy, no one drinks drip coffee so they make you an espresso drink at breakfast. Both Patty and I got lattes and they serve them in a heavy water glass; just as hot as we do, but not in a mug. The breakfast had breads and jams, muesli, meats and cheeses, orange juice, and of course, the coffee.
After breakfast I put on my swimsuit and went down for a morning swim in the harbor. The water is clear and about 75 degrees, perfect for the heat. The area was already getting crowded with bathers and sunners by 10:15 a.m. but the water felt great. We had noticed a lot of people with nets, scooping things out of the water, and I found out what. I had swam a little outside of the rocks that most people were swimming by and I felt the unmistakable sting of a jelly fish on my upper arm. Sure enough, there are a fair amount of silver dollar size jelly fish floating around the harbor. The nets were to scoop them out of the swimming area.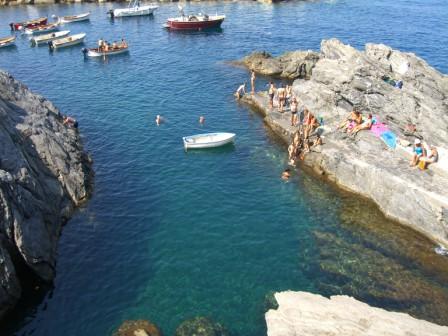 We walked around a little more and came back to the room for a shower. They said at the train station national park office that there might be an internet connection in Vernaza that I can use to up-load this site, so we may try that this afternoon before the Tour de France starts.
The TV has cable here and we even get the English language CNN. It seems that Israel is at it again trying to win the hearts and minds of the Arab world on behalf of itself and its weapons supplier, the good old USA. In some ways I am glad we have been somewhat isolated from the news other than the heat wave in Europe and the Italian garbage strike.
We took the train to Montorrosa, the largest of the five villages, and after some asking, were able to find a good internet cafe on a back street. The guy knew what he was doing and had places to plug in a laptop. I had some trouble with the connection and had to manually go into the internet connection and manually release the old IP numbers and renew them. That only took me about an hour to figure that one out, but luckily, the guy only started charging me after I was able to connect. Patty worked on another computer and got caught up on her e-mail. Other than the place not being air conditioned, and really hot, it was a great find. Afterwards, we found some shops selling focacciao bread with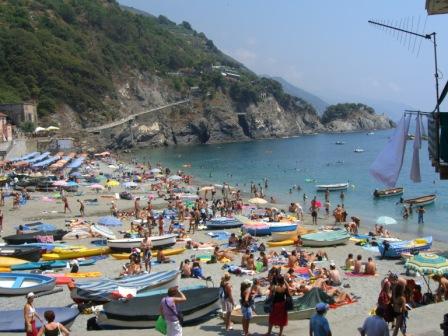 toppings and bought some of those, some drinks, and went down to the beach for a late lunch. It is so hot you don't really feel like eating in the mid-day.
We walked back up to the train station and the platform was crowded about 6 deep with sun soaked people waiting to get on the train after a day at the beach. The train was late and the crowd was restless. Since we were at the first of the villages for the train running from the direction of Genoa, the train was not very crowded when it came on and everyone was able to get on. Our car was even air conditioned, which was delightful. We met some more Americans. They are really everywhere here, especially the 20 something backpackers.
Back to our hotel, we cleaned up, caught up on the Tour de France stage (Landis re-took the yellow jersey in the time trial) and walked across the street to a take-out shop and got some more pizza and dessert pastries. We met a girl there from the central valley in California who had been in Europe for about five weeks and was now traveling by herself. We ended up walking with her to the next village, Riggamore, to watch the sunset from a different village. There were some clouds on the horizon and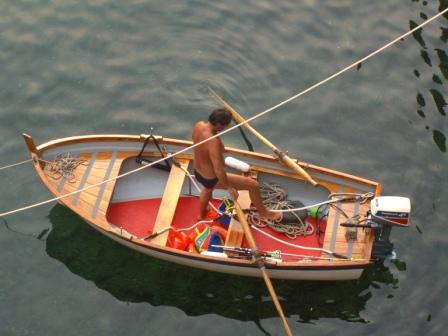 the sunset was not as picturesque as yesterdays. We looked around the village some more, bought some cold water, and then walked back to our village and to bed.
July 23, 2005 CINQUE TERRE It has dawned cloudy, the first cloudy day we have seen since we have been in Europe. Since we are planning on hiking today, that is fine. We will stoke up on the free hotel breakfast and go for a walk.
We walked to Corniglia, the next town down the coast. The first part of the walk is fairly flat on a wide trail that goes along the cliff above a rocky beach. In the evening we ran into our Australian doctor friend and her boyfriend. They had seen the entrance to a 2 km tunnel leading to a beach in Corniglia, and paid 5 Euro each to take the tunnel and get to the beach; it was advertised as "au natural". They paid and walked through the cool tunnel to the other end and when they got there, they found out it was all old German couples and gay guys--all completely nude. Ryan, the boyfriend, said her comment was, "Oh God, I have to look at penises all day at work, I don't need to see them here!" They climbed around some rocks and found a secluded spot and stayed a while because they had paid 10 Euro to be there. They are quite frugal (eating at the hostel and staying in separate male/female dorms) so it was a big investment for them. For us, after a fairly flat trail all the way to the Corniglia train station, the path starts up 386 stairs (Patty counted them) to the town which is on a ridge.
At Corniglia, we stocked up on water and bought bread, ham and cheese for sandwiches. We were hiking at the same pace as a honeymooning couple who live in Berkeley. She was in graduate school and he is a recent Harvard grad school graduate. They were also staying at our hotel, so we were destined to spend the day with them, sweating together. Patty brought her travel clock which also has a

thermometer, and the temperature was running in the high 90's. The trail between Corniglia and Vernazza is the most scenic section, climbing through olive groves and by streams running down to the sea. Vernazza is an absolutely gorgeous town, clinging to a narrow ridge that runs down to a little harbor, over-looked by a 13th century tower. When we got there, literally dripping in sweat, we found a place by the harbor and ate our sandwiches and then bought some gelato. After hanging out for a while, we took the train back to Manarola, went back to tour hotel room, took a shower and watched the finish of the Tour de France in Paris. The Italian TV coverage cut off just after Danielo Cunego, an Italian, got the White Jersey for best young rider, and we did not get to see Floyd Landis receive the yellow jersey. (I saw it the next morning on CNN.) We had another great dinner of sea food pasta and salad at the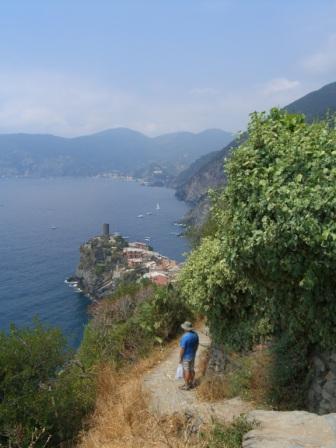 same restaurant we ate at our first night in Manarola, and then went for a walk around the point to watch the sun set. We ran into Judy, a recent Biola graduate from a little town near Placerville, in the California Gold Country, who is backpacking around Europe alone. We had met her the night before in the pizza take-out place across from the hotel. She also was coming up to the point to watch the sunset and had a cold bottle of wine she shared with us (me). We talked until well after dark and then trudged back to town and fell in bed.
July 24, 2006 TRAVEL TO PARIS We got up and were at breakfast by 9:00 a.m. After eating and checking out, we walked up to the train station and caught a train into La Spezia by 10:30 a.m. Our train for Milan does not leave until 12:40 p.m., so we walked into town. We stopped at an internet cafe and a guy explained to us why it is so hard to find (a) a wireless connection, or (b) a place to plug in a laptop in Italy. Apparently a new law (I'm sure aimed at defeating those sneaky terrorists) requires all internet service providers to take ID's and log the activity of persons using the internet from public locations, so they cannot allow open access to their networks. I am typing this in a public plaza on a park bench in downtown La Spezia. Patty is off shopping and looking for sandwiches for our train ride later today. The plaza is shaded by pine trees and has lots of old Italian men sitting around reading newspapers. The buildings around are mostly 5 and 6 story and are all painted in shades of pink, yellow, green and grey. There are lots of balconies with flower pots and an occasional satellite dish.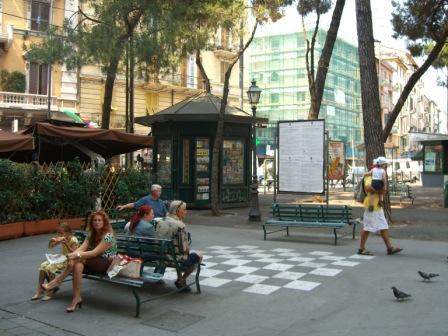 Patty came back with sandwiches and we walked back to the station and caught the 12:40 p.m. train to Milan. The train ran back through Cinque Terre, but not stopping, since it was not the "local" train. We went through Genoa and on to Milan. The train was about 10 minutes late getting into Milan, giving us only 12 minutes to find our new train. Luckily, it was on the same level and about a dozen tracks down. We hustled over there and found our car and seats. We were seated in a four person grouping, where a table divides you from the two seats facing you. A mother and 25 year old daughter from Minnesota on their first trip to Europe were straight across from us. The next car had no air conditioning, so we also had some disgruntled refugees from that car crowded into ours.
The train went north through Turin (Torino), and we saw some of the Italian Alps and some of the 2006 Olympic venues out of the train windows. After some long tunnels, the train turned west and we moved into France, where a group of French border patrol policemen came on board to check passports. That was a little odd, since there are no border checkpoints on EU highway border crossings anymore.
We did not have hotel reservations in Paris and none of our guide books suggested anything near the Gare de Lyon train station, so we were trying to find something fairly close by, since we were getting in after 11:00 p.m. and had to leave for the airport the next morning. The mom and daughter from Minnesota were staying at a Holiday Inn a couple of blocks from the train station, so we called them to confirm the Minnesota reservation and check availability. They had plenty of rooms, but wanted 164 Euro for them. We decided to walk our new friends to the hotel and (1) see what else was in the neighborhood, and (2) see if we could negotiate a better rate for a room.
When we got in, got off the train, found the street, and then the hotel, and let the Minnesota girls check in first. We negotiated and got the manager to give us a nice room on the top floor, with a view of the Eiffel Tower, for 130 Euro. Still expensive, but it was late and the room and view were nice. When the sun came up, we also located the Sacred Heart cathedral up on the hill.
July 24, 2006 PARIS AND THE FLIGHT HOME The hotel has wi-fi access in the room, but at a minimum of 22 Euros for 24 hours, I think I will pass and walk over to the internet cafe we used last time we were in town, before and pay 2 Euros. We catch the Air France Bus Number 4 from the train station to the Charles DeGaulle airport for a 1:30 p.m. flight home. Hopefully, that will go without any snags.
We made it the CDG and have checked in; Patty bought a book and they have wi-fi access. I forgot that I had a steak knife in my fanny pack, and security caught it, but were good natured about it. The guy said in English, "Oh Shiiit!" with a big smile, but he did not cart me off in handcuffs, just took it and put it in a large Plexiglas box with the other confiscated counter band. I was glad it was not an expensive knife since our luggage was already packed. So far so good. Our flight boarded on time, but we sat on the runway for an hour an a half. The plane was, of course, full and it was a long 11 hours. We got to LAX, cleared immigration and customs, and found a shuttle to John Wayne (saving $15 over the home drop-off), where Jessie picked us up. It was nice to sleep in our own bed.